February 24, 2005
Sioux Focus is Forward
By Jess Myers
WCHA Notebook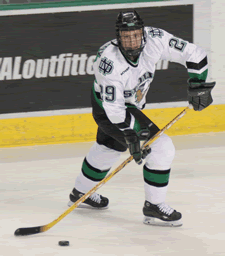 Colby Genoway leads the Fighting Sioux in scoring.

If you're expecting North Dakota rookie coach Dave Hakstol to get reflective about his first season behind the bench when there are still eight regular season points up for grabs, you've come to the party about a month early.
Hakstol, the former Fighting Sioux defenseman who took over the team last summer when Dean Blais bolted to the Columbus Blue Jackets, said that when the season's over, he'll take time to evaluate his methods and results in season one. But with four regular season games remaining and his team in a pitched battle for the final home ice slot in the WCHA playoffs, this isn't the time for reflection.
"We're more concerned with wrapping things up, and with concentrating on our team's performance overall," said Hakstol, whose team faces fourth-ranked Wisconsin on Saturday and Sunday in Grand Forks.
The Sioux are coming off a good news/bad news weekend at Alaska Anchorage, which saw them:
a) Score four third-period goals to snap a five-game WCHA losing streak on Friday night (good)
b) let a 2-1 lead slip away in the final minutes and lose on Saturday (bad)
c) get sophomore Brady Murray back in the lineup on Friday after the star forward had missed the previous five games with a shoulder injury (good)
d) lose Murray to injury in the first period of Saturday's game (bad)
"Last Friday we saw what Brady Murray means to this team offensively, when he had a goal and an assist and helped his linemates contribute offensively," said Hakstol. The son of Los Angeles Kings' coach Andy Murray, Brady was the WCHA's top freshman last season but has missed 13 of the team's 32 games as a sophomore. "Then he gets hurt on the first shift on Saturday and we don't have that offense in our lineup. We don't have anybody else that brings that much offense to our team."
Murray is not expected to play against the Badgers this weekend, and his absence is just the latest in a long line of Sioux missing action this season. In addition to a rash of injuries, Hakstol's freshman campaign as a coach has included a few player suspensions, including captain Matt Greene, who missed a pair of games earlier this month after being arrested for DWI.
The Sioux enter the weekend tied with Minnesota Duluth for the final home ice position, and with two games in hand on the Bulldogs the Sioux clearly hold the upper hand in the race. It's a familiar battle (although a few places lower in the standings) for North Dakota fans, as the Sioux and Bulldogs were in a tight race for the WCHA title a year ago at this time, with North Dakota prevailing in the end.
While not one to make excuses, Hakstol is reflective enough to note that considering the talent his team lost over the summer (when Hobey finalists Zach Parise and Brandon Bochenski left early for pro contracts) and the injuries he's dealt with, his team's failure to defend the MacNaughton Cup isn't overly surprising.
"We've worked hard for every point we've gotten, and we've played a lot of hockey games where we probably deserved a better fate," said Hakstol. "Standings-wise, we're probably about where we deserve to be."
The Sioux close the regular season with a series at St. Cloud State on March 4-5.
SEEN AND HEARD IN THE WCHA

Johnson Lends a Hand, Again: Minnesota coach Don Lucia may have felt an unpleasant sense of déjà vu this week when it was learned that for the second time in three seasons, a hand injury will likely cost the Gophers their top goalie for the WCHA playoffs.
On Monday, Gopher netminder Kellen Briggs left practice and was later diagnosed with what the school officially called an "unspecified hand injury." Minnesota goalie coach Robb Stauber, the 1988 Hobey winner, told the Minneapolis Star Tribune that Briggs could be out for the rest of the season.
That means that senior Justin Johnson will get the call for Minnesota's final four regular season games and the league playoffs, if not more. It's a familiar situation for Johnson, who filled in two years ago when then-top goalie Travis Webber was lost to a hand injury in Minnesota's first playoff game. Johnson was the starter as Minnesota defeated Minnesota State, Mankato and Colorado College to win the WCHA Final Five that year.
A week later, Webber returned for the NCAA playoffs and backstopped Minnesota's 2003 NCAA title. Johnson has played in six games this season and has a 1-2-1 record. Lucia said that Johnson's previous playoff experience should be helpful as he's thrust into the starter's role this time around.
"He's a senior, and he's been through it," said Lucia. "Justin has performed pretty well when he knows he's the guy."
The coach insists that despite Briggs' struggles in the past month, a change was not going to be made until the injury happened.
"We really felt comfortable with where we were," said Lucia, who rested Briggs during the team's weekend off. "Kellen had looked sharp in practice, and the off week came at a perfect time, and then he came back with a hand problem."
Brent Solei, a freshman who has yet to play in a collegiate game, will serve as Johnson's backup.
Great Weekend Getaway

Wisconsin at North Dakota (Sat.-Sun.)
While the accepted thinking is that the MacNaughton Cup is headed to Colorado one way or another, the Badgers haven't given up on the idea of hoisting the hardware, as a sweep this weekend could leave them just one point behind current leader Colorado College (the Tigers are idle). The Sioux can clinch home ice in the first round by winning one of these games, which means there's plenty to play for on both benches.

While You're There: The last time a member of the INCH staff was in Greater Grand Forks, a blizzard shut down the main highways out of town, and with all hotels full, hundreds of people ended up sleeping on Red Cross cots inside North Dakota's domed football stadium. So just getting to sleep in a bed would be a step-up, accommodations-wise. As for nightlife, low-rollers can check out the legal blackjack in North Dakota hotels, where $1 is a big bet. After you cash in your chips, just make sure to save enough for a late-night trip to the Red Pepper.

Stick Salute

With the Mavericks headed for their second consecutive lower-echelon finish, Minnesota State, Mankato rookie Ryan Carter gave college hockey fans in southern Minnesota some reason to be optimistic about the future last weekend, earning WCHA co-rookie of the week honors. The White Bear Lake, Minn., native had two goals and an assist as the Mavs split a home-and-home set with St. Cloud State, and leads all MSU freshmen with a dozen goals and seven assists thus far. With David Backes and Kyle Peto available as linemates, that could be a formidable trio for coach Troy Jutting to call upon.

Bench Minor

The red-hot pursuit of hockey wunderkind Phil Kessel resulted what can best be described as a "mascot faux pas" last weekend. When the U.S. National Under 18 Team played at Minnesota last Saturday, Goldy Gopher (the Minnesota mascot) was seen skating around the rink with a Gopher sweater with the number 05 on the back. At one point in the first period, Goldy even dangled the sweater over the glass surrounding the Team USA bench, apparently tempting Kessel to take it off his hands. While Goldy's antics didn't constitute a NCAA violation, he came close, and the whole incident certainly looked to be in bad taste.
PUCKS TO PICK UP AFTER PRACTICE

• The high-flying Denver Pioneers looked somewhat human last weekend, coming from behind to beat Minnesota Duluth on a late power play goal on Friday, then falling behind 6-0 en route to a 6-3 loss on Saturday. That may be bad timing, with the MacNaughton Cup on the line and the Pioneers returning to the Midwest Wireless Civic Center this weekend, which was a house of horror the last time Denver paid a visit.
For those who have forgotten, the Pioneers held a 7-1 lead on Mankato in the second period the last time the teams met in the home of the Mavs, in December 2003. All Troy Jutting's crew proceeded to do after that was score seven in a row to win 8-7. Ouch. Of course, while the Mavericks used that rally as a springboard to a ninth-place finish, the Pioneers recovered pretty well, and flew back to Denver in April holding the national championship trophy.
• Between the founding of the Colorado College hockey program in the late 1930s and the program's resurgence in the mid 1990s, the team recorded 25 wins in a season just once (in 1956-57, when the Tigers went 25-5-0 and claimed the school's second – and last – NCAA hockey title). On Saturday, when the Tigers won 2-1 at Wisconsin, it marked the ninth time in the past 11 seasons that CC has recorded 25 or more wins in a season.
• If there's ever construction or a natural disaster that forces the St. Cloud State Huskies out of the National Hockey Center for a time, look for school officials to inquire about renting ice time at the Midwest Wireless Civic Center in Mankato. After last Saturday's 3-2 win at the home of the Mavericks, the Huskies are now 7-1-1 all-time in the downtown Mankato arena. Of course, the St. Cloud pessimist will note that the Mavericks won both of the games they played on the Huskies home ice this season.
• While Michigan Tech couldn't beat U.P. rival Northern Michigan last weekend (the Wildcats notched a 3-3 tie and a 5-3 win), the Huskies' Colin Murphy continued his torrid point-production pace, recording four assists in the series and extending his point streak to 11 games. He's leading the nation in average points per game with 1.65, and his 51 points thus far are the most by a Husky in a single season since Jim Storm notched 54 more than a decade ago.
• Senior Martin Stuchlik, Alaska Anchorage's points leader, can apparently be counted among the ranks of WCHA snobs who think that the other conferences don't matter. Every one of the 22 points that Stuchlik has recorded this season has come against a conference foe, and he's recorded at least one point in each of the Seawolves' last eight WCHA series. The native of Zlin, Czech Republic, has been particularly prolific recently, recording 13 points (8 goals and 5 assists) in his team's last dozen games.
• When Minnesota Duluth took leads of 3-1 and 4-2 over Denver last Friday at Magness Arena, the Pioneers must have felt perfectly positioned. Indeed, when Denver rallied for a 5-4 win, it marked the fourth consecutive game in which the Bulldogs held a two-goal lead over the Pioneers and ended up losing or tying. Many will remember UMD leading Denver 3-1 in the third period last April in Boston, before the Pioneers recovered quite nicely. In December in Duluth, the Bulldogs held two-goal leads each night en route to a 4-4 tie and a 5-4 overtime loss.