February 24, 2005
Off the Shelf
By Joe Gladziszewski
ECACHL Notebook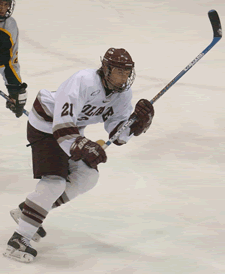 Kyle Wilson had a goal and an assist in his return to the Colgate lineup.

Part of the passion that fans have for college athletics comes from the fact that, in most cases, fans can watch a student-athlete grow and develop over a four-year career. There are no trading deadlines or free agency periods in which the high profile teams can swoop in and grab a marquee player from a less-heralded unit.
In the pros, the New York Yankees can go out and grab an All-Star starting pitcher or the Colorado Avalanche can grab a future Hall of Fame goaltender of defenseman.
Fortunately, that doesn't happen in college hockey. Could you imagine if Minnesota made a deal for Grant Goeckner-Zoeller? Or Michigan added Mike McKenna?
No, what you start with in college hockey is what you're working with for the entire season.
That being said, it must have felt like a late-season acquisition for the Colgate Raiders when junior winger Kyle Wilson returned to the ice over the weekend. Wilson broke a bone in his foot in a Jan. 15 game at Union College and missed eight games while he was recuperating.
He returned on Friday, fittingly, against Union and made an immediate impact with a goal and an assist.
And like a new face thrown into a baseball lineup during a pennant chase, one that's been rescued from non-contending small-market mediocrity, Wilson brought an energy to the Colgate lineup.
"He brings a lot of offensive presence. He has great instinct. Tonight, he had his instinct and he had a lot of jump. He was off for four weeks and you could tell that he was real eager to play," Raider coach Don Vaughan said. "I think tonight it was obvious. It motivates the other guys. They know what he brings to the lineup."
Wilson made a perfect read on a cross-ice pass and turned it into a short-handed breakaway. He was pulled down on the play, but referee Tim Kotyra opted to assess a standard 2-minute minor rather than award a penalty shot.
"It was nice to start off where I left off. It was sweet to come back and win this game and get back on the right foot," Wilson said, obviously not intending the pun on his injured body part.
Other key players for some of the top teams in the league also missed time recently. Cornell will welcome Ryan O'Byrne back to the lineup soon, and Vermont was missing defenseman Jaime Sifers. Mumblings are that Hugh Jessiman's injured ankle is progressing nicely and he could return to the Big Green lineup for the playoffs.
SEEN AND HEARD IN THE ECACHL

Shutout Chase: The goaltending quality throughout the league is incredible and recent events show that this might be the best goaltending era in league history. That's because long-held goaltending records are falling at several schools.
Dov Grumet-Morris tied Harvard's career shutout mark with his 10th career shutout on Tuesday against Brown. It was his fifth shutout of the season and third in the last four ECACHL games. The Hobey Baker candidate leads the nation in save percentage and ranks second in goals-against average to Dave McKee of Cornell.
Steve Silverthorn broke Colgate's all-time shutout mark with the seventh of his career as he made 21 saves in a 1-0 win over Rensselaer. He also had the line of the weekend, as he stated afterward, "It's not that many."
At Cornell, Dave McKee blanked Rensselaer on Friday night and moved to within one of Ken Dryden's school record of 12 shutouts for a career.
Finally, at Vermont, freshman Joe Fallon made 11 saves in a 5-0 win at Yale. It was the rookie's fifth shutout of the season and he set the school's single-season record for shutouts. Vermont as a team has six shutouts this year, which is also a single-season record.
Great Weekend Getaway

Harvard at Dartmouth (Fri.)
Brown at Dartmouth (Sat.)

The best weekend series take place in Vermont and Dartmouth where Brown and Harvard are visiting. Unfortunately, all four games are sold out, although you could get standing room tickets to Thompson Arena for the weekend set. Plenty of scoreboard watching will be going on, as Vermont and Dartmouth chase fourth place. The Catamounts enter the weekend with a two-point advantage in the standings.

While You're There: Look these frat guys up. Maybe they've got some creative ideas for a way to get into the game.

Stick Salute

Good to see some "Old Time Hockey" albeit in a strange venue. Temple men's basketball coach John Chaney admitted after Tuesday's game that he sent out "a goon" (his words, not mine) to try to change the flow of the game. That, combined with this week's bounty-gate in the UHL, gives cause to fondly remember legendary player-coach Reggie Dunlop.

Bench Minor

Also, on that St. Joe's/Temple game from Tuesday night, Chaney went nuts after a couple of illegal screens were called against his team and was assessed a technical foul. His elbows were flailing and he was screaming a word that rhymes with puck as assistant coaches and players held him back. After the game, he suspended himself for Temple's next game. College basketball analysts praised the self-discipline. I wonder if they knew it had already been done in the ECACHL two weeks earlier.
FRIES AT THE BOTTOM OF THE BAG

• It was a milestone weekend at Colgate as Adam Mitchell set the career games-played mark, Don Vaughan won his 200th game as head coach, and as we mentioned earlier, Steve Silverthorn set the career shutout mark.
• Keep an eye on the games in the Capital District this weekend. The bottom four teams in the standings are facing off, but Union, in particular, can work their way up to eighth and the right to host a playoff series next week. The Dutchmen trail Clarkson by just one point. Union hosts Yale and Princeton while Clarkson has the tougher task of playing against Colgate and Cornell.
• A fitting end to the Cornell-Union contest. As the clock ticked down on their final regular season home game, Mike Schafer had all five senior players on the ice for the buzzer to wrap up a 4-1 victory. Cornell's seniors – Charlie Cook, Jeremy Downs, Mike Knoepfli, Paul Varteressian, and Mike Iggulden – were recognized in a post-game ceremony.
• Union coach Nate Leaman benched senior defenseman Matt Vagvolgyi, an alternate captain, for an extended portion of Friday's loss to Colgate. Vagvolgyi was a healthy scratch for Saturday's game against Cornell. Matt Blabac got the nod on the blueline for the Saturday tilt, his first action of the season. He and Jason Ortolano helped give Union one of its best defensive performances of the year.
• Andrew Lederman of Harvard was another key player that got to see a game in street clothes over the weekend. The senior entered the weekend as Harvard's second-leading scorer, but wasn't in the lineup for the Crimson win over Clarkson. He returned to the lineup, on the fourth line, for Saturday's game against St. Lawrence and played a spirited physical game.
"I guess everyone's prone to getting a little stale after a while," Lederman told Harvard's student paper. "The game sitting out and watching and just taking mental notes for myself – I think that helped a lot."
• Princeton shook up its lines and it paid off with a big win over Dartmouth. Coach Guy Gadowsky broke up his No. 1 unit of Grant Goeckner-Zoeller, Dustin Sproat, and Patrick Neundorfer. Sproat joined Landis Stankievech and Keith Shattenkirk, and Shattenkirk had two goals. Goeckner-Zoeller had three points on a line with Sebastian Borza and Mark Masters.
• I've often criticized Cornell fans for throwing things on the ice, but it was good to see them celebrate at an appropriate time on Saturday. When Matt Moulson wristed a shot through traffic on the power play for his third goal of the night, the ice was cluttered with a huge number of hats from Lynah Rink patrons.
• Colgate's Tyler Burton and Harvard's Jon Pelle shared Rookie of the Week honors. Burton had three points on Colgate's four goals over the weekend. Pelle had a goal and an assist versus Clarkson and an assist against St. Lawrence and ranks second in scoring for the Crimson. It'll be interesting to see how the league's All-Rookie forwards pan out. There's only room for three forwards, making a tough decision between Burton, Pelle, Torrey Mitchell at Vermont, Nick Johnson at Dartmouth, and Steve Zalewski at Clarkson.
• The ECACHL announced another marketing partnership this week, as the league has joined up with outerwear manufacturer Turfer Sport, not to be confused with Cornell rookie Topher Scott.
A variety of sources were utilized in the compilation of this report.
Other Notebooks: Atlantic Hockey/CHA Notebook | CCHA Notebook | Hockey East Notebook | WCHA Notebook