December 4, 2003
Lucky 46
By James Jahnke
Forty-five times teams from the MAAC/Atlantic Hockey Association had tried to defeat a member of Hockey East, and 45 times the little guy had failed.
But you kind of got the inkling that would change when banged up Quinnipiac visited struggling Merrimack for a two-game set last weekend. Sure, the numbers were stacked against an upset, but Merrimack is far from a superpower and Quinnipiac is anything but a pushover.
In the end, we saw a split – 4-1 Merrimack on Friday, 3-2 Quinnipiac on Saturday. The series proved that bottom-dwellers in Hockey East can still beat top-tier teams from Atlantic Hockey, but also that the AHA continues to gain ground on the big boys.
Entering Saturday's game, Hockey East was 40-0-5 all-time against the MAAC/AHA.
"Any time you can beat a team from one of the Big Four conferences, you're excited," Bobcats coach Rand Pecknold said. "Given that Hockey East kind of had our league's number there for awhile, it was good to get that monkey off our back.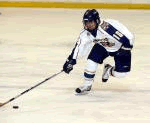 Joe Dumais and the Quinnipiac Bobcats posted the first win for an Atlantic Hockey/MAAC team over a Hockey East foe.
"We felt we could play with Merrimack – or any team in Hockey East – if we played well and got good goaltending. They have a good team. But our guys did what they had to do to win.
"I don't want to say it was just a win. It was a good win for us. But I would certainly be just as happy beating Mercyhurst on Friday."
The Bobcats' victory was especially impressive considering the mountain of injuries they have had to deal with in the first half. School policy precludes Pecknold from going into specifics, but he said it has been tough, at times, to dress 18 healthy guys for a game. He was half-joking, at most.
Junior forward Rob Hammel, sophomore forwards Michael Bordieri and Tim Morrison, freshman forward Dustin Hughes and freshman defenseman Jamie Dowhayko have all missed significant time with injuries. Several are done for the year.
That has Pecknold looking forward to the mid-season break for reasons other than eggnog and candy canes.
"We've got two games this weekend and then three weeks off," Pecknold said. "I think we need this break probably more than anyone in the nation."
Quinnipiac hasn't gotten any breaks health-wise this year, but Pecknold couldn't have asked for more from his goaltenders, junior Jamie Holden and senior Justin Eddy. Both goalies allow less than three goals a game and boast save percentages above .910. The two have split time most of the season, although Holden is the only one to have played both games in one weekend, and he earned the win over Merrimack while Eddy suffered the loss.
"I haven't even made a decision about who's going to play this weekend yet," Pecknold said. "We have confidence in both of them."
Offensively, Matt Craig (7-5—12) paces the Bobcats. He was instrumental in the upset of the Warriors on Saturday, notching two goals and an assist. For his efforts, he's the reigning Atlantic Hockey Offensive Player of the Week.
"He was phenomenal Saturday," Pecknold said. "But he went three or four games before that without a point. We want him to be a little more consistent."
SEEN AND HEARD IN THE LEAGUES

Joe Who? – If someone told you before the season that two Niagara Purple Eagles would be tied for seventh on the national goal-scoring leaders list at the beginning of December, you would have assumed the players were Hobey Baker candidate Joe Tallari and some other guy.
But Tallari (1-5—6) has had trouble solving opposing goalies thus far this year. Fortunately for coach Dave Burkholder, junior Barret Ehgoetz (10-9—19) and freshman Jeremy Hall (10-6—16) have picked up the offensive slack.
Hall has scored six goals in Niagara's last five games, including two markers in an 8-3 loss to Ferris State on Saturday. The night prior, Ehgoetz tallied the Purple Eagles' first goal in an impressive 2-2 tie on the Bulldogs' home ice.
Niagara actually had a 2-1 lead late in the third period Friday, but Ferris tied it up with less than four minutes to play. A win would have been Niagara's third over the Big Four this season.

Big Tie Against Big Red – Mercyhurst also finagled a tie against a big-time opponent last weekend, playing to a 3-3 draw at Cornell. Unlike Niagara, however, the Lakers had to manufacture a late goal to do so.
With his team's goalie pulled, sophomore forward Scott Reynolds buried a rebound with 5.5 seconds to play in the third period. The tally extended his point streak to seven games.
Meanwhile, sophomore goaltender Andy Franck was sharp again for the Lakers, making up for a 47-20 Cornell advantage in shots. He made five saves in overtime.
"We certainly think he's among the best goalies in the conference," Mercyhurst coach Rick Gotkin said. "He's playing extremely well."
Mercyhurst is now 2-2-1 against Big Four opponents.
Great Weekend Getaways

Alabama-Huntsville at Niagara (Fri.-Sat.)
Remember the good ol' days when UAH used to play hockey games? Well, it's time to get nostalgic. The Chargers (3-3-0, 2-0-0) will drop the puck for the first time since Nov. 8 in this battle of teams unbeaten in CHA play. Huntsville's Jared Ross leads the nation in points per game (1.83). These will be just the fourth and fifth games for the Purple Eagles (6-6-1, 4-0-0) at Dwyer Arena this season.

While you're there: Get some Christmas shopping done at the nearby Walden Galleria mall in Cheektowaga. If you're feeling generous, I'm in the market for a white Edmonton Oilers jersey.

Stick Salute

In my furor over the Buckeyes' football loss last week, I forgot to congratulate Wayne State defenseman Aaron Hundt on his assist in the Warriors' 3-2 win over Michigan State two weeks ago. Hundt, who has junior eligibility with WSU, played two seasons as a walk-on with the Spartans before transferring to Detroit after the 2001-02 season. He has 0-2—2 this year and is receiving significantly more playing time than he did in East Lansing.


Bench Minor

Yikes. Findlay failed to score in its trip to Colorado last weekend,
losing by identical 4-0 scores to Denver and CC. It was the first time since 2000-01 the Oilers were shut out in back-to-back games. Their power play, which we decried for an 0-for-13 skid in last week's notebook, went 0-for-9 in the Rockies. Perhaps the offense will get on track against another Colorado team, Air Force, this weekend.
FRIES AT THE BOTTOM OF THE BAG

• Who woulda thunk Air Force would be above .500 in nonconference games (6-4-0) but winless in College Hockey America (0-4-0)? And this after getting swept by Colorado College and Denver in non-CHA games last weekend. Granted, five of the Falcons' wins were against Atlantic Hockey teams, but they also beat Miami. In league play, they've been swept by Alabama-Huntsville and Niagara.

• In losing to those WCHA teams, Air Force has now gone winless in 16 straight versus DU and 21 in a row against CC. The Academy's 0-for-10 power play effort against the Pioneers on Saturday didn't help matters. But on the bright side, junior defenseman Ross Miller returned to the lineup last weekend after missing 11 of the team's first 12 games while recovering from offseason shoulder surgery.

• College Hockey America went 1-6-1 last week – all against non-league foes. Bemidji State's 7-2 win over UConn was the only success. All six CHA teams will play conference games this weekend, marking the first such occurrence this season.

• After a horrendous start (seven straight losses, including one to the U.S. Under-18 Team), Sacred Heart is on the rise. The Pioneers have won four of their last five, and, surprisingly, are tied for second place in Atlantic Hockey. With a home-and-home against skidding Bentley this weekend, they probably won't fall from that spot.

• It's not the sexiest matchup, but the Wayne State at Bemidji State series this weekend at the John S. Glas Fieldhouse might be fun to watch. It's the rematch of last season's CHA Tournament championship game, which WSU won to nab the league's first automatic bid to the NCAA Tournament. It also starts a stretch of 12-straight league games for Bemidji, which just split three consecutive non-conference series. In their last game, seven different Beavers scored – including five in the second period – in the aforementioned rout of UConn. Beavers head coach Tom Serratore might wish this series were played at Wayne State, however, as Bemidji is 4-2-0 on the road this year. It's the school's best start away from home since 1996-97.