December 4, 2003
Rivals Reeling
By Mike Eidelbes
Two people in the entry to the Michigan hockey offices in Yost Ice Arena were debating where to put a holiday poinsettia. A member of the Wolverines' support staff approved of the festive addition, saying, "We could use a little fa-la-la-la-la around here."

In both Ann Arbor and East Lansing, the mood surrounding the local college hockey programs the past couple of weeks hasn't been fa-la-la as much as it's been L-L-L's. As in losses.

Certainly, teams such as Northeastern or Vermont would gladly switch places with Michigan or Michigan State. But in the days leading up to the season's first two games in the CCHA's highest-profile rivalry, neither the Wolverines nor the Spartans are particularly worried about the opponent's game plan – both are focused on getting untracked.

The Wolverines are losers of three straight, and a loss Friday would give U-M its first four-game losing skid since 1988, when the team dropped six in a row between Nov. 26-Dec. 16. At 9-5-0, Michigan boasts a better record than MSU, but their problems are more cryptic than those facing the Spartans. It's not that the Wolverines are playing badly, they're just not playing like Michigan.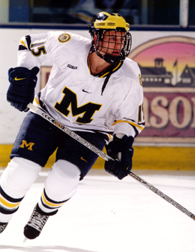 Jeff Tambellini and the Wolverines are in the midst of a three-game losing streak, the school's first since 1999.
"We played well against Minnesota, probably our best game," said Michigan coach Red Berenson. "I think we have a lot of players that we've expected to do better and be more productive. I can't tell you they're playing poorly, but they don't have the numbers they had last year so they need to take a step up. Right now, a lot of the ingredients that should be clicking are not clicking."

The Wolverines are scoring – they're 1/100th of a goal behind Miami and Ohio State in team offense. They're giving up 3.0 goals per game, more than past seasons, but still a manageable number. U-M is converting at a 21.3 percent clip on the power play but in the last four games, they're a combined 0-for-16 with the man advantage. The penalty kill has been respectable at around 84 percent.

Individually, goaltender Al Montoya has a .900 saves percentage and nine wins, but has allowed more goals than all but one CCHA netminder. The conference's list of players with more than 10 points boasts 42 names. Three Michigan skaters – freshman T.J. Hensick and sophomores Jeff Tambellini and Andrew Ebbett – are on that list. Most years, there are three Wolverines in the top six.

"It's not clicking. There are a lot of guys in the dressing room who are fighting the puck," said Tambellini, who's mired in a four-game scoring drought. "We're not getting it done and it's coming from every aspect of the game...offensively, defensively, power play, penalty kill."
Michigan State coach Rick Comley may be in a better position than Berenson despite his team's 8-7-1 record. He knows his team suffers from inexperience, a hallmark of which is the wildly inconsistent play the Spartans have exhibited this season. How else does one explain home losses to Findlay and Wayne State and convincing victories against Ferris State and Western Michigan, two teams that historically give MSU fits?

"We're searching for kids to step up and be productive. [Michigan is] waiting for kids to be productive," Comley said. "If you watch us play, you know what we don't have."

What the Spartans don't have are two NHL-caliber defensemen to replace the departed Brad Fast and John-Michael Liles, players Comley says the team doesn't miss in five-on-five situations but on special teams. MSU is also bereft of seniors – defenseman Joe Markusen is the only skater whose eligibility will expire at the end of the season – and despite a large junior class, the leadership isn't there.

That being said, Comley is comfortable with his team's shortcomings. Unfortunately, the folks that fill Munn Ice Arena every weekend aren't as patient.

"The hardest thing to deal with is people and their want of you to be really, really good and their expectations," Comley explained. "Internally, we know what's going on and what it's going to get there. Michigan State doesn't like to use the term 'rebuilding' but that's what's going on. It doesn't mean we're devoid of talent, but we certainly are rebuilding in some critical areas."

Scoring depth is obviously an issue. While the Spartans have a number of talented forwards, opponents have been able to focus their defensive efforts on the team's top line of juniors Jim Slater and Mike Lalonde and freshman Tom Goebel. State has received respectable efforts up front from juniors Ash Goldie and Brock Radunske. Sophomore David Booth, who scored 36 points last season, returns to the lineup this weekend after missing half of the team's games due to injury.

"We need some wins and we need them now," said Slater, the nation's leading scorer with 24 points. "Especially going into the break here to build confidence as we head into the GLI."

Perhaps Tambellini best captured the atmosphere surrounding the weekend.

"It's a fight to stay alive in the [CCHA] race and not fall into a rut," the Michigan forward said. "It's desparation on both sides and we feel a sense of urgency that we have to start getting it done."

SEEN AND HEARD IN THE CCHA

Sticking with Steckel: David Steckel apologized for missing a scheduled phone interview with a reporter. Returning the call 45 minutes after the appointed time, the senior forward explained that Ohio State's practice ran late, and he had to take his dog for a walk prior to embarking on a long night of studying, what with final exams approaching next week.

The bout of phone tag is a microcosm of Steckel's Buckeye career – he showed up, just a little bit late. After a promising freshman campaign during which he scored 35 points, the West Bend, Wis., native managed 22 points as a sophomore and just 18 points last season. He was often invisible for large stretches of games. Not the kind of performance one expects from a first-round selection of the Los Angeles Kings in the 2001 NHL Entry Draft.

"I haven't really changed much in the three years I've been here," said Steckel. "Last year, I played with more defensive role guys as opposed to the offensive scoring linemates that I have right now."

On a line with senior Paul Caponigri and junior JB Bittner this year, Steckel is on a pace to approach the point total he amassed as a rookie. Through 16 games, the 6-foot-5, 215 pound winger shares the Buckeyes lead with 10 goals and ranked second among OSU skaters with 14 points. Of his 10 markers, three have been of the game-winning variety, putting him tied for second in the nation in that category.

Ohio State, along with Miami, boasts the top offense in the CCHA with an average of 3.44 goals per game thanks to a balanced approach. It's a change from previous seasons, when Steckel says he and his teammates were guilty of deferring to former Buckeye R.J. Umberger in the offensive end.

"When you've got a guy who scores 40 points consistently each year, you're going to look to him when bounces and pucks aren't going your way," Steckel explained. "Now that the responsibility is shared between us seniors with R.J.'s departure, more guys are getting opportunities."

On numerous occasions, Steckel credited his fast start and OSU's strong showing out of the gate to a commitment to team unity and togetherness, the likes of which haven't been seen in Columbus since the current seniors arrived on campus.

"You could probably define us as one of the hardest-working teams in college hockey," Steckel said. "We get the things that we need to do done, and hopefully after this weekend we can go into Christmas break and say that we did a great job and these are the things we need to keep doing to be successful the rest of the year."

If you must know, the interview with Steckel went smoothly. His senior season at Ohio State appears to be progressing in a similar manner.

The Globke Shuffle: Apparently, some of the best celebrations don't occur on the ice following goals.

If you poke your head into the Notre Dame locker room after a Fighting Irish win and you might catch a glimpse of senior forward Rob Globke celebrating with what South Bend Tribune writer Steve Lowe describes as a "wild, flailing victory dance" set to the tune of the infectious OutKast hit, "Hey Ya." If you've heard this song – and hopefully you have, because it's a fantastic track –- you're laughing hysterically at the image of Globke shaking it like a Polaroid picture.

"After the win over Boston College, or maybe a little before that, we put that song on and I just started going, and it kind of became a tradition," Globke told Lowe. "Everybody likes it."
Great Weekend Getaway

Miami vs. Ohio State (home and home, Fri.-Sat.): No question, the highlight of the weekend is the home-and-home, intra-state rivalry between two teams playing their best hockey of the season. You know we're talking about the Miami-Ohio State series, right?

The RedHawks posted a 5-1-1mark in November and enter the weekend with 13 points, good for a tie for third place in the CCHA standings. The Buckeyes, meanwhile, have won four straight and with 16 points, share first place in the league with Notre Dame. With two teams this evenly matched –- both average 3.44 goals a game, tops in the conference and have split their last 10 meetings at five wins apiece –- special teams are the likely deciding factor. More specifically, can Miami's red-hot power play, clicking at a 26.4 percent success rate, be the difference maker in this two-game set?

While you're there: Since the series shifts from Columbus to Oxford Saturday, stop to stretch your legs in Dayton by visiting the U.S. Air Force Museum at Wright-Patterson Air Force Base. With more than 300 aircraft on display, it's a fitting way to commemorate the upcoming 100th anniversary of powered flight. It was on Dec. 17, 1903, Dayton natives Orville and Wilbur Wright succeeded in getting their aircraft off the ground at Kitty Hawk, N.C. The museum, which boasts aircraft ranging from the World War I-era Sopwith Camel to the standard F-15 fighter jet, is open daily from 9-5 and, best of all, admission is free.

Stick Salute

Nebraska-Omaha flexed its muscle against nationally-ranked Massachusetts last weekend, taking three points from the visiting Minutemen on the strength of a 7-2 win Friday and 1-1 draw Saturday. Freshman goaltender Chris Holt, who earned CCHA Defensive Player of the Week honors for his efforts in the UMass series, is 3-1-1 with a 1.58 goals against average and a .948 save percentage in his last five starts. The Mavericks, meanwhile, posted a 4-3-1 mark in November after starting the season with six losses and a tie.

Bench Minor

The guys skating in front of Bowling Green goaltender Jordan Sigalet may want to ratchet up their efforts in the defensive zone before he drops to the ice from exhaustion. Sigalet, a junior, had an off night against Ohio State Saturday by allowing seven goals on 26 shots. In 15 games this season, Sigalet has made 30 or more saves six times - that's 40 percent of his starts. He's made more saves (412) than any goalie in the league and leads the nation in minutes played (924:56).
FRIES AT THE BOTTOM OF THE BAG

• Tambellini was the lone college player selected to take part in the tryout camp for the Canadian entry into the IIHF World Junior Championships. The selection camp begins Dec. 12 in Kitchener, Ontario, the same day the Wolverines open a two-game series at Nebraska-Omaha, the team's final contests prior to the holiday break.

"As a kid watching [the tournament] every winter after Christmas, it's something I always wanted to be a part of," Tambellini said.
Hockey Canada will announce its final roster Dec. 16. This year's World Junior Championship runs from Dec. 26-Jan. 4 in Helsinki and Hameenlinna, Finland.

• Tambellini might not be the only Wolverine representing Canada in international competition later this month. Relax, Michigan fans. It's no one from the team's current roster.

Holdout centerman Mike Comrie was invited by Hockey Canada to play in the Spengler Cup – not named after Harold Ramis' character in Ghostbusters –- Dec. 26-31 in Davos, Switzerland. The team, whose roster consists mainly of Canadians playing professionally in Europe, is the tournament's defending champion.

Comrie's agent, however, told reporters Wednesday that he doesn't expect his client to be available to play in the tournament. Ritch Winter believes the 23-year-old will be dealt by the Edmonton Oilers by the end of the month. Comrie, a restricted free agent, refuses to re-sign with the Oilers and has demanded a trade for months.

"We think we're getting close [to a trade] but we don't have complete control over that," Winter said. "What we think isn't necessarily relevant."
• Again, with apologies to the great Peter King, here's the factoid of the week that may interest only me. The last time both teams in the Michigan-Michigan State rivalry carried multiple-game losing streaks into the game was Nov. 7, 1980. The Wolverines were fresh off a pair of losses at Minnesota, while the Spartans had dropped a series to North Dakota in East Lansing.

• We doubt school pride was on the line last Friday in St. Petersburg when former Lake Superior State star Doug Weight, now with St. Louis, squared off against erstwhile Miami standout and current Tampa Bay blueliner Dan Boyle during the overtime period of the teams' 2-2 draw.

Neither had a reason to fight. Weight earned an assist on the Blues' first goal, while Boyle scored his first goal of the season during a Lightning power play opportunity in the second period. And they aren't known as brawlers – Weight entered the game with six penalty minutes and Boyle, who came into the game with 10 PIMs, doubled his season total by earning a pair of fighting majors.

"There was a lot of cheap stuff behind the play, guys getting high-sticked and stuff," Boyle told a St. Petersburg Times writer after the game. "You don't want many of these but it does bring a team closer together."

• Speaking of fights, we're now to the point where we usually discuss the Obscure Bowling Green Note of the Week. This time around, however, it's more of an anecdote from Tuesday's Rangers-Maple Leafs game in Toronto when former Falcon Greg de Vries instantly became the NHL's most popular player when he tangled with super pest Darcy Tucker during the second period of the Blue Shirts' loss. The fight, actually on the undercard of the Tie Domi-Matthew Barnaby heavyweight tussle, was entertaining nonetheless, with de Vries landing a number of blows to Tucker's head, which many opponents believe is empty.

A variety of sources were utilized in the compilation of this report