December 4, 2003
True Believers
By Joe Gladziszewski
It's a short list, the one that includes those who believed Brown would stand highest according to ECAC standings and national rankings when the Bears and Harvard Crimson made the trip to Lynah Rink for a set of conference games during the first weekend in December.
Include Brown's standout freshman Brian Ihnacak and the rest of the Bears as a part of that list.
The fact that the Bears are leading the ECAC with a 6-1-0 league record (6-1-1 overall) and have climbed all the way to seventh in this week's INCH Power Rankings isn't surprising to the folks at Meehan Auditorium.
"As a team we knew how good we could be right from the start of practice. We all believed that we could be as good as we wanted to be," Ihnacak said.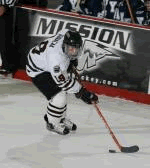 Freshman Brian Ihnacak leads Brown with 12 points. (Photo by DSPics.com)
Apparently, Brown's performance to date hasn't caught the attention of everyone. Ihnacak said that the team still doesn't feel that it's getting the respect it deserves. Take these comments from Clarkson's Jay Latulippe for example.
It might have something to do with being the 'other half' of a weekend set with travel partner Harvard, which boasts a lineup full of NHL draft picks and was picked as the unanimous favorite to win the ECAC. But Brown is simply taking care of business and has a chance to make a huge statement this weekend when it visits third-place Cornell on Friday.
For Brown to continue its winning ways, its outstanding power play will need to continue to excel. The Bears are ranked first among all Division I teams with a 34.2 percent success rate. Ihnacak described the power play units as "nothing special. Just five guys who see an opportunity to score."
Nine of Ihnacak's 12 points have come on the power play.
Friday's game at Lynah Rink and Saturday's tilt at Colgate's Starr Rink could go a long way in developing a concrete pecking order in the crowded ECAC standings. While Brown holds a five-point edge over Cornell, the Big Red has played three fewer conference games. Second-place Dartmouth (9 points in six games) doesn't have another league contest scheduled until Jan. 2 against Vermont.
SEEN AND HEARD IN THE ECAC
Resilient Clarkson – Following the turmoil and tumult of last season, when the Clarkson Golden Knights finished seventh in the regular season after being picked third in the preseason polls, and crashed out of the ECAC playoffs in the first round, newly hired head coach George Roll felt it was important to instill some mental toughness, work ethic, and commitment to return Clarkson to the upper-half of the ECAC.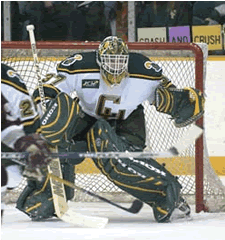 Dustin Traylen's .931 save percentage is good for 11th in the nation. (Photo by Chris Lenney)
To be sitting at 6-4-3 through the first part of the season and 3-3-1 in the ECAC with a win at Harvard and tie against Cornell is a good sign that things are headed in the right direction for the Golden Knights. An even better sign comes in the fact that Clarkson hasn't lost two consecutive games this year.
Like the proverbial snowball rolling downhill, many factors contributed to a miserable 2002-03 campaign.
This year, there's a different attitude, a tougher approach. Last weekend, on the heels of a 4-1 loss at Brown, Clarkson rebounded with their best performance to date and won 3-0 at Harvard.
"We haven't gotten to the consistency level that I would like to see, but on the other hand we've been able to bounce back and I honestly feel that we've gotten better as a team. We're not the type of team that can look past anyone, we've got to be ready to work hard every night," Roll said. "I give a lot of credit to the guys that we haven't had a losing streak."
This weekend, Clarkson takes on a pair of Hockey East opponents as New Hampshire and UMass Lowell visit Cheel Arena. Having already laced up the skates against Colorado College this year, and making a road trip to Bemidji State, Roll's been able to get a decent perspective on what the national landscape has to offer. He feels confident that ECAC teams rightly deserve to be considered among the best in the nation. Six conference schools appear in this week's INCH Power Rankings.
"From what I've seen, there's no runaway number-one team (in the ECAC), but a lot of good teams that can play with the best teams in the nation on a nightly basis. Our league doesn't get the respect that it deserves," Roll said.
Central Scouting Taking Note – When the NHL's Central Scouting Service released its list of the top-35 skaters and five goaltender prospects currently playing college hockey, the ECAC was well-represented.
Cornell forward Mitch Carefoot (15th), Brown's Ihnacak (19th), Yale defenseman Shawn Mole (23rd), Colgate forwards Kyle Wilson (25th) and Ryan Smyth (27th), Union forward Olivier Bouchard (33rd) and Princeton forward Kevin Westgarth (34th). Four Dartmouth players along with Ryan Maki of Harvard and Rensselaer's Oren Eizenman earned "Limited Viewing" status from Central Scouting but are at least at this point appearing on the radar screen.
These players are showing that the ECAC is as good a venue as any to show pro potential. The outspoken Ihnacak, who hails from Toronto, knew that the American college hockey route was right for him and never even considered staying home to play major junior in Canada.
"I have no respect for that league at all," Ihnacak said. "When I was drafted in the ninth round of the bantam draft and seeing guys who were drafted ahead of me that aren't even in hockey anymore, that's all I needed to know about how that league works."
Great Weekend Getaway

Brown at Cornell (Fri.); Harvard at Cornell (Sat.)
Of course, Saturday's game is one of the nation's best rivalries, and features one of the most unique traditions in the sport when the Lynah Faithful will shower the ice with fish of all sorts of shapes and sizes, and possibly some stuffed animals as is being requested by the university. Friday's game means more in the early-season standings as league-leading Brown comes calling. Will the Bears extend Cornell's winless streak at Lynah Rink this year?

While you're there: Visit Collegetown Bagels while in Ithaca and order a "Hornby in the Box." The bagel shop honored Cornell senior forward Greg Hornby with his name on a special blend of coffee. Hornby didn't create the recipe, so it's not his fault if the java doesn't suit your tastes.


Stick Salutes

We'll raise our sticks toward a pair of goaltenders this week. Dustin Traylen of Clarkson became the first-ever Clarkson goalie to shut out Harvard (31 saves) in the all-time series. That series began in 1935, and the first Golden Knight shutout came in the 88th meeting between the schools.

Another shutout streak was ended when Princeton's Eric Leroux made 23 saves to lead the Tigers to a 3-0 win over Yale. The last time Princeton blanked Yale was 71 games and 35 years earlier (Feb. 17, 1968).


Bench Minor

Even shutouts might not be good enough for St. Lawrence goaltenders Mike McKenna and Kevin Ackley. The Saints are having trouble scoring goals. SLU has suffered back-to-back shutouts for the first time in the program's history and are mired in a four-game losing streak.

FRIES AT THE BOTTOM OF THE BAG
• Dartmouth's 4-1-4 record is awkward to look at, to say the least. Maybe all of the 65-minute draws were in the cards after the Big Green didn't record a single tie in ECAC play last year. The most recent deadlock came on Saturday, when Mike Ouellette scored with 15 seconds remaining to give Dartmouth a 2-2 tie at Boston University. Three of the four ties have come on enemy ice.
"You're not really ecstatic about ties, but under the circumstances, playing on the road as much as we have and mustering up the energy to really battle back and play hard and find a way to score at the end of the game was quite good," Dartmouth head coach Bob Gaudet said.

• In last week's combined notebook with my colleague and Hockey East correspondent Nate Ewell, we previewed four key games pairing ECAC and Hockey East schools. Including Tuesday's games and those played on Thanksgiving weekend; Hockey East schools posted a 4-2-2 record against ECAC programs. For the season, ECAC squads are just 4-12-4 against Hockey East programs.

• Brown's Yann Danis is making an early-season bid to be strongly considered for the Hobey Baker Memorial Award. Yann's most recent additions to his Hobey resume include 108 saves on 110 shots in a 2-0-1 stretch. He blanked Clarkson for his 11th career shutout (a school record) and leads the nation in save percentage (97.5) and a 0.74 goals-against average.

• It took Rensselaer four games to get their first win of the year, but the Engineers used that 6-0 win against Army to jump-start a 7-1-1 stretch. They'll have a chance to improve upon their already fine 7-4-2 record in the coming weeks with seven straight home games at Houston Field House.
• Princeton's victory over Yale, the Tigers' third of the season, matched their win total from all of last year and surpassed its ECAC victory total of two.

• On the other side of things, Vermont fans, players, and new coach Kevin Sneddon couldn't have expected that the calendar would show the month of December and the Catamounts would still be without a win. To UVM's credit, they've played six of their 12 games against teams currently appearing in the INCH Power Rankings, plus formerly ranked Union and Boston University. Saturday they meet the only other winless team in college hockey, 0-9-2 Northeastern.

• Clarkson sophomore defenseman Dale Good, who had played in six of Clarkson's first 13 games, left the Golden Knights and joined the St. Michael's Majors of the Ontario Hockey League.
A variety of sources were utilized in the compilation of this report.