January 29, 2004
Lending a Hand
By James Jahnke
Canisius junior defenseman Mark Persick will probably never get as much publicity or acclaim for what he does on the ice as for what he does off. But he doesn't mind. Nor do the countless people he has helped through his good deeds.
Persick, one of five finalists for the Hockey Humanitarian Award, has been heavily involved in charity work since his midget days in Saskatchewan. His junior team, the Melfort Mustangs, mandated that if players didn't have class or work in the morning, they had to go play cards with senior citizens or a similar function.
Persick, 23, brought those values with him to Buffalo.
"We're role models for people, whether we like it or not," said Persick, a 6-foot-2, 205-pounder with one assist for the Golden Griffins this season. "It's an important part of our job description. We've been fortunate with the breaks we've had – on scholarship, playing hockey, doing what we love. Not everyone is so lucky."
In three years at Canisius, Persick has organized regular player visits to the Buffalo Women's and Children's Hospital, a food drive for St. Anne's orphanage every Canadian Thanksgiving, fund-raisers for the Roswell Cancer Institute and recreation activities for immigrants at Vive La Casa trying to get into Canada. He also participated in a cleanup of the Hamlin Park area and is currently working on a citywide food drive pitting Canisius, Buffalo State and Buffalo against each other in a battle to see which university can generate the most donations.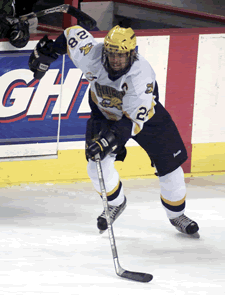 "I'm really just a guest in Buffalo," says Canisius defenseman Mark Persick.
"He's been this way since he came in as a freshman," Griffins coach Brian Cavanaugh said. "He's always coming up to me and saying, 'I've got an idea for another project.' Whatever free time he has, he tries to devote it to helping others and getting others to help others."
Persick came up with many project ideas on his own, but he also gleaned some from the national Student-Athlete Advisory Committee, in which he was Canisius' student representative.
Persick would like to win the Humanitarian Award (the other nominees are Patrick Foley of New Hampshire, Dan Boeser of Wisconsin, Derek Nisula of Babson and Chanda Gunn of Northeastern), but he said it's an honor just to be a finalist.
"A lot of the stuff I organized seemed pretty simple in comparison to what some of the other nominees did," Persick said. "When you put a name on something and hold it every year, it seems pretty impressive. We're building toward something like that with the hockey team here.
"I'm from Saskatchewan, so I'm really just a guest in Buffalo. I'm a long way from home, but I've been treated very well here, so I just take the chance to give back to the community."
SEEN AND HEARD IN THE LEAGUES

SHUtdown – Coming into the season, there was a little bit of buzz about Sacred Heart being a possible contender for the Atlantic Hockey crown. While that scenario isn't completely out of the picture, the Pioneers (4-14-3) have had a rough go of it so far.
They carry the nation's longest winless streak (10 games, 0-7-3) into a home-and-home series against Connecticut this weekend and have struggled finding the net (2.49 goals per game). They haven't won since November, but coach Shaun Hannah said the group's spirits are still up.
"They're enthusiastic, and they aren't dragging themselves to the rink or anything," Hannah said. "There's no morale problem. Thank goodness for that."
With 10 points, Sacred Heart is tied for fifth in Atlantic Hockey – not bad considering their current slide. Helping matters, if "helping" is the right word, is the fact that only four of the Pioneers' last 10 contests were in-league battles. So they haven't lost too much ground on, say, fourth-place Canisius (13 points). But they need to start winning soon if they want to climb in the standings.
"We have a young team, so I knew it was going to be a season of learning," Hannah said. "We were going to take our lumps. But you've got to go through things like this as a team if you're going to improve your game. I think we've progressed. This stretch has made us stronger.
"Our kids really want to improve. Obviously, there's a big emphasis on winning games, but if that were our only emphasis, we'd be a pretty down and depressed group right now. Fortunately, that's not the case."
Boltin' Griffins? – Canisius Athletics Director Tim Dillon isn't so much concerned about what's going to happen to his team during the Great Conference Shuffle after this season (which no doubt isn't over after today's announcement that Robert Morris will join the CHA). He's worried about all the schools struggling to make ends meet.
With the ECAC, CHA and Atlantic Hockey all in a state of flux, college hockey appears to be on a collision course with realignment sooner rather than later. And it probably will be a little bumpy. Every day, teams are rumored to be going to this league or that. Canisius is one of the schools in the middle of the whirlwind, as the speculation is the Griffins would like to be in a league with cross-town rival Niagara.
That would be fine with Dillon, but he doesn't want to see anyone else drop their program – as Findlay did earlier this season.
"We need to continue to grow our sport," said Dillon, a member of the Division I Men's Ice Hockey Committee, who came to Canisius from Alaska Anchorage. "A change in the number of conferences wouldn't worry me, it's the number of teams that's important. We need to preserve that."
Dillon would like to increase his scholarship total from the Atlantic Hockey maximum of 11, but he said he wouldn't pursue that if it would set off a chain of events causing other programs to be dropped.
He said Canisius' No. 1 goal at the end of all of this is to be in a league with similar schools. That's not necessarily the case in Atlantic Hockey right now.
"With these one-sport conferences, it's often a marriage of convenience. There are a variety of schools in the same league with no real rhyme or reason except they all needed a home. If we were to look at other options, we would say, 'Who would we like to be with?' I think that would be other schools that we could aspire to be like."
As far as realignment plans, Dillon offers a unique solution.
"Maybe we should do it like they used to do on the playground," Dillon said. "Have the conference commissioners as captains and have them pick what schools fit their league. The problem with that is, sometimes people don't get picked on the playground, and we can't have that. This might not even all shake out by next year."
Culture clash – Like a good bowl game, Northern Michigan's interregional series at Alabama-Huntsville this weekend should be intriguing. The Wildcats are making the trip to fulfill an agreement that brought the Chargers to Marquette last year.
The series features one of college hockey's northern-most schools – from a major conference, no less – heading down into the heart of Dixie for a tussle with a much smaller, less respected squad. I feel like I should read "The Killer Angels" again.
The biggest problems with this series are that Walt Kyle doesn't look much like U.S. Grant, and UAH wears blue instead of gray. I wonder if NMU's Dirk Southern has any mixed loyalties.
FRIES AT THE BOTTOM OF THE BAG
Great Weekend Getaway

Quinnipiac at Mercyhurst (Fri.-Sat.)
Atlantic Hockey's traditional powers collide in what basically amounts to an elimination series to see who will be able to seriously challenge first-place Holy Cross for the Atlantic Hockey regular-season title. Second-place Mercyhurst (10-3-0 in the league) trails the Crusaders by five points, but has two games in hand. Third-place Quinnipiac (7-2-2) is nine points back with four games in hand. If one of these teams can take three or four points this weekend, their outlook gets much rosier. The other squad? Well, there's always the conference tournament.

While you're there: Spend a few hours at the nearby Millcreek Mall and see if you can't find some Lakers garb to wear to the arena. If you're rooting for the Bobcats, you can buy the same stuff and just deface it with a big red 'X.' If you're going to the mall, however, beware of the RV and Powersport Show that will be there all weekend.

Stick Salute

Raise 'em up to Niagara forward Barret Ehgoetz, who could have scored on an open net Thursday night, but instead passed to teammate Joe Tallari so that Tallari could complete a hat trick. "That was one of the classiest things I've ever seen," Tallari told the Buffalo News after the game. Sure, the act might cheapen the hat trick a bit, but in this day and age of stupid me-first cell phone and Sharpie stunts, it's always refreshing to witness selfless acts. Especially by a guy like Ehgoetz, who is tied for the national lead in scoring (18-20—38).

Bench Minor

Like our grandparents walking to school, Army must feel like it's skating uphill no matter which way it's going this season. The much-maligned Black Knights continued their woeful offensive season with a pair of doughnuts against Quinnipiac last weekend. That makes three straight games Army has been shut out. One problem has been the power play, which is just 6-for-107 this season. Much like the chicken or the egg, you have to wonder which came first: No offense leads to bad power play or bad power play leads to no offense. Either way, as Kramer once said, "That's bad chicken. Mess you up."
• UAH junior Jared Ross reached the 100-point plateau with a second-period goal against Air Force on Friday. Then he blew past the benchmark with three more points Saturday. Ross now has 103 points in 89 career games with the Chargers, including 35 points in 18 games this year. He continues to lead the nation in points per game (1.94).
• On Saturday night, UAH junior defenseman Ryan Brown tied a CHA record with five assists in the Chargers' 6-2 win over the Falcons. The five-point night is even more impressive when you consider Brown had just seven points this season and 16 for his career beforehand.
• Niagara senior Joe Tallari became the Purple Eagles' all-time leader in games played by dressing for his 130th contest Thursday. He also played Saturday, upping his school mark to 131. But Tallari wasn't just an idle participant for Niagara – he potted four goals, including a hat trick Thursday. He now has nine goals and five assists in his last eight games.
• Pointless-but-true: Look at the box score from Mercyhurst's 7-4 win over UConn on Friday and tell me you don't see all the names starting with "E-R-I." In the first period alone, UConn's Eric Helstedt and Mercyhurst's Erik Johnson had two goals apiece. UConn's Eric St. Arnauld assisted on both of Eric Helstedt's goals. If that weren't bad enough, UConn's Eric Nelson added an assist in the second period and then Erik Johnson finished his hat trick in the third. Whew.
• Canisius senior defenseman Daryl Pierce (0-7-7) will miss the first game against Army this weekend because of a mandatory one-game suspension for a fighting disqualification picked up after the final horn in Saturday's tie against Niagara. At roughly the same time, Purple Eagles assistant coach Jerry Forton picked up a game misconduct for chastising the officials as they left the ice. But Forton won't be suspended, Niagara sports information director Jonathan Chu said.
• Talk about consistency: Bemidji State scored two goals in all six periods of its sweep of Wayne State last weekend. The Beavers, notorious for keeping opponents' shot totals down this season, also held the Warriors to just five total shots through two periods Friday and 12 for the game. In the teams' four-game series this season, Bemidji outshot Wayne State 183-61 (or 45.8 to 15.3 per game).
• Quinnipiac junior goalie Jamie Holden became the first tender in Bobcats history to record back-to-back shutouts when he blanked Army twice last weekend.
• Speaking of goalies, Findlay's duo of Will Hooper and Jon Horrell was certainly kept busy at Ferris State. Hooper made 47 saves in the series-opening loss, while Horrell turned aside 49 shots to preserve a scoreless tie in game two. Horrell has not won since the season-opener against Michigan State, despite earning ties against Ferris State and Brown in two of his last three starts.
If Horrell were to start getting more playing time for the Oilers after Saturday's performance, there might be just one clear-cut No. 1 goalie left in the CHA: Niagara's Jeff VanNynatten. Freshman Peter Foster has steadily stolen playing time from senior Mike Polidor at Air Force, while Layne Sedevie has played in three of the last four games at Bemidji (where Grady Hunt was the incumbent starter). Wayne State coach Bill Wilkinson has flopped between Marc Carlson and Matt Kelly all year, as has UAH boss Doug Ross with Adam MacLean and Scott Munroe.
Tandems 'R' Us.
• Here's what Air Force coach Frank Serratore had to say about Foster after the rookie beat UAH and set a school record with 131 consecutive shutout minutes against Division I competition Friday: "Peter Foster is one cool customer. He has poise and is confident. He has been impatiently waiting his chance to play, and I don't mean that in a bad way. Mike Polidor has won a lot of games for us and he'll be back. But right now we have to stick with the hot hand. It is nice to know that we have two goaltenders that can win games for us."
• This won't matter to anybody else, but I have to put it out there so I don't giggle every time I see the names Jaymie Harrington and Marc Norrington the rest of the season. Harrington, a Canisius defenseman, has the exact same name (except for an extra "Y" in the first name) as my two-time college roommate's girlfriend in Virginia. Meanwhile, Norrington, a Niagara forward, was a childhood play pal with my girlfriend and her little brother in Grand Blanc, Mich.
There. Now I don't have to think about it ever again. These pointless nuggets are made somewhat timely by the fact that both Harrington and Norrington notched points when their teams played each other last weekend. Harrington had an assist Friday, giving him 4-3-7 for the year. Norrington scored a goal in each game – running his goal streak to three games.
• Holy Cross boss Paul Pearl will be the guest of honor for the American Hockey Coaches Association's next "Ask the Coach" feature. Fans can submit questions to Pearl at ahcahockey.com, and the coach will answer them Feb. 4.
• The CHA tournament will be broadcast locally in Kearney, Neb. by KXPN (1460 AM), the station announced last week. The station is also looking to air the games on the Internet. Tickets for the entire tournament are available for $45. Single-game tickets will go on sale for $10 in February. Call (308) 338-8809 for more information.