January 29, 2004
Miami Milieu
No one expects CCHA's current leader to finish there.
By Mike Eidelbes
Is there a more unappreciated – or under-appreciated, if such a word exists – first-place team in college hockey than the Miami RedHawks? After starting the season 1-4-1 and suffering disappointing losses to St. Lawrence and Air Force, Miami has reeled off a 12-5-1 record and currently sits atop the CCHA, one point ahead of Michigan and Michigan State.
Still, there are doubters, like Joe Clark of the Omaha World-Herald who – in summing up the race to the league's regular season title – wrote, "expect the RedHawks to drop from this point on." He's not alone. Most CCHA observers, if pressed for an opinion, would likely choose the Wolverines to head into the conference playoffs as the top seed.
"We've got huge weekends coming up," said senior defenseman Brian Sipotz said. "But it's nice to keep in mind that we're in first place and everyone is chasing us at this point in time."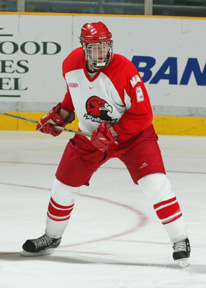 Defenseman Brian Sipotz is one of seven seniors on a veteran Miami squad.
If there's one word that best describes Miami, it's balance. The RedHawks rank second in the league in scoring at 3.42 goals per game. They're a respectable fifth in the conference in team defense, allowing 2.69 goals per game. And they've got the CCHA's best power play, clicking at a 22.4 percent success rate.
"We've put ourselves in a situation where we can…feel good about what we're doing," coach Enrico Blasi said. "Our main focus is trying to be a positive influence on the ice every shift. That may mean a goal, that may mean a blocked shot."
The points have come from a variety of sources – seven Miami skaters have scored more than 15 points this year. Senior forward Derek Edwardson, a Hobey Baker Award candidate, is tied for third nationally with 36 points. Not far behind is fellow senior Mike Kompon, who's tied for ninth in the nation with 30 points. A third senior, Greg Hogeboom, is also among the country's top 20 scorers with 28 points. Then there's freshmen Matt Christie (24 points) and Marty Guerin (23), two of the nation's leading rookie point-getters.
That's just the scorers. We didn't touch on the team's steady defensive unit led by terrific sophomore Andy Greene and a rapidly improving freshman goaltender in Brandon Crawford-West. Nor did we discuss the RedHawks' experienced-laden squad that boasts seven seniors who've experienced the good (a second-place regular season finish in 2000-01) and the bad (back-to-back second half swoons in 2001-02 and again last season).
"Our leaders have learned from the past couple seasons and we obviously don't want it to happen this season," Sipotz said, referring Miami's 11-20-3 post-New Year's record in 2002 and 2003. "We've learned what we can [control] and what we can't. That's helped us out a lot."
Blasi, too, feels his team has forgotten about the past collapses and points to recent road wins to strengthen his belief.
"We've had a tough road the last couple of weeks, especially at Northern Michigan and Ferris State," said the RedHawks' coach, now in his fifth season. "They're tough buildings to get wins, especially on a Saturday night after you lose on a Friday night."
Their schedule the rest of the way is the toughest in the CCHA – series at Michigan State and Michigan, home series with Notre Dame and Western Michigan, and a home-and-home set with Ohio State to close the regular season. It's a daunting task to tackle if Miami is to remain in first place in the conference, but the RedHawks believe they're up to the challenge.
"We haven't panicked. Our leadership has been very solid going back to when we were 1-4-1," Blasi explained. "I'm sure a lot of people said, 'Oh, there goes Miami again.' But these guys knew what they could do…and they've really stayed the course throughout the year."
SEEN AND HEARD IN THE CCHA

HANDICAPPING THE HOBEY HOPEFULS – Usually by this time of the season, a handful of clear-cut candidates for the Hobey Baker Award have risen to the top of the heap. This season, however, appears to be an exception, and it can be looked at in a couple of different ways.
One can draw the conclusion that there are a number of very good players in the game right now, but no great ones. On the other hand, one could surmise there are a number of great players, but they've been beset by injuries and/or inconsistency. With that in mind, let's examine the top Hobey Baker candidates from the CCHA (statistics through last weekend's games).
• Derek Edwardson, F, Miami
Pros: Nation's third-leading scorer with 36 points in 26 games. Key cog in RedHawks' power play, ranked sixth in the country. Team currently resides in first place in CCHA standings.
Cons: Too much balance in the RedHawks' lineup? Teammates Mike Kompon and Greg Hogeboom are also among the country's top 20 scorers, while freshman Matt Christie ranks tied for eighth in the NCAA with 16 goals.
Analysis: Miami has put all its eggs into Edwardson's basket – check out www.derekedwardson.com for proof – but he doesn't stand head and shoulders above his teammates, let alone other players in the league. He should be one of the 10 finalists for the honor, but Edwardson is a long shot to be in Boston when the Hobey is handed out April 9.
• Jim Slater, F, Michigan State
Pros: Seventh nationally with 33 points. Plays for a high-profile program – he's by far the most well-known Spartan and the team's public face – and was chosen by Atlanta in the first round of the 2002 NHL Draft, so name recognition is not an obstacle. Solid two-way player.
Cons: Doesn't score in bunches – good for a goal here, a couple assists there, and the occasional three-point night every so often. Spartans are battling for first place in the CCHA and are creeping higher in the Pairwise Rankings, but the team is still flirting with the .500 mark and has been maddeningly uneven.
Analysis: Slater is one of the top players in the college game today. But is he one of the top 10? If the list of finalists went a dozen deep, he'd probably be in. A strong finish – both as an individual and as a team – would probably be enough to get him on the list of finalists, but the guess here is that he'll just miss.
• Al Montoya, G, Michigan
Pros: Generated all the publicity he needed when he backstopped the United States to its first World Junior Championships gold medal. Only Boston College's Matti Kaltianen has more wins than Montoya's 15. Tied for tops in the nation with four shutouts.
Cons: Five CCHA goaltenders have a better save percentage. His 2.23 goals against average is solid, but not in the Miller-LeNeveu stratosphere. Numbers, to a certain extent, probably reflect Michigan's uneven play during the first half of the season. WJC showing overshadows his college season thus far.
Analysis: When Michigan State's Ryan Miller won the Hobey in 2001, he changed the benchmarks by which goalies are judged. And while Montoya's numbers don't match Miller's eye-popping statistics from three years ago, every Hobey voter knows who he is thanks to the WJC. Moreover, the Wolverines are rolling right now and, given their upcoming schedule, are a prime candidate to challenge for the CCHA title. We'll bet that he's one of the 10 finalists, but he won't be among the top three.
• Dana Lattery, F, Western Michigan
Pros: With 29 points through 24 games, ranks among the nation's top 15 scorers. Aiming for third straight season with 19 or more goals, needing seven in the Broncos' last nine games. Three-year captain at WMU. One of the best two-way players in the CCHA.
Cons: As with Edwardson, plays for a team that relies on scoring balance – he's one of seven Broncos with 17 or more points thus far. Doesn't play for a high-profile program and, with WMU hanging around the Mendoza Line, he doesn't get much recognition.
Analysis: Lattery deserves to be in the spotlight, but it's doubtful that will happen, especially if the Broncos can't advance to the CCHA Super Six at Joe Louis Arena, something they haven't accomplished since 1994.

• Rob Globke, F, Notre Dame
Pros: Leads Notre Dame in scoring with 15 goals and 11 assists for offensively-challenged Irish. Red-hot as of late with nine points in seven games. He's well known thanks to his international resume – Globke played in the World Junior Championships for the United States in 2001 and 2002 – and as a second-round pick of Florida in the 2002 NHL Draft. Plays for a high-profile school, albeit one that isn't known for hockey.
Cons: Even though he's easily eclipsed the 100-point plateau for his career, Globke was viewed as a bit of a disappointment prior to this season and many observers questioned his attitude. Even though he's got solid statistics, goaltenders Morgan Cey and David Brown get most of the attention.
Analysis: Outside of Montoya, Globke could end up being the most productive professional player on this list because of his size (6-4, 205 with room to bulk up) and his hands. But he's a long shot at best to become a Hobey finalist. He'll probably finish with about 25 goals and 45 points – solid numbers, but not enough to merit Hobey consideration.
Great Weekend Getaway

Miami at Michigan State (Fri.-Sat.): Miami enters the week sitting atop the conference standings by the slimmest of margins over Michigan and Michigan State. The RedHawks are traditionally mediocre on the road – they ended a nine-game losing streak against the Spartans in East Lansing on this weekend last year – but are a respectable 4-2-0 away from home this season. The only CCHA with a better road mark is MSU, and that's a good thing for Spartan fans because the team has been merely average at Munn Ice Arena (8-8-0 at home with losses to Findlay and Wayne State). Special teams will play a huge factor this weekend as Miami leads the CCHA with a 22.4 percent power play success rate, while Michigan State's penalty killers are among the nation's worst at 78.4 percent. Another issue is the health of MSU goaltender Dominic Vicari, who was hurt in last week's series against Ohio State.

While you're there: There are a bevy of quality watering holes in the greater Lansing area, but if you're looking for late-night eats, Reno's East is the choice. A couple of miles north of the MSU campus on Abbott Road, Reno's offers its full menu until 2 a.m. The place has plenty of TV's, too, and since Saturday's series finale has been moved up to a 4:05 p.m. start, you can bank on catching the both ends of the Hockey Night in Canada doubleheader in its entirety.

Stick Salute

• Is there anyone in the CCHA with a hotter hand than Michigan forward Milan Gajic? In the Wolverines' six post-Christmas games Gajic has scored four goals and added five assists, and he brings a five-game point streak into this weekend's series with Lake Superior State. Prior to the holiday break, the junior forward from Burnaby, B.C., had two goals and four assists in 15 games.


Bench Minor

• It's easy to gripe about All-Star snubs, but it's a crime that former MSU defenseman John-Michael Liles was not named to the NHL YoungStars team that will play in St. Paul, Minn., the day before the All-Star Game. Liles, who now skates for the Colorado Avalanche, ranks second only to Philadelphia's Joni Pitkanen among rookie defensemen in points, and he's an integral part of the team's power play unit. As long as we're complaining, Edmonton's Mike York – another ex-Spartan – should be on the Western Conference roster. With 37 points and a +15 plus-minus rating through 50 games, he's been his team's best player by far. The Oilers will soon find out how important York is to their efforts – he's now on the injured reserve with a broken finger.
FRIES AT THE BOTTOM OF THE BAG

• Four players – Western Michigan's Mat Ponto and Kyle Bushee, and Michigan's Mike Woodford and Mike Brown – will spend Friday in street clothes for their roles in a fracas that occurred during the waning moments of the Wolverines' 7-0 win over the Broncos at Yost Ice Arena Saturday.
The donnybrook, which began when Bushee and Brown were battling for a puck in the Michigan zone, involved all but two of the skaters on the ice at the time.

"We don't go looking for fights," Woodford told the Michigan Daily following the game. "The guys on my team respect what Brown and I did tonight…and hopefully [they] will build off that for next weekend."
• Congratulations to Michigan State assistant coach Tom Newton, the recipient of the American Hockey Coaches Association's Terry Flanagan Award. The award, named after the former Bowling Green assistant, is presented to an assistant coach based on his career body of work.
"It's a great feeling and honor to win this award," Newton said. "I had the privilege of knowing Terry. He was a great individual and loved the game of hockey. To receive this honor that bears his name makes it very special."
Newton, a four-year letterwinner at Bowling Green, has been an assistant at three CCHA schools – Bowling Green, Western Michigan and Michigan State. He was also the head coach at Kent State for the 1981-82 season.
• The final word on the Jeff Tambellini-to-major junior story, courtesy of The Hockey News. In the magazine's Jan. 27 issue, Kelowna Rockets general manager Bruce Hamilton seemed to indicate that acquiring the Michigan forward's rights from the Spokane Chiefs prior to the Western Hockey League trading deadline was more than just a flyer.
"He became pretty good friends with [Kelowna defenseman Josh] Gorges at the World Junior Championships," Hamilton said, "and [Tambellini] expressed some interest in coming, so we went after it."
• Give Frank Anzalone credit. In the third year of his second tour of duty with Lake Superior State, the Lakers have gone from abysmal to competitive.
Unfortunately, his Laker team can't score. LSSU's offense wasn't exactly the Run 'n Shoot to begin with, but the Lakers have just three goals in their last four games and rank third from the bottom nationally with an average of 2.09 goals per game. Last weekend's set against Providence served as a microcosm of the team's woes. The Lakers managed just one goal even though they outshot the visiting Friars in the series.
"It just seemed like every time we had a good scoring opportunity, their goalie would be there," Anzalone said after Saturday's 3-1 loss.
Lake Superior State will be hard pressed to jump-start their offense this weekend. They travel to Michigan, a team that outscored them 16-2 in a two-game series last weekend, and the Wolverines have given up just three goals in its last four outings.

• While the 2004 NHL All-Star Game, set for Feb. 8 in St. Paul, Minn., features only two CCHA alums – Western Conference starters Marty Turco (Michigan) and Rob Blake (Bowling Green) – the league will be well represented at the American Hockey League All-Star Game in Grand Rapids, Mich., Feb. 9.
Actually, the University of Michigan will be well represented, with forwards Matt Herr (Providence Bruins) and Josh Langfeld (Binghamton Senators) and defenseman Mike Komisarek (Hamilton Bulldogs) selected to the PlanetUSA team. They'll be joined on the roster by former Michigan State goaltender Ryan Miller (Rochester Americans).
There's another erstwhile Wolverine involved in the affair. Ex-NHLer Cam Stewart, who scored 119 points for Red Berenson from 1990-93, is an assistant coach for the Houston Aeros. The Aeros' staff is piloting the Canadian team as a reward for winning the Turner Cup last season.

• We can't get enough of Jordan Sigalet, so he's the subject of our Obscure Bowling Green Note of the Week. With 821 saves through 26 games, Sigalet is on a pace to stop 1,200 shots this season. Since a regulation puck measures three inches in diameter, the projected number of pucks turned aside by Sigalet this season would measure 480 feet.
A variety of sources were utilized in the compilation of this report.

Send this to a friend
About Us | Advertiser Info | Site Map | Privacy Policy
© 2004 Inside College Hockey, Inc., All Rights Reserve