January 29, 2004
Red-Hot Raiders
By Joe Gladziszewski
In speaking with Colgate junior right wing Adam Mitchell last Friday, an assistant captain on the red-hot Raider team, I found myself in a position that I never expected to be in.
It was a little awkward to conduct an interview in the Colgate athletic training room, with a subject that was getting treatment in the cold tub, nonetheless. But that wasn't the unexpected part of the night I'm talking about.
Rather, this question was something I hadn't really planned on asking anyone around Colgate this year: You guys really think you can win this thing, don't you?
"Without a doubt," Mitchell answered. "I've thought all season long that we have the talent, and we have the coaching. We have to work on our discipline a little bit. It's wide open this year, there's a lot of parity, that's for sure."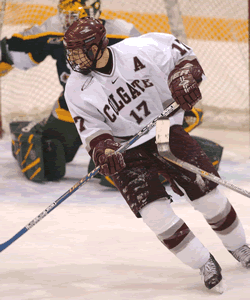 Adam Mitchell (9-14—23) is one of four players with more than 20 points for the Raiders. (Photo by Tim Sofranko, Colgate University)
Let's take a closer look at this issue. Why not Colgate?
Certainly, there's nobody hotter in the ECAC right now. The Raiders snatched the 'biggest surprise in the ECAC' tag away from Rensselaer, strangely enough, coinciding with a win over RPI in the consolation of the Engineers' holiday tournament. That win, on Dec. 29 at Houston Fieldhouse, started a 6-1-1 run which includes four straight ECAC wins.
As a coach will do, Stan Moore doesn't want to get into the long-range ramifications of back-to-back four-point weekends in the ECAC.
"As far as the roll goes, we'll let the rest of the season play out and see how it goes before I can comment on what kind of a roll we're on," he said.
"It's like anything, it's a process. We're not finished, the season isn't finished yet, and it's one step at a time. Don't look at the shirt of your opponent, just play. That's what we're trying to do, keep it simple and try to let our kids play. It's a process. It's one step at a time."
Aside from the efforts of junior goaltender Steve Silverthorn, Colgate's key to success has been balanced scoring throughout the lineup. Getting goals was a concern for the Raiders prior to the start of the season. Scooter Smith graduated and took 24 goals out of the lineup.
Individual players, especially sophomores Jon Smyth, Kyle Wilson, and Ryan Smyth have risen to the occasion. Junior Darryl McKinnon scored the game-winning goal with 1:39 to go against Dartmouth and freshman defenseman Mike Campaner had two goals and two assists against Vermont on Saturday.
Mitchell, who came into the season as the team's leading returning goal-scorer, is fourth on the team in scoring with 23 points.
"A lot of the freshman from last year have really stepped up," he said. "Jon Smyth has had a phenomenal season up to this point, Kyle Wilson, and Ryan Smyth. A lot of the guys from last year are really stepping up. Darryl's having a great season. It's coming from everywhere now. It's really good to see when you're getting offense like that."
The coaching staff looked at structuring the line combinations such that there was a clear-cut top line supported by three lines that could also be dangerous on any given shift. Led by senior Kyle Doyle in between Wilson and Ryan Smyth, things have gone according to plan. So much so, that Colgate leads the ECAC in goals scored during conference games.
Balanced scoring, growing confidence, and steady goaltending. Maybe, it's not such a far-fetched idea after all that the Raiders could be toting the Cleary Cup at the end of the year.
SEEN AND HEARD IN THE ECAC
Scout's Honor – An NHL scout in attendance at last Friday's Colgate-Dartmouth game was impressed by Grant Lewis, freshman blueliner for the Big Green. I asked him about Hugh Jessiman, mere hours after the Rangers acquired Jaromir Jagr.
"Jessiman's got it all, everything you can ask for in a player. You wonder, however, about his competitive level. He doesn't play hard every game, or every shift, and he can't play up if he's going to be like that. The Rangers already have plenty of guys like that."
How nice it must have felt for Colgate's players and staff, and especially draft-eligible sophomores Kyle Wilson and Ryan Smyth, knowing that there was a prominent scouting presence in the building for Friday's win against Dartmouth. Wilson (60th) and Smyth (234th) were ranked among the top draft-eligible North American skaters by the NHL's Central Scouting Service Mid-Season Rankings, but the Dartmouth freshman defense tandem of Lewis (30th) and Rob Jarvis (129th) seemed to be the main attractions.
Great Weekend Getaway

Colgate at Cornell (Fri.); Cornell at Colgate (Sat.)
Both teams are chasing first-place Brown and while Colgate's the hottest team in the league right now, their travel companions down in Ithaca have the Lynah Faithful doing a little head scratching. A maddeningly inconsistent Cornell team looks to get back on track and solidify its place in the top-four of the ECAC standings.

While you're there: As INCH colleague James Jahnke mentioned in his Atlantic Hockey/CHA notebook last week, it's hard to go anywhere in upstate New York without running into a nearby casino. If it were the first week of July, rather than the first week of February, I'd recommend the championship golf courses at the Turning Stone Casino Resort. The gaming, entertainment, and dining make for an enjoyable visit nonetheless. The resort is located off of Exit 33 on the New York State Thruway.

Stick Salutes

• Princeton and Harvard return from an exam break and the ECAC schedule returns to some sort of normalcy. Nine of the 12 teams in the league have played 12 games, which makes it much easier to make an assessment of the standings.

• While scanning the radio earlier this week, a top-40 station threw "Macarena" into the mix. Funny how music can transform you from the trials of navigating snow-covered roads to the dance floor of a cousin's wedding reception. "The Electric Slide" and "Bust a Move" did not, however, make the playlist.

Bench Minor

A friend told me Wednesday that he was headed to the Beanpot Luncheon. I headed to the Shovel a Foot of Snow out of My Driveway Luncheon. We've been having those quite regularly in central New York. Is that my penance for taking a New Year's golf trip to Tampa? Oh yeah, It's still snowing.
FRIES AT THE BOTTOM OF THE BAG
• First-year head coach Kevin Sneddon landed his first recruit at Vermont for the 2004-05 class with word this week that New England Prep standout Torrey Mitchell from signed a National Letter of Intent to play for the Catamounts. Mitchell, a 5-foot-11, 185-pound forward, currently plays for the Hotchkiss School in Lakeville, Conn., where he leads the team in scoring with 15 goals and 21 assists for 36 points in 15 games. Mitchell was recently rated 150th overall among North American skaters by Central Scouting.
• The latest edition of the North Country rivalry went to St. Lawrence. In front of a sold-out Appleton Arena, the Saints defended home ice against Clarkson by scoring four straight goals to build a 5-1 lead. Home games haven't been the problem for SLU, with a 6-4-2 record. It's the 2-10-0 mark away from Appleton that's the concern.
• Union returned to the win column, yet coach Nate Leaman wasn't entirely pleased with how the Dutchmen went about it. Union beat Sacred Heart 4-3 in overtime, as Jordan Webb capped a hat trick. It was Union's first win since Nov. 15, breaking a 12-game winless skid.
"We were trying to make cute plays instead of getting pucks out because we were underestimating our opponent," Leaman told Ken Schott of the Schenectady Daily Gazette. "I think the disturbing part is the guys thought that they had it won when they came to the rink, which is good and it's bad. It's good that you have confidence. But it's also bad because we didn't go out and do the little things, and it almost bit us. It probably should have bit us."
• Harvard's back from exam break in a big way. First up, a game at first-place Brown on Saturday. On Monday, the Crimson open Beanpot play against Boston College, the number-two team in the nation.
• It was an exhibition game, yet Princeton scored five goals (a rare happening) in defeating the US Under-18s, 5-3. Sharam Fouladgar-Mercer and Dustin Sproat scored twice each for the Tigers. The Tigers scored five in a 5-5 tie with St. Lawrence, and posted six against Guelph in an exhibition game to start the year.
• Rensselaer's last 10 games this year, all of which are league games, will be played against 10 different opponents.
• Brian Van Abel continues to be in and out of the Dartmouth lineup with an ankle injury. He played Friday at Colgate, a 3-1 loss, but sat out against Cornell on Saturday, a 2-1 comeback win for the Big Green.
• Colgate has two wins against first-place Brown. Those four points may become a factor over the final month of the regular season. Head-to-head results are the first tiebreaker when comparing teams in the standings at the end of the year. The second tiebreaker is record against the top-four teams in the league.
A variety of sources were utilized in the compilation of this report.