January 29, 2004
Shooting Interest
By Nate Ewell
Hockey East Notebook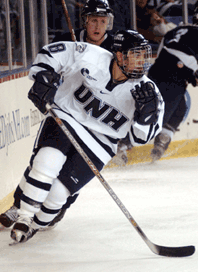 Steve Saviano's 20 goals this season are more than double his total from last year, and are three more than any other Hockey East player.

This week's schedule
National TV Schedule
Steve Saviano seems like the type of player you can't help but root for.
OK, maybe not if your team is playing against the New Hampshire senior co-captain. But everybody else, it seems, just loves the guy.
UNH fans voted him their "Fan Favorite" last year. Merrimack coach Chris Serino couldn't stop talking about Saviano after he scored four goals against the Warriors last weekend. His coach, Dick Umile, calls him "a terrific player and a terrific guy to coach" and his teammates, like long-time linemate Sean Collins, talk about how proud they are of him.
"People believe in me, and that's always a good feeling," said Saviano, who leads all Hockey East players with 34 points. "I've found that you get a lot out of working hard."
Here at INCH, we picked him as a Preseason All-American based on his dominant performance throughout the playoffs last season. At the Frozen Four, after forging a career as Collins' set-up man, he scored two pretty goals in the semifinals – the first two-goal game of his UNH career.
That shoot-first mentality has carried over to this season, and after scoring only nine goals last year, he has 20 this season – tied for the second-highest total in the nation behind North Dakota's Brandon Bochenski. Entering this weekend's crucial series at Maine, Saviano has five two-goal games and three hat tricks on the year.
"I didn't mean to make the change [from set-up man to goal scorer]," Saviano said. "I worked on my shot a lot this summer, and I did each of the last three summers, because that was the weakest part of my game. Coming into this year Coach said to shoot more, and so far it's working."
Scoring goals doesn't explain why people root for Saviano, however. He hits closer to that truth when he talks about his work ethic, something that is visible in his defensive effort and penalty killing. There's also the fact that there's nothing to dislike about Saviano's game – he has zero penalties on the season.
All in all, it makes you wonder how he got overlooked for so long. It's a frequently told story that at Reading High School, Collins was the recruiting prize while Saviano had limited options. His freshman year at New Hampshire he only skated in 16 games and recorded 1-1—2.
But Saviano doesn't begrudge anyone for doubting him. He just keeps making believers of them, one person at a time.
"My confidence has been going up and up every year," he said. "I didn't play much here as a freshman, but Coach believed in me, and saw something in me. I've just been working hard."
SEEN AND HEARD IN HOCKEY EAST
Coping at Boston College – Boston College enters the Beanpot as the favorite, but to win, the Eagles will have to continue overcoming adversity.
"Overcoming adversity" is an overused catch-phrase for most good teams, but it's really true in BC's case. The latest obstacle is senior leader Ben Eaves' fractured kneecap, which will keep him out at least a month.
An injury to Eaves, who by almost universal agreement is Hockey East's best player, is a huge challenge to overcome. But already this season the Eagles have won consistently despite a nagging ankle injury that has kept forward David Spina out of all but seven games, injuries that have forced Patrick Eaves to miss eight games, academic issues that have sidelined defenseman J.D. Forrest at times, and team rules suspensions to goaltender Matti Kaltiainen and forward Adam Pineault.
Nevertheless, there they are – No. 2 in the country, leading Hockey East by five points, and favored in the Beanpot.
"What I like most about this particular team is that every week they are getting better," head coach Jerry York said at Wednesday's Beanpot press luncheon. "I'm proud of the way they work very hard on being a better team. They work on individual skills, and as a team. They've done a terrific job. They've gone from being a squad in September to a real team now."
In addition to players missing games, BC hasn't gotten consistent production from anticipated offensive sources like Forrest (3-3—6 in 19 GP), senior Ty Hennes (two points after posting 21 last year), or freshmen Brian Boyle (0-1—1 in his last 11 games after a fast start) and Pineault (4-3—7 on the year).
With all the talent on the Eagles' roster, Hockey East coaches will have no sympathy for them, regardless of what troubles they face. Should they overcome the loss of Ben Eaves as well as they have their previous difficulties, the Eagles will be in great shape come March and April.
Full Strength – Massachusetts had its top three forwards all on the ice Thursday night for the first time since Dec. 13, a span of seven games without a full complement of firepower. Not surprisingly, the Minutemen were shut out in three of those games and held to one or two goals two more times.
Greg Mauldin missed time after suffering a concussion Jan. 3 against UMass Lowell. Stephen Werner was overseas lighting up the competition at the World Junior Championship. And sophomore Chris Capraro had been away from the team for five games for personal reasons.
Capraro's return last weekend at Maine gives head coach Don Cahoon's team a huge boost. Prior to Capraro's five-game leave, Cahoon had discussed how much the 5-foot-7, 180-pound left wing means to his team – in remarkably simple, but powerful, words.
"Chris is a natural hockey player," Cahoon said. "He doesn't have great speed, doesn't have the best shot, but he has great hockey sense. He has a great ability to make plays, and three or four times a game, he does something and you wonder how he sees it the way he does."
FRIES AT THE BOTTOM OF THE BAG
Great Weekend Getaway

The Beanpot (Monday)
What, did you expect me to recommend Saturday's Merrimack at Massachusetts tilt? This year's Beanpot features as many storylines as ever, with a seemingly dominant Boston College team missing their captain, a Northeastern team that's finding its groove, and a mysterious Harvard team that has to come around eventually – right? Then there's BU, which just always seems to win the thing. A limited number of tickets for each round of Boston's signature sporting event are still available.

While You're There: If, on the odd chance, this is your first visit to the FleetCenter, you'll want to make time to visit the Sports Museum of New England, which is located in the building. Also take the time to do a little scouting for the Frozen Four, since we'll all be back here in April.

Stick Salute

• Boston University goaltender Sean Fields deserves credit for bouncing back from a nightmarish Friday night – indeed, a nightmarish first half of the season – to post an impressive 1-0 shutout of Maine on Saturday. Funny how Fields and the Terriers appear poised to make a run just as the calendar flips from January to February.

• Another Terrier worthy of note is athletic trainer Larry Venis, who returned to the bench Friday night for the first time since being hit by an errant puck on Nov. 15.


Bench Minor

We thought we had something good going against the ECAC until Brown spoiled things last week. Hockey East had been 8-1-2 against ECAC teams since the holiday break before Yann Danis and the Bears beat Merrimack and UMass Lowell.
• New Hampshire's Mike Ayers – like most of Hockey East – will be pulling for the Patriots in the Super Bowl on Sunday. We'll single out Ayers thanks to his fashion sense, since the Hingham, Mass., native sports a blue hat with the old "Pat Patriot" logo on the front.
• Ayers, by the way, returns to Orono to face Maine this weekend, where he had a tendon in his wrist severed two seasons ago in UNH's last two-game visit. The next night he came back to stop 33 shots, wearing a restrictive brace on his wrist, in a 2-2 tie. Ayers stopped 25 shots in a 2-1 loss in a single-game return to Orono last season. So far this season, Ayers is 5-0-2 with a 1.12 goals-against average and a .962 save percentage against ranked teams.
• Don't miss Paul Kariya's essay on Maine hockey in Sports Illustrated. A fantastic tribute to his home far away from home that assistant coach Grant Standbrook has probably already photocopied and mailed to every Maine recruit.
• Providence, coming off of an impressive sweep at Lake Superior State, is having a season that eerily resembles UMass Lowell's campaign last year, when the River Hawks were 7-2-1 outside the conference but 4-16-4 in Hockey East play. The two wins over the Lakers make the Friars 8-1-1 in non-conference action, but they are mired at 2-7-5 in Hockey East, tied for seventh place. With Providence and UMass Lowell facing off Saturday at Schneider Arena, it's no surprise that River Hawk head coach Blaise MacDonald recognizes how dangerous the Friars can be.
"They're a very good team, but they've struggled a little bit in Hockey East play," he said. "When you get on a bad turn, it's tough to get out of it. Providence has had a hard time stringing together some wins, yet they are a good team. The 2-1 loss against Boston College they played very well in, and looking at their non-league record, they have been impressive outside the conference. Providence is a great transition team, they move the puck from the defensive zone to the offensive zone very well, they have some skilled and experienced defensemen, very good in the net, and very dangerous in all aspects of the game. It's just a matter of them clicking on all cylinders, and they can beat anyone."
• The Friars may appreciate league games – especially league road games – more after last weekend's journey. They flew to Detroit, then bussed six hours north to Sault Ste. Marie. Along the way they crossed the five-mile-long Mackinac Bridge to get to the Upper Peninsula, a span that's so imposing, they have a free "Driver's Assistance Program" for those uncomfortable driving across it. Makes a trip to Orono look like a hop, skip and a jump.
• Red Line Report, an independent scouting newsletter covering NHL prospects, revealed an interesting tidbit about UMass senior Thomas Pöck in its recent edition posted on USAToday.com. Pock, although undrafted by an NHL team, will need to be drafted before he can sign a professional contract, because he was playing in Europe the year he turned 18. That makes the forward-turned-defenseman – who many assumed be one of the nation's most appealing unrestricted free agents at the end of the year – actually eligible for the 2004 NHL Entry Draft. Red Line speculates that Pöck may be a mid-round pick, but the opportunity to pick up a 22-year-old offensive defenseman with room to grow in his own zone could make him a prize in an earlier round.
• Maine's seniors enter this weekend's series with a 3-0-1 record against New Hampshire at Alfond Arena. Only UNH's Patrick Foley, who played in a 5-4 win in 1999-2000 and redshirted the following year, has been a part of a Wildcat win in Orono.
• Maine's three short-handed goals in Friday night's 8-4 win at Boston University tied the school and conference records for shorties in a game. It also marked the third time in four games at Walter Brown Arena that the Black Bears had scored at least seven goals – even after getting shutout on Saturday, they are still averaging 5.6 goals per game in their last five visits to BU.
• Hockey East Defensive Player of the Week Bobby Goepfert appears to have reclaimed the No. 1 goaltending position at Providence. David Cacciola has posted incredible numbers (1.85 GAA, .940 save percentage), but has just one win to show for it (1-4-4). "It's all about winning games," head coach Paul Pooley told the Woonsocket Call. "If (Goepfert is) winning, he plays. I believe in both Bobby and Cash, but Bobby's finding a way to win games right now."
• If you haven't had a chance to enjoy watching Elias Godoy and the UMass Lowell River Hawks this season, set your TiVo for Friday night. The River Hawks' game against Boston University on NESN's "Friday Night Ice" is their first television appearance of the year.
• This much we know: college hockey's winningest active coach will be in Hockey East for a while. Possession of that title could change between BU's Jack Parker (687 wins) and BC's Jerry York (686). Both teams play Friday but have Saturday off in preparation for the Beanpot.
• Northeastern's Bruce Crowder picked up his 200th career win on Saturday night. He has guided the Huskies to a 7-3-2 record in the last 12 games after opening the season 0-9-2.
• Hockey East has turned to a fitting panel to help select its "Top Fan" as part of its 20th anniversary celebration – the fans. Log on to the conference web site and read the nominating essays about the 10 finalists, then cast your vote. The results will be used in conjunction with a league committee vote to determine the winner, who will get two tickets and two nights of hotel accommodations for the Hockey East championship weekend.
A variety of sources were utilized in the compilation of this report.