January 29, 2004
Discovering a Star in Duluth
By Jess Myers
In 1678, an adventuresome French-Canadian named Daniel Greysolon became the first white man to explore the far western end of Lake Superior. Greysolon was known formally at Sieur Du Luth, and the hillside town that has sprung up where the St. Louis River runs into the lake came to bear Greysolon's formal name.
A mere 326 years later, there's another popular French-Canadian making news in Duluth, as Bulldog senior forward Junior Lessard has kicked his season (and his team's fortunes) into high gear. In the Bulldogs' last seven games (all of them wins) Lessard has recorded five goals and five assists, as the team has clawed its way back from a November slump to tie North Dakota for first place in the WCHA.
All of this comes after a summer which saw Lessard nearly drown after being caught in a freak Lake Superior current while swimming off Duluth's Park Point beach. While that incident landed him in the hospital, and on the front page of the Duluth paper, it's the stuff that's gotten Lessard's name on the front of the sports section that has Bulldog fans swarming back to the DECC.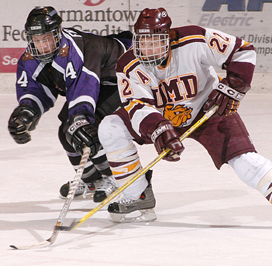 Senior forward Junior Lessard stands tied for third in the nation with 36 points.
"He's had a great year," said Bulldogs coach Scott Sandelin. "The great thing is his consistency. Junior's been that way from the start of the year until now. If you've watched him for four years, you can really see a difference in his game. He's lighter and a lot quicker now."
Sandelin said that Lessard spent the summer working on his quickness and fitness, both at home in Quebec, and in Duluth. While the efforts have paid dividends on the ice, Sandelin also notes that Lessard's prime physical condition probably helped him survive his harrowing time in the lake.
"A lot of people caught in a situation like that might have been history," said Sandelin. "Junior's lucky to have been an athlete in top physical shape. But afterward there was still some concern about the trauma on his lungs and what it did to him physically.
Lessard, whose given name is Lucien, is the first Quebecois to play hockey at Minnesota Duluth. He caught the scouts' eyes while toiling for the Manitoba Junior Hockey League's Portage Terriers in 2000. For his efforts that season, Lessard was named the Canadian Junior A Hockey League Player of the Year.
Sandelin, who was a Hobey finalist with North Dakota in 1986, said that mentioning Lessard as a candidate for the award is perfectly fitting with the college career he's had.
"He's getting a lot of attention from opponents in games and he's still finding ways to score, so I'd be disappointed if he wasn't among the top 10 finalists," said Sandelin, who laughed while he added, "If I was one, he'd better be one."
SEEN AND HEARD IN THE WCHA
Thin Ice at Mariucci – Fans attending last Saturday's game between Minnesota and North Dakota at Mariucci Arena nearly got to see a doubleheader, by accident. Playing five periods of hockey on Saturday was one of the ideas being kicked around after a problem with the Mariucci Arena ice on Friday night nearly caused the game to be called after one period.
With the Gophers and Sioux tied 1-1 and less than 40 seconds left in the first period, the officials orders both teams to their respective locker rooms after a hole at least two feet wide was discovered behind the North Dakota net, right next to the Zamboni door.
According to facility manager Scott Ellison, there was a thin spot in the ice there, and during the course of the first period, heavy player traffic in that area had caused a big chunk of ice to give way, leaving a hole with bare concrete beneath. Officials first noticed a potential problem when more than one player skating through that zone fell down.
After some normal maintenance and a full resurfacing of the rink, referee Derek Shepherd skated over the spot and said that the new ice was not sufficiently set up to allow the second period to be played. While school and WCHA officials discussed possible postponement (another idea was to play a Saturday-Sunday series) the arena crew immediately went back to work, spraying the area with fire extinguishers and then covering the spot with a black plastic mat to try to speed the freezing process.
After a delay of 51 minutes, the officials determined the surface playable, the teams came back out and the game resumed.
"We were just laying around in the locker room, trying to stay focused,'' said Sioux forward Zach Parise of the delay. "I even jumped on the bike for a little while just to keep my legs moving. It really messed up the atmosphere of the game."
While the players and fans battled boredom, the electronic media covering the game had to scramble to almost an extra hour of airtime. To that end, viewers watching the game on Fox Sports Net during the delay were treated to a very lengthy interview with former Gopher and 1996 Hobey winner Brian Bonin. On the radio side, the Minnesota broadcast crew managed to get Los Angeles Kings coach Andy Murray (father of North Dakota freshman Brady Murray) on the phone for a 20-minute interview.
Great Weekend Getaway

Wisconsin at Minnesota (Fri.-Sat.)
Has Wisconsin jumped the shark? (The Badgers are 3-4-2 since the end of their 14-game unbeaten streak.) Can the Gophers deal with the latest bit of adversity? (Captain Grant Potulny is joining his brother Ryan on the "physically unable to perform" list for the next month with a shoulder injury.) Does anyone care about the Border Battle anymore now that the fun feud between Doug Woog and Jeff Sauer isn't a factor? Will the ice hold up? Will one of these teams end up in the dreaded Thursday night play-in game at the WCHA Final Five? These questions and more will be answered when Bucky meets Goldy at Mariucci Arena.

While You're There: There's great Asian food to be had on both sides of the sprawling U of M campus. In Stadium Village, the classic Village Wok (on Washington, across the street from the Radisson) has the best chicken in hot garlic sauce that we've tasted. And on the other side of campus, East meets Midwest in a great little Dinkytown eatery named Shuang Cheng (which is Chinese for "Twin Cities"). The menu is massive, but all you need to know are these three words: "whole steamed walleye."

Stick Salute

To Minnesota coach Don Lucia for collecting his 400th career win last Saturday. It's appropriate that the milestone required some serious coaching on Saturday to reach. Trailing 1-0 to top-ranked North Dakota after one period, Lucia reportedly unleashed a tirade on his team for the perceived lack of opening-period effort. One person inside the room noted that some harsh words were spoken, and at least one garbage can received the Adam Vinatieri treatment. The result was just seven Sioux shots allowed in the final two periods and a 2-1 come-from-behind win.


Bench Minor

To Minnesota State, Mankato's defense. The Mavericks have allowed 30 goals in their last four games. Go back and read that last sentence again, then do the math in your head. So much for blaming Shane Joesph's offensive downturn for the team's freefall this season. One can't really expect a forward or two to score the eight goals per game required to bail out this crew. With that said, we've got to praise the Mavericks for last Saturday's 7-6 win at St. Cloud State. It was the MSU hockey program's first-ever win at the National Hockey Center.
PUCKS TO PICK UP AFTER PRACTICE
• It's probably rare to have Seawolves fans licking their chops about any opponent coming to town, what with Alaska Anchorage's struggles against the rest of the WCHA, but this weekend is a rare exception. Minnesota State, Mankato is one of only two WCHA teams (Michigan Tech is the other) against whom the Seawolves have an all-time record of .500 or better. Their all-time series with the Mavericks stands at 15-15-3 entering this weekend's series at Sullivan Arena. With the Seawolves on a upward trend and the Mavs struggling, we like the home club's chances of taking the all-time series lead.
• Denver goalie Adam Berkhoel needs one win to move ahead of former battery-mate Wade Dubielewicz into sole position of eighth place in the school's record book for career victories in goal. Currently, Berkhoel and Dubielewicz are tied with 44 each. Berkhoel is in second place all-time for career shutouts by a Pioneers goalie with nine. He needs four more to tie Gerry Powers' record of 13, set between 1966-69.
• While the Huskies continue to struggle on the ice, we need to give kudos to Michigan Tech sports information director Dave Fischer for keeping things loose in the press box. While his team can be unpleasant to watch (save for sophomore Chris Conner, whose 20 goals give him a legit shot at a Hobey nomination), Fischer keeps us media types entertained with his humor and wit. The notes in last week's official Tech press release included a half of a page that was blank and headlined "Create-YOUROWN Note." And on his team's line charts, Fischer leaves interesting personal info about each player in addition to their stats. When your team is 4-16-4, we agree that it's more interesting to note that the 12 letters in freshman forward Tyler Skworchinski's last name tie a school record, or that goalie Cam Ellsworth hails from the Tomato Capital of Canada (Leamington, Ontario) than it is to note which player has no goals and two assists in 21 career games.
• The end of Colorado College's five-game losing streak (the Tigers beat Wisconsin at home last Saturday) may be a sign that better days are ahead. The last time the Tigers lost five in a row was during the 1992-93 season, when they finished 8-28-0 overall. After surviving that miserable year (and hiring a guy from Alaska named "Lucia" to coach the team) CC won the WCHA title the next three years in a row.
• If you're a gambling person, remember to bet the "over" when in-state rivals St. Cloud State and Minnesota State, Mankato get together. The 26 goals scored in their two-game series last weekend (the Huskies won 8-5 and lost 7-6) set a record, but just barely. The teams met in St. Cloud in Feb. 1993 (when the Mavericks were a D-II independent team) and combined for 25 goals. The Huskies and their foes also combined for 25 goals in a Feb. 1989 exhibition series in Tucson versus the University of Arizona's club team. Apparently, it was tougher to get games back when the Huskies were D-I independents. That, or Craig Dahl wanted to get a jump on his summer golf game.
• In a recent item in the St. Paul Pioneer Press, columnist Charley Walters reported that Sioux coach Dean Blais (who collected his 250th collegiate win last Friday in Minneapolis) may interview for the Columbus Blue Jackets' head coaching job at season's end. The news reminds some long-time college hockey watchers of the end of the 1987 season, when then-Sioux coach Gino Gasparini, hot off winning his third NCAA title in eight seasons, was widely rumored to be the next coach of the Chicago Blackhawks. Gasparini opted to stay in Grand Forks and was dismissed seven years later after several losing seasons in a row. Blais currently has the only job in college hockey in which moving to the NHL would be a step down in facilities.
• Informed that former Gopher Paul Martin (now of the New Jersey Devils) had been named to play in the NHL YoungStars Game, Gophers coach Don Lucia offered sincere congratulations. But Lucia also made note of the fact that Martin left school a year early and could still be playing college hockey. "Wouldn't he look good in our lineup now," Lucia asked rhetorically. "Maybe we can get him back on the team for a few days when he comes back to town." The game will be played in St. Paul on Feb. 6 in advance of the NHL All-Star Game. St. Cloud State alum Ryan Malone, now with the Penguins, was also named to the squad.
• Wisconsin coach Mike Eaves, who coached Team USA to the gold medal in the World Junior Championships, got a congratulatory phone call from NHL commissioner Gary Bettman last week, and nearly hung up. Eaves said his first reaction was thinking that someone was pulling a prank, and he nearly asked "Who is this, really?" After the suspicions melted away, the pair had a nice talk.