November 20, 2003
One Cool Customer
By Joe Gladziszewski
Dartmouth coach Bob Gaudet was worried. He expressed concern about his team's ability to keep the puck out of its net as he spoke at the Pepsi Arena in Albany, commenting just minutes after finding out his club was picked to finish third in the league's preseason polls by ECAC coaches and media.

Gaudet's concerns weren't unfounded. On the blueline, Dartmouth lost 101 man-games among the departed trio of Trevor Byrne, Pete Summerfelt, and P.J. Martin. Many of those games were played in front of fellow senior, goaltender Nick Boucher (27 games played).

Gaudet's preseason premonitions have thus far proven to be off-base. Dartmouth's defensive work is the biggest reason for the Big Green holding the distinction of being the nation's last undefeated team (2-0-3). They've allowed just six goals in five games.

Chief among the reasons for Dartmouth's success in the defensive end of the rink is junior goaltender Dan Yacey. You would be hard-pressed to find a cooler customer anywhere in college hockey. In the midst of frantic goalmouth scrambles, Yacey is unfazed. He holds a strong position – pads pressed to the ice, shoulders square and upright – before covering the puck with his catching glove in a steady, sure manner.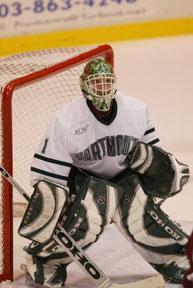 Dartmouth and goaltender Dan Yacey have allowed six goals in five games.
"He's very composed. He just plays with a calmness. He plays the angles," Gaudet said of his stalwart between the pipes. "The puck seems to hit him in the chest a lot and it sticks to him like Velcro. This year, he came in and he's just been really comfortable from the preseason on. There's just something about him, there's an air about him now that he's just really comfortable in the position."

Yacey's manner can only help a defense corps that's learning on the job. Two freshmen and three sophomores regularly join senior Brian Van Abel on the Big Green blue line.

"That seems to be the thing with Dartmouth, at least since I've been here. Every season the things that we're supposed to lack the most seem to be the best," Yacey said. "Last year after losing a big senior class we were supposed to be a little rough around the edges offensively and guys stepped up like Jessiman, Oulette, and Stempniak respond with a whole bunch of goals. This year we were supposed to be a little lacking defensively. We seem to prove the analysts wrong. We pride ourselves on that."

In a refreshing change from the defensive-minded trend that's consumed hockey at all levels, Dartmouth's defensive stinginess doesn't come as a result of giving up on offensive chances. There's room to be both aggressive and responsible, and Dartmouth is a perfect example.

"If we're learning this (defensive) part of it, we have to keep up with it. We're learning the defensive side of it. We're an aggressive team. It's not like we're sitting back and trapping teams. We're getting after it. We're getting opportunities, it's just not flying in for us," Gaudet said.

With three ties and a one-goal victory, Dartmouth hasn't had much margin for error. The lone two-goal win, a 3-1 win over Brown, included an empty-net goal. Yacey sees his team's early-season nailbiters as a training ground for what Dartmouth hopes will be an extended run through the postseason.

"That's how the game is played these days. It's a lot tighter checking, guys cycle it from the corners, guys are getting hooked and all that. It's just the way the game goes. It's a good thing, because we're playing basically playoff hockey right now. We're not scoring five goals and that's not going to happen in the playoffs. We're playing good 'D' and if we're going to win games, we're going to win games like that. Hopefully we'll keep it rolling throughout the
year."
SEEN AND HEARD IN THE ECAC
Stepping up – We would be remiss in any discussion of solid defensive play without also shedding some light on the Rensselaer Engineers, and a rock-solid weekend in defeating Vermont 7-1 before Saturday's 1-1 tie with Dartmouth.

Leading the way for the RPI defense is senior captain Scott Basiuk, who, along with partner Alexander Valentin spent a great portion of Saturday's encounter matched up against Dartmouth's big line of Stempniak, Oulette, and Jessiman.

Basiuk, in particular, kept close watch of Jessiman and noticed that as the game wore on, the Big Green big line was annoyed by a lack of tremendous opportunities.

"I think they probably were getting frustrated. They're not used to not scoring for a whole weekend. Those are three good players, probably three of the top players in the league. They've got a good club over there, but we worked hard and shut them down," Basiuk said.

Things are starting to change for the better in Troy, where RPI has lost only once in its last seven games, posting a 4-1-2 record. Last season, the months of January and February were particularly brutal as the Engineers managed only two wins in 16 games. Included in that stretch was a seven-game losing streak, all of which were conference games.

The team got a spark with a first-round playoff win over Union, and used that to motivate itself during the off-season. Early success has been the result. The Engineers get their stiffest test to date by entertaining St. Cloud State for a pair at Houston Field House this weekend.

"We built going into the playoffs last year, and we built all over the summer and the fall, every guy came back stronger than ever. We were ready to go right from the first day of lifts. We've got St. Cloud next week and they're probably one of the best teams in the country right now. It's going to be a great test and we'll see what we've got against them," Basiuk said.
Bubble boys – Both Union and Minnesota Duluth have made appearances in
the INCH Power Rankings during the first two months of the season. They have since dropped from the rankings, primarily due to some inconsistent performances. UMD won four games in a row before dropping three straight. Union started 4-0-1 before getting smoked by New Hampshire.
In the latest edition, INCH staffers have granted the Dutchmen and Bulldogs Bubble-licious status This weekend, these sides match up against each other and we may learn a little more about each team's true worthiness to be counted among the nation's elite.
Great Weekend Getaway

St. Lawrence at Clarkson (Sat.)
The stakes are always a little higher when travel partners meet in conference play. St. Lawrence makes the 10-mile trip across Route 11 on Saturday night to visit Clarkson's Cheel Arena. Both teams could use a lift in the early-season standings, making these two points very valuable to each side.

While you're there: West Potsdam will be the site of the sixth annual "Hobble Gobble" on Saturday morning, a road racing event where participants predict their time of finish prior to running either a four-mile or seven-mile course. The 10 runners finishing closest to their predicted times win a free turkey.


Stick Salute

There are no bonus points awarded for creativity, but credit Clarkson senior captain Tristan Lush for trusting his instincts against Cornell. While working a cycle play out of the left wing corner, Lush carried the puck up the wall. Instead of dropping the puck back down to the corner, as most people expected, Lush spun a shot from the half-board toward the Cornell net where it caught Big Red defenders and goaltender David McKee off guard. Lush said it's a play he's worked on in practice, and his work was rewarded with a big goal.

Bench Minor

On the other side for the Golden Knights, some unfortunate circumstances for Clarkson freshman defenseman Michael Grenzy, whose two turnovers in the Golden Knights' zone directly led to Cornell's goals in a 2-2 tie. Compounding the rookie's hard-luck evening was that the games were televised to the majority of central and northern New York.

FRIES AT THE BOTTOM OF THE BAG
• The turning point in Princeton's big win at Harvard? Early in the third period, with Princeton enjoying a two-man advantage, Harvard's Dennis Packard had a short-handed breakaway. Tiger goalie Eric Leroux made the most important of his 41 saves, keeping the deficit at 2-0. Princeton then rattled off four straight goals to pull off a stunning upset on enemy ice.

• Harvard's Dov Grumet-Morris returned to the nets for Saturday's game against Yale and was very solid. He gave the team it's best goaltending effort of the year (25 saves) at an important time.

• Colgate snapped an eight-game winless streak against Clarkson in style, with a 6-1 win at Cheel Arena on Saturday night. Sophomore forward Jon Smyth scored four of the Raider goals and has been reaping a bounty of conference and national honors.

• Kevin Sneddon's return to the Capital District as coach of the Vermont Catamounts received plenty of attention in Albany-area media. UVM was blasted by RPI 7-1 and lost to Union 5-1, where Sneddon coached for the previous six seasons,
• The game-worn jersey auction that coincided with RPI's inaugural "Black Friday" game raised $6,600. Proceeds benefitted the school's athletics department. It was a success on the ice as well. The Engineers scored seven goals, something they hadn't done in almost
exactly three years. RPI defeated Massachusetts 9-2 on Nov. 18, 2000.

• Most teams take a break from conference play this weekend and it sets up some interesting non-conference matchups. There's the big WCHA trip to New York's Capital District as St. Cloud State visits
Rensselaer and Minnesota Duluth darkens the doors at Union's Messa Rink. It's also Silver Puck Weekend at Colgate. At Lynah Rink, Cornell hopes for a change in fortune against the CCHA when Bowling
Green and Ohio State visit. Western Michigan got a win and a tie there in mid-November.

• Brown's offense came to life in a big way, with huge victories over
Yale (6-0) and Princeton (5-1). Part of the reason for increased output was the return of junior Les Haggett, who missed the first three games of the year. Haggett was the team's second leading scorer as a sophomore with 33 points. He stepped right in and recorded five points over the weekend, all coming on the power play.

• As you may know, Union assistant coach Tony Gasparini played his college hockey at Minnesota Duluth, where he spent most of his four years as the team's backup netminder. His alma mater comes calling this weekend.

• Here's a clause that you don't want to read in your favorite team's game notes, courtesy of Steve Conn. "Yale's lone goal of the weekend..."