The Dean's List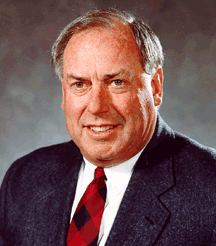 Jeff Sauer – the fifth-winningest coach in college history – writes a bi-weekly column for Inside College Hockey.com. "The Dean" was the head coach for 31 years at Colorado College and Wisconsin, where he won two national titles. Sauer retired at the end of the 2001-02 season.
Previous Editions of The Dean's List
On early departures for the pros
On this year's rule changes
On rinks, old and new
On major junior eligibility
On The Dean's favorite things
Looking ahead to the WJC
Looking back on the WJC
For your listening pleasure, find The Bud Song on Wisconsin's official site.
thedean@insidecollegehockey.com
Part of the fun in doing this column is the opportunity to interact with you, the hockey fan. Please send your questions or comments to thedean@insidecollegehockey.com.
This Week's Question
Coach,
Which refereeing system to do you prefer, the four-man (two referee, two linesman) system used in the National Hockey League? Or the three-man system (one referee and two assistant refs) used in college?
– T. Ebner, Onalaska, Wis.
There is no question the four-man system in the NHL definitely gets more eyes on ice and has been effective at clamping down on obstruction penalties. From my perspective, I'm not sure that the game is designed to call everything on the ice. I think the three-man system gives a more consistent call of the game. I like the college system the way it is. I know there is some discussion to go to the NHL system, but I like the way it's done at the college level.
Instant replay to review goals was discussed at the Western Collegiate Hockey Associations meetings in January and I know coaches would be in favor of it. The problem is to resolve the cost to implement it in every facility in the league. If coaches have their druthers, they would like to see it incorporated; since it has gotten so tough to score a goal, it seems likes a harsh penalty when a goal is taken away by an on-ice official who doesn't have the benefit of replay.
January 24, 2003
The Dean's List by Jeff Sauer
January is a busy month in hockey – off the ice as well as on. Recently administrators convened at the National Collegiate Athletic Association meetings in Anaheim, Calif., on one weekend and at USA Hockey's Winter Meetings in Tampa, Fla., the next. Here are some of the things being discussed in hockey at the college and overall amateur level:
The impact of the major junior situation in college hockey:
In my 31 years in college coaching, this has been a constant topic. How does Major Junior A hockey affect the college game?
It came up again in Anaheim and the latest proposal on the table says that if a major junior player plays a game before his high school class graduates, he should be eligible to play college hockey after sitting out his first year after enrollment. In other words, the current rule would stand, such as what T.J. Caig went through at Minnesota-Duluth recently.
But if a player plays major A hockey after his high school class graduates, he would be ineligible to ever play college hockey.
This is a proposal that some support, but the gray area is this – when should the graduation date for a player be? Is it when a four-year high school career is over? Is it after a kid goes to prep school? That is still open to negotiation.
There are still many discussions that need to be held before legislation would officially go on the table, but getting more Major A players into college is something that is being discussed behind the scenes.
I've been around so long I remember when you could recruit Major A kids. We still have a ways to go before everyone gets on the same page about how Major A players fits in our game.
But I know this: I saw a number of major A players at the world junior tournament last month. If they were to be eligible for college hockey, it would make the game even more exciting than it currently is and would be good for the fan.
The role of parents in hockey:
When I was at the world junior tournament, a great TV commercial aired in Canada showing a dad lining up a 10-foot putt with his kid behind him telling him not to miss it. Shouting at him to make the right play. Then when the dad misses the putt, the kid told him he should have worked harder and that he was an awful putter.
Clearly the message from the Canadian Amateur Hockey Association came through that parents put too much about pressure on hockey players from the youth level to college. USA Hockey is concerned that parents keep their perspective on the game. They are aware of the parental influence on coaching decisions and hope to make this a focal point to help coaches and managers of teams with the challenge of keeping things in perspective.
I think many of us could use a reminder that hockey is a game to be enjoyed by kids at all levels.
Finally, I always thought this was the best time of year to be a coach. It's when teams come together. Players accept roles on their teams and the good teams start playing their best hockey.
As a coach, I always thought this was the meat of the season, a time when coaches and players perform well.
I saw it myself a few weeks back in a big series in Minneapolis between North Dakota and Minnesota. The night I was there, Minnesota won a big game they had to have to stay in the WCHA race. It was a game that reminded me that it's a time when players turn their jets on and get ready to go.
I'm excited, as an observer, to see how coaches and players react at this time of the year. It is a time when teams evolve into title contenders. I'm looking forward to it.