INCH UPDATE DESK
April 27, 2006
Stafford Named to World Championship Team
North Dakota forward Drew Stafford is among the first 15 players named to represent the United States at the 2006 IIHF World Championship, USA Hockey announced today.
Stafford is the lone collegian in the group, which will be coached by Wisconsin's Mike Eaves at the event. The final roster, which will begin World Championship play on May 5, will be announced in the days leading up to the event.
Ten former collegians join Stafford on the preliminary roster: defensemen Andrew Alberts (Boston College), Joe Corvo (Wsetern Michigan), Hal Gill (Providence) and Brooks Orpik (Boston College) and forwards Mark Cullen (Colorado College), Andy Hilbert (Michigan), Ryan Kesler (Ohio State), Ryan Malone (St. Cloud State), Marty Reasoner (Boston College) and Jim Slater (Michigan State).
April 23, 2006
Minnesota's Chucko Signs with Calgary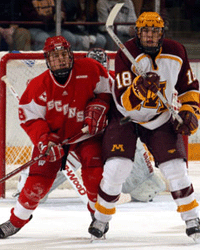 Minnesota sophomore forward Kris Chucko agreed to a three-year contract with the Calgary Flames. He becomes the third Gopher forward to leave the team this off-season prior to completing their college eligibility, joining Danny Irmen (who signed with the Minnesota Wild) and Ryan Potulny (who signed with Philadelphia).
"The money is great, but the decision was made by me and my family even before the offer was made," Chucko told Dean Spiros of the Minneapolis Star Tribune. "The greatest thing about the money is that it shows the commitment Calgary is making."
According to the Star Tribune, Chucko – the Flames' first-round pick in the 2004 NHL Entry Draft – received a three-year contract worth $900,000 annually. He's expected to start his professional career with Calgary's American Hockey League affiliate, the Omaha Ak-Sar-Ben Knights, next season.
Chucko, a 6-foot-2, 198-pound native of Burnaby, B.C., scored four goals and nine assists in 33 games for the Gophers last season. As a freshman, he amassed 10 goals and 11 assists in 44 contests.
April 23, 2006
Kemp Agrees to Four-Year Extension

Nebraska-Omaha's Mike Kemp, the only head coach since the program's launch back in 1997, signed a four-year extension that will keep him behind the Maverick bench through the 2009-2010 season.
Kemp has piloted UNO to a 144-171-37 record, two trips to the CCHA playoff semifinals and the school's first-ever NCAA Tournament appearance in 2006.
"I am thrilled with the opportunity to continue the growth and development of this program that we started with its inception in 1996," Kemp said. "We have experienced tremendous development in a short amount of time and I look forward to guiding the program to greater heights."
April 20, 2006
Schooley Signs Extension Through 2011

Robert Morris head coach Derek Schooley has signed a
contract extension that will keep him with the Colonials through May 2011. Schooley, who signed a four-year contract with RMU when he was named the inaugural head coach of the program in May 2003, adds four years to his current contract, which was set to expire in May 2007.
"I am excited about the extension and I'm grateful to [Athletic Director Dr. Craig] Coleman and Robert Morris University President Dr. Greg Dell'Omo for their support," Schooley said. "Our program has made great strides in its first two seasons, and that is a direct result of the dedication that the university, athletic department, staff and players have shown. I believe that we developed a solid foundation for the future of Robert Morris hockey and I'm honored the university wants me to be its men's ice hockey coach for years to come."
Schooley was named the program's first head coach August 22, 2003, with the responsibility of building a program that began play during the 2004-05 season. He opened that season with a roster made up of 20 freshmen, three sophomores and one junior, leading the squad to an 8-21-4 overall record. Robert Morris made strides in 2005-06, improving its overall record to 12-20-3 while advancing to the semifinals of the CHA Tournament.
"We are thrilled to have coach Schooley committed to us for the next five years," Coleman said. "He's running a first-class program and has already taken great strides in making our men's ice hockey team nationally prominent."
April 17, 2006
Berenson Signs Three-Year Extension

Michigan coach Red Berenson received a three-year contract extension, the school announced Monday. The new deal takes effect July 1 and runs through the 2008-09 season.
The Regina, Saskatchewan native has been behind the bench of his alma mater for 22 seasons, guiding the Wolverines to a 585-278-63 career record. Berenson, who has led Michigan to 16 straight NCAA Tournament appearances, ranks eighth all-time and fourth among active coaches in victories.
Also, defenseman Matt Hunwick was announced as team captain for the 2006-07 season at the Wolverines' year-end banquet Saturday. Hunwick, who will be a senior next season, reached career highs in goals (11) and points (30) for Michigan last year.
April 15, 2006
Holy Cross's Pearl Agrees to Contract Extension
Holy Cross head coach Paul Pearl, who led the Crusaders to their best season in history, agreed to a three-year contract extension through the 2008-09 campaign.
The winningest coach in the school's 36-year hockey history, Pearl has guided his alma mater to a 181-148-31 record and two NCAA Tournament appearances in 11 seasons behind the Holy Cross bench. The 2005-06 season was the Crusaders ' best ever, as the team posted a 27-10-2 mark, won the Atlantic Hockey regular-season and playoff championships, and upset top-seed Minnesota in the first round of the NCAA West Regional.
April 14, 2006
Frozen Four MVP Earl, Toronto Reach Contract Agreement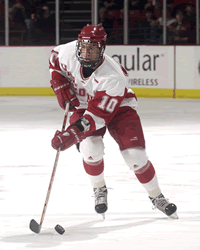 Wisconsin junior forward Robbie Earl, who last week was named most outstanding player at the 2006 NCAA Frozen Four, signed a contract with the Toronto Maple Leafs Friday. The Leafs selected the Los Angeles native in the sixth round of the 2004 NHL Entry Draft.
Earl lead the national champions with 24 goals this season, and his 50 points ranked second among Badger skaters to linemate Joe Pavelski. The 6-foot, 195-pound wing, who scored 121 points during three seasons in Madison, will likely report to Leafs' American Hockey League affiliate, the Toronto Marlies, this weekend and could be in the lineup when they host Syracuse in Sunday's regular season finale.
"It is kind of a double-edged sword," Earl said at a press conference in Madison. "I am happy to be in this position to sign, but then again it is tough coming off the national championship, you'd like to be with your guys and celebrate a bit."
Earl will likely play for the Marlies when the AHL playoffs get underway next week. Toronto, which finished fourth in the Western Conference's North Division, meets division champ Grand Rapids in a best-of-seven, first-round series that begins April 21.
April 13, 2006
NoDak's Smaby, Zajac Sign Pro Deals
North Dakota defenseman Matt Smaby and forward Travis Zajac will both forego the remainder of their college eligibility after signing contracts with the organizations that chose them in the NHL Entry Draft.
Smaby, a junior who captained the Fighting Sioux this past season, reached an agreement with the Tampa Bay Lightning. According to an athletic department news release, the Minneapolis native will complete his spring semester classes at UND and report to the Lightning, which picked him in 2003, over the summer.
Zajac signed with the New Jersey Devils, the team that chose him in the first round of the 2004 NHL Draft. The sophomore from Winnipeg, Manitoba, was the Fighting Sioux's second-leading scorer with with 18 goals and a team-best 29 assists in 46 games for the WCHA's playoff champion and winner of the NCAA's West Regional. Zajac will report to the Devils' American Hockey League team in Albany, N.Y., this week.
April 12, 2006
Eaves to Lead U.S. in World Championship
Just days after leading Wisconsin to its first national championship since 1990, Mike Eaves has been named the head coach of the U.S. National Team that will participate in the World Championship in Riga, Latvia, in May.
"Mike is one of the outstanding young coaches in our game today," said Paul Holmgren, general manager of Team USA and also assistant general manager of the National Hockey League's Philadelphia Flyers. "He's an excellent teacher of the game and has worked successfully with players at all levels of hockey."
Eaves returns behind a U.S. bench for the first time since leading the U.S. National Junior Team to its first-ever gold medal at the 2004 IIHF World Junior Championship. In 2002, Eaves also served as the head coach of the first U.S. National Under-18 Team to win a gold medal at the IIHF World Under-18 Championship. He spent two years (2000-02) as a head coach at USA Hockey's National Team Development Program, a training program for the top 16- and 17-year-old players in the United States. Eaves has also served as an assistant coach for Team USA at the 1991 Canada Cup and the 1991 IIHF World Championship.
"It's truly a thrill to be asked to coach the U.S. Men's National Team," said Eaves. "I'm looking forward to the challenge."
Eaves' assistant coach at Wisconsin, Mark Osiecki, will be the video coordinator for Team USA.
April 5, 2006
Irmen Leaves Gophers for Wild
Danny Irmen joins his former linemate, Ryan Potulny, in leaving Minnesota for the pro ranks this offseason, signing a multi-year contract with the Minnesota Wild Wednesday.
Irmen collected 38 points (16-22—38) in 30 games as a junior with the Gophers. The 6-foot, 190-pound forward had five power play goals, two game-winning tallies and was +15 this season. Irmen finished third on the team in goals and fourth in scoring despite missing 11 games due to injury.
Irmen was a third-round pick of the Wild in the 2003 NHL Draft and is expected to sign an amateur tryout contract with the team's AHL affiliate, the Houston Aeros, to close out this season.
April 4, 2006
Miami's Greene Signs with New Jersey
Miami defenseman Andy Greene signed with the New Jersey Devils Tuesday. Terms of the deal were not disclosed.
Greene, who was named the CCHA Defenseman of the Year and earned Inside College Hockey first team All-American honors this season, scored nine goals and added 22 assists in 39 games while leading the RedHawks to their second conference regular-season title in school history. In 159 games at Miami, the Trenton, Mich., native scored 27 goals and added 87 assists for 114 career points.
In addition to garnering league defenseman of the year status, Greene was named to the All-CCHA first team for the third straight time this season and also gained his second nod as the conference's top offensive defenseman.
April 1, 2006
Capitals Sign Pair of Free Agent Underclassmen
The Washington Capitals have lured two free agents out of college hockey with two-year contracts, signing Mercyhurst defenseman Jamie Hunt and Ferris State forward Matt Stefanishion.
Hunt, 21, is the first Atlantic Hockey player to ever leave school early to sign an NHL contract. A junior this past season, he led all NCAA defensemen with 1.36 points per game (45 points in 33 games played). He had 12 goals and 33 assists, finishing fourth on the Lakers in scoring. The 6'2", 195-pound Calgary, Alberta, native was a first-team all-conference selection in Atlantic Hockey and was named to the league's All-Tournament Team.
Stefanishion, played two years at Ferris State. He was limited to 23 games this season, posting nine goals and four assists (13 points), with six goals coming on the power play. A native of Daysland, Alberta, he had 21 goals and 13 assists in his collegiate career and was an Honorable Mention CCHA All-Rookie Team selection in 2004-05.
As free agent signees, Hunt and Stefanishion will join the Capitals, rather than their AHL affiliate, for the rest of the season.
INCH Update Desk Archives: March | February | January | December | November | October | September | August | July | June | May | April