March 10, 2005
First and Foremost
By James Jahnke, Nate Ewell and Mike Eidelbes
Atlantic Hockey
REGULAR-SEASON RECAP
TOURNAMENT PREVIEW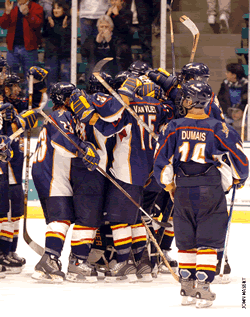 Regular-season champion Quinnipiac hopes it has another celebration on the horizon.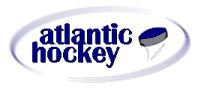 To modify an old (and bawdy) adage, first place in the Atlantic Hockey standings this season was a lot like the village bicycle – everyone got a ride. At least it seemed that way.
Canisius spent some time atop the league. So did Sacred Heart. Holy Cross made an appearance there, too. Quinnipiac ended the regular season there but given the way Mercyhurst has played lately, the Lakers may have ascended to the top spot had the playoffs started a week or two later.
This tournament is as open as a Las Vegas 7-11. And while ECACHL-bound Quinnipiac has emerged as the top candidate to win the playoff championship and the automatic NCAA Tournament berth that accompanies it, the rest of the field would like nothing better than to send the short-timing Bobcats into the sunset empty-handed.

THE FAVORITE
Picking a favorite in Atlantic Hockey as recently as two weeks ago seemed as logical as drawing lottery numbers. But as they've kept winning, we're drawn closer and closer to the Quinnipiac Bobcats' ping-pong ball. The future ECACHL team put together a 13-2-0 run to close out the season, led by an offense that was held under four goals only three times in that stretch. The four semifinalists should be converging on Hamden, Conn., at this time next week, hoping to wrest the title away from a team that will never have an opportunity to defend it. Their odds won't be great.
THE GATE CRASHER
First-Round Matchups
No. 8 Army at No. 1 Quinnipiac
Army: 7-20-3, 5-16-3 AHA
QU: 19-2-3, 16-6-2 AHA
Season Series: Quinnipiac won, 3-0
Black Knight Fact: Freshman Robb Ross (10-9-19) is tied with Ryan Cruthers atop the team points standings. If Ross can take the lead by the end of the season, he will be the first plebe since Glen Giovanucci in 1978 to win the Black Knights' scoring title outright. It should be noted that Army counts exhibition games in its stats.
Bobcat Fact: Fast-closing Quinnipiac won more games in February (seven) than October, November and December combined (six).
How Army Wins: By mucking things up, making Quinnipiac feel like it's skating in a Slurpee, and goalie Brad Roberts allowing two or fewer goals.
How Quinnipiac Wins: If the Bobcats keep good spacing on the ice, they should find plenty of shooting lanes at the offensive end. And they way they've played the last two months, more than enough of those shots would go in.
No. 7 Bentley at No. 2 Canisius
Bentley: 7-19-6, 6-13-5 AHA
Canisius: 16-14-4, 14-7-3 AHA
Season Series: Canisius won, 2-1
Falcon Fact: Bentley has wins over league powers Canisius, Mercyhurst, Holy Cross and Sacred Heart this season, but it went 0-5-1 against also-rans Connecticut and Army.
Golden Griffin Fact: Freshman forward Joel Kitchen produced four game-winning goals this season, tied for most in the conference.
How Bentley Wins: With good goaltending from Simon St. Pierre and at least three goals – a total the Falcons have reached just once since January. That game, though, was a 4-3 win over these Golden Griffins on Feb. 25.
How Canisius Wins: By using superior speed and puck control to keep play down in Bentley's defensive end. Worosz will handle the rest.
No. 6 Connecticut at No. 3 Mercyhurst
UConn: 11-22-3, 10-12-2 AHA
Mercyhurst: 15-15-4, 14-7-3 AHA
Season Series: Mercyhurst won, 2-1

Husky Fact: Senior forward Tim Olsen is one point shy of No. 100 for his career.
Laker Fact: Sophomore goalie Mike Ella has started – and won – five straight games after playing just twice before Christmas.

How UConn Wins: By making it a track meet. When the Huskies get going, they can skate with anyone in the conference. A few early flurries might rattle Ella, who is new to the starting role and has no NCAA playoff experience.
How Mercyhurst Wins: By protecting Ella, being dangerous in transition and finishing around the net. High shot totals probably mean high goal totals against UConn.
No. 5 Sacred Heart at No. 4 Holy Cross
SHU: 13-20-1, 13-10-1 AHA
HC: 15-13-6, 12-7-5 AHA
Season Series: Sacred Heart won, 2-1
Pioneer Fact: Sacred Heart was in first place in Atlantic Hockey with two weekends left in the regular season. But after back-to-back sweeps at the hands of Quinnipiac and Mercyhurst, the Pioneers find themselves on the road for the first round.
Crusader Fact: Holy Cross is last in the league in penalty killing, skating off just 78.6 percent of opponents' power plays.
How Sacred Heart Wins: By doing what it did in two recent wins over HC: being opportunistic offensively and getting clutch goaltending from Kevin LaPointe. The Crusaders likely will generate more shots in this game, so the Pioneers have to make theirs count.
How Holy Cross Wins: By kicking SHU when it's down. The Pioneers have lost five straight, so their confidence has to be shaken a bit. An early Holy Cross goal or two could break the will on the other bench.
Much as been written about how the top five teams in Atlantic Hockey – Quinnipiac, Canisius, Mercyhurst, Holy Cross and Sacred Heart – are utterly interchangeable. There was not one sweep of the three-game season series between any two members of that quintet this year. A few got five points from somebody else, but that was it. All five are capable of beating each other and, thus, conquering the league tournament.

But the most dangerous team is probably Holy Cross, simply because the Crusaders can draw from the experience of winning it last year. Paul Pearl's is a veteran group with a dangerous attack led by Pierre Napert-Frenette, James Sixsmith and Tyler McGregor, a reliable defensive corps and a solid goaltending tandem in Tony Quesada and Ben Conway.
INCH'S ALL-CONFERENCE TEAM
G – Bryan Worosz, Canisius
Perhaps the No. 1 contributor to the Golden Griffins' surprising season, the senior led the league in goals against average (2.41) and save percentage (.921) and was one of just three AHA netminders with a winning overall record (16-10-4).

D – Reid Cashman, Quinnipiac
This sophomore easily led the league in scoring, and, yes, he's a defenseman. His 29 assists led all players, and his 13 goals were nearly double the total of the next closest AHA rearguard. Paced all defensemen nationally with 42 points.

D – T.J. Kemp, Mercyhurst -
Though hurt for most of December and January, this senior still finished second to Cashman in points (23) and goals
(seven) by league defensemen. Also one of the best 1-on-1 defenders in the AHA.

F – Pierre Napert-Frenette, Holy Cross
The junior from Bathurst, New Brunswick, quietly finished second in the league in points (13-23-36) and can boast of three game winners.

F – Pierre-Luc O'Brien, Sacred Heart
Slithery sophomore sensation was dominant on the power play, netting a league-best 13 man-advantage markers. His 18 goals overall were second most in the AHA.

F – David Wrigley, Mercyhurst
One of the most gifted players in the league, the senior was a dual threat in notching 16 goals and 17 assists for the Lakers. His 1.03 points per game tied for fourth in the league.
COACH OF THE YEAR
By mid-January, Quinnipiac was floundering at 6-10-3 (3-4-2 in Atlantic Hockey), owners of an impressive upset over Dartmouth and a whole lot of frustration. But the second half of the season has resembled that shining moment in Hanover much more than the struggles that followed it. Credit head coach Rand Pecknold and his staff, who skillfully integrated nine freshmen into the lineup – at least seven of whom have seen time on the club's power play – and kept the Bobcats believing despite their early struggles.
PLAYER OF THE YEAR
At the risk of offending the hockey gods, it seems that the best way to describe Reid Cashman's season is Orr-like. (Wait … wait … ok, I think we're clear. The hockey gods must have bigger concerns right now.)

Not only did Cashman's remarkable scoring totals lead Atlantic Hockey, but he contributed at crucial times, like his end-to-end rush last week that erased a 1-0 Connecticut lead. He directed the Bobcats' power play, was their best breakout option, and boasts a good shot from the point. Don't expect the jump to the ECACHL to be any trouble for Bobby – er, Reid – Cashman.
FRESHMAN OF THE YEAR
It was a banner year for Bens among Atlantic Hockey freshmen, with Ben Cottreau turning heads at Mercyhurst and Ben Nelson making a splash at Quinnipiac. For our benjamins, the best of the Bens was Nelson, whose emergence as an offensive force in the second half of the year coincided with the Bobcats' rise in the standings. He's a center who plays in the mold of a power-forward wing – muscling his way in front of the net and unleashing quick, accurate shots.
"We knew he was a goal scorer, and we felt he could contribute right away," said head coach Rand Pecknold. "But he's even better than what we had ever hoped."

BREAKTHROUGH PLAYER
After splitting time with Chad Davis during his first three seasons in American International, Frank Novello became "the man" for the Yellow Jackets this year. He was on the ice for all but 24 seconds of the season and, while facing upward of 200 more shots than any goalie in the nation, kept an otherwise overmatched AIC squad competitive in most games. His numbers (3.54 GAA, .915 percentage, 4-22-4 record) won't bowl you over, but when you consider what he had to work with, they're almost spectacular. He led the nation in saves with 1,152. The next most was Northeastern's Keni Gibson with 956.
Other Tournament Previews: CCHA | CHA | ECACHL | Hockey East | WCHA