March 9, 2005
On the Upswing
By Joe Gladziszewski
ECAC Hockey League
REGULAR-SEASON RECAP
TOURNAMENT PREVIEW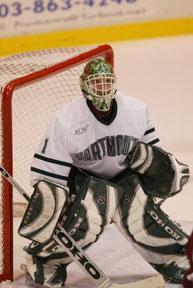 Dan Yacey is among a slew of talented ECACHL goaltenders.

In recent seasons, the declining quality of hockey being played at ECACHL institutions became a common discussion.
Last year, the size of the NCAA Tournament field increased by four spots, and the ECACHL's participation in the tournament decreased as only Harvard represented the league in the national tournament. It marked the second time in four years that only one ECACHL team competed in the NCAAs.
This year, ECACHL teams did their best to put an end to those conversations. Cornell established itself as a national championship contender and has been ranked at or near the top of the polls for the last month. Harvard and Dartmouth are poised to join Cornell in the NCAA Tournament, with Colgate and Vermont also in contention for an at-large berth. All five of those teams appeared in national rankings. Brown and St. Lawrence also received consideration from national pollsters during the year.
The biggest factor in helping more ECACHL teams match-up more favorably on the national stage is the league's goaltending. Dave McKee and Dov Grumet-Morris are possibly Hobey Baker finalists. Steve Silverthorn, Joe Fallon, Dan Yacey, Adam D'Alba and Justin Mrazek are all ranked in the top-15 nationally in goals-against average.
Not to be outdone, the overall talent level in the league is higher. Dustin Sproat and T.J. Trevelyan, two of the best offensive performers this season, might not make first team All-ECACHL. The same goes for Harvard's Tom Cavanagh.
At least three ECACHL teams will (probably) be in the NCAAs this year, marking the first time that's happened since 1998. Will any of those teams be in Columbus? That's the next hurdle to overcome. Only six teams have represented the league in the 15 Frozen Fours since Harvard's national championship in 1989. And just one of those (Colgate in 1990) played for the title.
THE FAVORITE
Quarterfinal Matchups
No. 9 Clarkson at No. 1 Cornell
CLK: 7-13-2 ECACHL, 13-21-3 overall
COR: 18-2-2 ECACHL, 22-4-3 overall
Season Series: Cornell won 2-0-0
Golden Knight Fact: Eleven of the 18 skaters dressed for Clarkson in Game 3 against Union were freshmen or sophomores.
Big Red Fact: Cornell's last national championship came in 1970, and the Big Red beat Clarkson in the final, 6-4.
How Clarkson Wins: The Golden Knight defense must quickly move the puck out of its own zone and avoid turnovers. Cornell stresses puck possession in the offensive zone.
How Cornell Wins: Stay loose and avoid the pitfalls of a home playoff series – distractions from friends and family and pressure to perform for the home crowd.

No. 7 St. Lawrence at No. 2 Harvard
SLU: 9-12-1 ECACHL, 17-17-2 overall
H: 15-5-2 ECACHL, 18-8-3 overall
Season Series: Split 1-1
Saint Fact: Ten players accounted for the Saints' 11 goals last week in a series sweep of Princeton.
Crimson Fact: No player on Harvard's roster has 10 goals this season. Tom Cavanagh and Ryan Maki have nine each.
How St. Lawrence Wins: Seize the momentum from last weekend's rout of Princeton and carry it into Cambridge.
How Harvard Wins: Get off to a good start, after sitting out last week. Don't let the Saints get on a roll.
No. 6 Brown at No. 3 Colgate
BU: 9-11-2 ECACHL, 16-12-3 overall
GATE: 14-5-3 ECACHL, 22-9-3 overall
Season Series: Colgate won 2-0-0
Bear Fact: Freshman Chris Poli scored the first three goals of his career in last week's series win over Rensselaer.
Raider Fact: Colgate has 20 wins in back-to-back seasons for the first time in the program's 75-year history.
How Brown Wins: The Bears' balanced scoring makes it a tough team to defend. You can concentrate on shutting down one line. Problem is, that balanced offense stuttered at the end of the regular season.
How Colgate Wins: Basic playoff hockey – Steve Silverthorn must be good in net, and the Raiders must continue to get timely scoring from Tyler Burton, Adam Mitchell, and Jon Smyth.

No. 5 Dartmouth at No. 4 Vermont
DC: 14-8-0 ECACHL, 19-11-2 overall
UVM: 13-6-3 ECACHL, 19-11-4 overall
Season Series: Dartmouth won 2-1-0
Big Green Fact: Lee Stempniak had just five points going into a game against Vermont on Dec. 30. He had three points that night, and now has 40 for the season.
Catamount Fact: This is Vermont's first home playoff series since 1996-97, which was also the last time they qualified for the NCAA Tournament.
How Dartmouth Wins: For the Big Green, it's all about the goaltending. If Dan Yacey can match or better Joe Fallon's performance, it bodes well for Dartmouth.
How Vermont Wins: Get ahead and stay there. The Cats are 16-3-1 when scoring first, 12-0-1 when leading after the first period, and 16-1-0 when leading after the second period.

You can't argue with what Cornell has accomplished during the regular season. The Big Red set out to be the best defensive team in the country, and they were. They wanted to win the league title, and they did. Every player in Cornell's lineup contributes every night and when injuries arise, such as the one to freshman defenseman Sasha Pokulok, part-time players step in and the Big Red doesn't miss a beat. They roll into this weekend's series against Clarkson riding a 14-game unbeaten streak.
THE GATE CRASHER
You know the cliché that any team can beat another on a given night. In this year's playoffs, it could be altered a bit to say that Dartmouth can beat any other team in the playoffs, because the Big Green proved it during the regular season. Dartmouth has at least one win against all seven of the other playoff teams. Only Cornell, with two league losses, can say the same.
INCH'S ALL-CONFERENCE TEAM
F – Lee Stempniak, Dartmouth
Stempniak's point totals were low and Dartmouth was hovering around the .500 mark but the Big Green captain picked things up and his team followed. He finished the regular season tied for the scoring lead in conference games.
F – Matt Moulson, Cornell
For the second straight year, Moulson led the Big Red in scoring. He's got 20 goals (11 on the power-play) and 32 points. Most of his goals have come at key times to tie the game or put the Big Red ahead.
F – Scott Mifsud, Vermont
Like Moulson, the senior came through when it mattered most. Opposing teams focused on shutting down his line with Jeff Corey and Torrey Mitchell and had some success, but Mifsud came through with four points in the two games that UVM needed to secure a playoff bye.
D – Noah Welch, Harvard
Welch bounced back from a disappointing junior year to captain the Crimson. No other ECACHL defenseman commands the respect that players and coaches have for Welch. All six of his goals have come on the power play, where Harvard ranks second in the league.
D – Joey Mormina, Colgate
Injury problems to Mormina decresed his importance in last year's Colgate championship, but without Mormina this season Colgate might not have finished third. His offensive abilities have improved every year and he goes head-to-head against the opposition's top line.
G – Dave McKee, Cornell
Many people say that a Cornell goalie is successful because of the defense played in front of him. This year, you get the sense that Cornell's defense is competing as a sign of loyalty to McKee, who always comes up with the big save to bail them out in the rare instance that a mistake is made.
COACH OF THE YEAR
Kevin Sneddon coached five years at Union College and his team's win total grew from 3 in his first year to 14 in his last year. Vermont turned to Sneddon to rebuild its hockey program and it didn't take five years. Sneddon's second season in Burlington saw the Catamounts earn a first-round playoff bye after finishing 11th one year earlier.
A jump in the team's fortunes can be directly attributed to some important coaching moves. First, he named Jaime Sifers captain in the middle of last season, when Sifers was only a sophomore. Secondly, his recruiting class featured two impact freshmen – goaltender Joe Fallon and forward Torrey Mitchell.
PLAYER OF THE YEAR
As was the case one year ago, I'll apply different criteria for the Player of the Year and an All-Conference selection. While Dave McKee's numbers and performance clearly make him the best choice for the All-Conference goaltender position, Harvard's Dov Grumet-Morris was the Player of the Year. The senior netminder was solid and steady all year long and relied more on poise and positioning than athleticism. His consistency helped Harvard improve from sixth to second in the league, and score big wins over Cornell, Boston College, Maine, and Boston University. Crimson players and coaches never hesitate to give Dov the credit for their team's success.
His work ethic off the ice and personality are also noteworthy. Grumet-Morris has improved every year at Harvard, and is one of the best-liked and most respected players in the league by opposing players and coaches. He is one of the top students in the ECACHL, studying Near Eastern Languages and Civilizations.
FRESHMAN OF THE YEAR
Colgate assistant coach Andrew Dickson thought Tyler Burton was the perfect player to be honored with the university's first athletic scholarship, and Burton hasn't disappointed. Despite being just 5-foot-9, most of his goals come from within 15 feet of the net. He brings a positive energy and enthusiasm to the ice every day, and it has rubbed off on the rest of the team.
BREAKTHROUGH PLAYER
New Princeton coach Guy Gadowsky wanted his team to score more goals and Dustin Sproat followed his coach's orders. Sproat, a junior center, had 18 goals and 17 assists in 31 games. He had 11 points in each of his first two seasons. Sproat finished tied with Stempniak for the ECACHL scoring title.
Other Tournament Previews: Atlantic Hockey | CCHA | CHA | Hockey East | WCHA