March 10, 2005
Balance of Power
By Mike Eidelbes
CCHA
REGULAR-SEASON RECAP
TOURNAMENT PREVIEW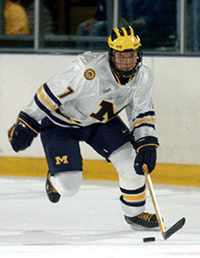 Michigan forward T.J. Hensick is sixth in the nation in scoring with 48 points.

You look like the betting type, so I've got a proposition for you. I'll give you Michigan and Michigan State as the CCHA playoff winner, and I'll take the field. Loser buys the winner lunch at the Anchor Bar. Deal?
Not long ago, that was a fairly safe wager. After all, it seemed as if those two teams took turns winning the Mason Cup while everyone else stood around and watched.
But this is not your father's CCHA. Heck, this isn't even your slightly older brother's CCHA. The races the Wolverines and Spartans once ruled are now open wider than Jose Canseco's wallet at GNC.

What's that? You say Michigan won the regular season title by gathering the most league points since the CCHA switched to a 28-game conference schedule? True, but Ohio State nipped at their heels the entire way. And what of the jockeying for a first-round home playoff series that continued until the regular seasons' final night? The only teams out of the mix in late February were the Rochester Amerks and Kenora Thistles.
That the CCHA is as balanced as the Wallenda family reunion is a good thing, you know. The hunch is that this year's league playoffs will be as wide-open and unpredictable as any in the conference's 33-year history. Wanna bet?

THE FAVORITE
First-Round Matchups
No. 12 Notre Dame at No. 1 Michigan
ND: 5-25-6, 3-20-5 CCHA
UM: 26-7-3, 23-3-2 CCHA
Season Series: Michigan won,
4-0-0

Irish Fact: Over the last five seasons, Notre Dame has made four trips to the Super Six. Only Michigan and Michigan State have advanced to the Joe all five times during that span.
Wolverine Fact: By sweeping Bowling Green last weekend, Michigan finished the regular season with 48 points in the CCHA. It's the most points in CCHA play since the conference adopted a 28-game league schedule six years ago.

How Notre Dame Wins: By getting two out-of-this-world games from goaltender Morgan Cey and hope that Michigan netminder Al Montoya turns in consecutive soft performances like his 11-save effort in a 6-3 win against the Irish last month or his 13-save showing in a 4-1 loss to Northern Michigan in January.
How Michigan Wins: In four regular-season meetings, the Wolverines outscored the Irish in the first period by a 10-1 margin. Notre Dame will play hard for 60 minutes, but if Michigan can get out to big leads early, they'll likely demoralize Dave Poulin's struggling club.
No. 11 Ferris State at No. 2 Ohio State
FSU: 12-20-4, 7-17-4 CCHA
OSU: 24-8-4, 21-5-2 CCHA
Season Series: OSU won, 3-1-0

Bulldog Fact: Five of FSU's seven league wins have come on the road, including a 3-2 overtime triumph against OSU in Columbus Jan. 8.
Buckeye Fact: OSU's second-place finish is the team's best showing in the CCHA standings since 1983-84 when the Buckeyes and Michigan State tied for second, four points behind Bowling Green.

How Ferris State Wins: Even though the Bulldogs kill opponent power plays at a respectable 82.4 percent clip, they can't afford to take too many penalties against an OSU team that has clicked for 60 PPGs this season. When FSU beat the Buckeyes earlier this season, they played five-on-five for the vast majority of the game.
How Ohio State Wins: While FSU would like to keep special teams play to a minimum, OSU wants to draw penalties in order to get their league-leading power play on the ice. They accomplish that by playing an aggressive, physical style which draws opponents into taking bad penalties. Even if it results in the Buckeyes getting whistled for an extra penalty or two, so be it – they've got the CCHA's top penalty kill, too.
No. 10 Western Michigan at
No. 3 Northern Michigan
WMU: 13-19-2, 8-18-2 CCHA
NMU: 20-9-7, 17-7-4 CCHA
Season Series: NMU won, 1-0-1
Bronco Fact: As we've noted in this space in each of the two previous years, WMU hasn't advanced to Joe Louis Arena since 1994, the longest current drought in the CCHA.
Wildcat Fact: If it's an odd year, it must be Western. For the third time in five seasons, NMU opens postseason play against the league's other directional Michigan school. The two teams also squared off in 2001 and 2003.
How Western Michigan Wins: OK, so the Broncos like to score. They're going to have to play some defense if they want to advance to the Joe. In 16 games since Jan. 1, the Broncos have given up four or more goals 10 times. WMU is 4-11-1 over that stretch.
How Northern Michigan Wins: Hope the same ol' offense-first WMU team shows up in Marquette. In its last 14 games, NMU has scored three or more goals 12 times including a current streak of eight straight games. As good a year as Tuomas Tarkki is having, he's that much better when he's getting offensive support.
No. 9 Lake Superior State at
No. 4 Nebraska-Omaha
LSSU: 9-20-7, 8-14-6 CCHA
UNO: 17-15-4, 13-11-4 CCHA
Season Series: UNO won, 2-1-1
Laker Fact: Three is a magic number – LSSU is 1-18-5 this season when scoring two or fewer goals.
Maverick Fact: UNO jumped eight spots in the CCHA standings after finishing 12th in the league last season. You'd think such a feat would be uncommon, but Ferris State did the same thing two years ago when they vaulted from ninth in 2001-02 to first the following year.

How Lake Superior State Wins: The Lakers didn't invent 'winning ugly', but they may have perfected it. They'll try to grind the game to a halt by keeping their more talented opponents from skating freely through the neutral zone. If they jump out to a lead, the clamps tighten even more, and Jeff Jakaitis and Matt Violin are good enough in goal to cover up most mistakes.
How Nebraska-Omaha Wins: Two-goal leads aren't insurmountable, but the Lakers are among the nation's worst offensive teams, averaging 2.17 goals per game. It's basically the flip side to LSSU's dream scenario – if UNO takes the early lead, it'll put the pressure on an offensively-challenged LSSU club to score and force them to play a more wide-open brand of hockey. That's definitely not their strong suit.
No. 8 Alaska-Fairbanks at No. 5 Bowling Green
UAF: 13-15-4, 11-14-3 CCHA
BGSU: 16-14-4, 13-12-3 CCHA
Season Series: BG won, 2-0-0
Nanook Fact: UAF was swept by BGSU during a stretch that was part of an eight-game winless streak. Since that swoon, however, the Nanooks are 7-4-3.
Falcon Fact: This weekend's games vs. UAF marks the first time BGSU has hosted a first-round playoff series since 1995, when the Falcons swept Notre Dame to advance to Joe Louis Arena.

How Alaska-Fairbanks Wins: Stay out of the penalty box. It hasn't been a problem for the Nanooks thus far – they average 17.3 penalty minutes per game. But the penalty kill is not good (a 79.3 success rate) and BGSU connects on one of five power play chances.
How Bowling Green Wins: The Falcons have a tendency to try to make an extra move or extra pass on offense. Very often, the end result is a missed opportunity. Scoring chances are a premium in the playoffs. The young BGSU forwards need to recognize when the extra play isn't there, and instead throw the puck at the net or out in front.

No. 7 Miami at No. 6 Michigan State
MIA: 15-16-5, 11-13-4 CCHA
MSU: 17-15-4, 12-13-3 CCHA
Season Series: Split, 1-1-0
RedHawk Fact: Streaky Miami opened the year with four wins, then endured a 4-12-4 stretch before posting a 7-4-1 mark over the last seven weeks of the regular season.
Spartan Fact: With its sweep of Notre Dame last weekend, MSU avoided opening the playoffs on the road for just the second time since joining the CCHA prior to the 1981-82 season.

How Miami Wins: The RedHawks boast better offensive balance than the Spartans, who've been led as of late by the same three or four forwards. If Miami can neutralize MSU's top line and keep them from scoring on the power play, their superior depth should give them an excellent chance of advancing.
How Michigan State Wins: Even though they're fairly similar statistically, Dominic Vicari gives MSU an advantage in goal over Miami's Brandon Crawford-West, who can be stellar or sub-par – in the same period, in fact. Vicari's a calming influence for the Spartans, and he can hold opponents at bay for long stretches until the offense gets going.
Michigan earned its third CCHA title in four seasons on the strength of 23 league wins, the most since coach Red Berenson's 1993-94 squad posted 24 conference victories (at a time when teams played 30 league games, two more than they do now).

No team in the country boasts better scoring balance – a dozen players have 20-plus points, led by sophomore T.J. Hensick's 48 points. While Hensick has been in a steady burn all season, a passel of fellow forwards have spontaneously combusted during the last two months. In the last 16 games, junior Jeff Tambellini has 25 points, freshman Chad Kolarik and senior captain Eric Nystrom each have 18 points, and junior Andrew Ebbett has 16 points.

With a solid and versatile defensive corps, Michigan's lone question mark appears to be goaltender Al Montoya. Sure, he led the country with 25 wins, but his woeful .891 save percentage ranks 63rd nationally and he's not among the top thirty in goals against average. What's more, Montoya hasn't been able to steal a game for the Wolverines this season, as evidenced by the team's 0-7-2 record when scoring fewer than three goals.

THE GATE CRASHER

As if Michigan State needed more worries, they draw Miami – the best seventh-place team in the nation – in the first round of the CCHA playoffs. Unquestionably the most dangerous of the six CCHA road teams, it wouldn't be a shock to see the RedHawks advance to the conference semifinals in Detroit next week.

Miami's regular season was a lot like a donut. Things were pretty good around the edges, but there was a huge hole in the middle. Miami won its first four contests of the year, then went 3-10-3 during a horrific 16-game stretch. Since the first of the year, however, coach Enrico Blasi's team is 8-6-2.

On paper, this weekend's first-round series in East Lansing appears to favor Miami. They're more balanced offensively than the Spartans, get better play from their power play and penalty-killing units and have a respectable 5-2-2 road record in league play since Jan. 1.

Perhaps most importantly, the RedHawks' best players are playing their best hockey right now. Sophomore forwards Matt Christie and Marty Guerin have combined for 31 points in the team's last 12 games, junior defenseman Andy Greene has maintained an All-American level of play the entire season and sophomore goaltender Brandon Crawford-West has steadied after a dismal first two-thirds of the season.

INCH's ALL-CONFERENCE TEAM

G – David Caruso, Ohio State
Tuomas Tarkki grabbed the headlines with miniscule numbers and the backup-to-standout storyline, and everyone is familiar with Jordan Sigalet, but Caruso's statistics and importance to his team cannot be overlooked. The Roswell, Ga., native has shed the scrambling style he played last season and is a steady, unflappable influence for a young squad. No CCHA netminder is quicker when it comes to getting back on his feet or moving from post to post.
D – Andy Greene, Miami:
As long as he's in the CCHA, you'll find his name here. There's not a more complete defenseman in the nation – Greene scores goals and sets up teammates, rarely gets beaten in his own end, plays a key role on the RedHawks' power play and penalty kill and is the team's leader on and off the ice.
D – Wes O'Neill, Notre Dame:
Before you folks in Marquette, Ann Arbor and Columbus send those angry e-mails, hear me out. Admittedly, it's highly unorthodox to tab a blueliner with a plus-minus rating of minus-19 as an all-conference performer, but O'Neill deserves it. He blossomed into a terrific two-way presence this season and on many nights was the Fighting Irish's lone scoring threat.
F – T.J. Hensick, Michigan
Hensick earned his spot on this team with a power play goal in a see-saw affair against Western Michigan at Yost Ice Arena in January. The sophomore repeatedly set up teammates for prime scoring chances, but they couldn't connect. Taking matters into his own hands, Hensick regains possession of the puck, skates to within 20 feet of the cage and unleashes a hard shot that screams over the goalie's right shoulder. The sequence was a microcosm of offensive prowess that makes him the league's most dangerous weapon.
F – Scott Parse, Nebraska-Omaha:
The catalyst for a UNO team that jumped from last to fourth in the league standings, Parse scored 47 points this season, 12 more than he amassed during a stellar freshman campaign. How important is Parse to the Mavs' success? Even though he's in the midst of a career-long, seven-game goal drought, he's assisted on eight goals during that span.

F – Jim Slater, Michigan State:
Despite a slow start to his senior year, Slater bounced back to score 40-plus points for the third straight year. With nine points in the Spartans' last six games, Slater virtually willed the team to home ice for the first round of the CCHA playoffs. As MSU's captain, he's kept an even keel throughout what has been a turbulent season in East Lansing.
COACH OF THE YEAR

When Scott Paluch returned in 2002 to assume head coaching duties his alma mater, Bowling Green, he inherited a program that was fading fast. The Falcons lacked talent, rarely functioned as a cohesive unit and effort was lacking. Fans stayed away from BGSU Ice Arena in droves.
Three years into his tenure, Paluch hasn't completely returned the Falcons to their former glory, but he's well on his way. Under his guidance, BGSU posted a 16-14-4 overall record and a 13-12-3 mark in league play – its best showings in nine seasons – and earned the right to host a CCHA first-round playoff series for the first time since 1995.
Thanks to a masterful job of recruiting, Paluch and his staff have amassed an impressive stockpile of young talent. Players such as forwards Alex Foster, Jonathan Matsumoto and James Unger and defensemen Michael Hodgson and Jonathan Sigalet have developed nicely, and their energy has infused new life in holdovers like senior forward Ryan Minnabarriet and senior goalie Jordan Sigalet.
Hockey fans in northwestern Ohio have noticed – the Falcons' average attendance was up more than 500 from last season. A relentlessly positive influence and one of the college game's genuinely good guys, Paluch has Bowling Green poised for a return to prominence in the years to come.
PLAYER OF THE YEAR

An absolute no-brainer. Michigan's T.J. Hensick stands out because of his offensive prowess – he's the CCHA's leading scorer in conference play with 43 points, and his 48 points ranks second to Western Michigan's Brent Walton in the league in overall scoring.
As a freshman, Hensick's passing prowess caught our eye. This season, he impressed with his ability to create scoring opportunities for himself in one-on-one situations, delving into a bag of moves and dekes that continually expands. While other Wolverines have yo-yoed from productive to struggling, Hensick has been steady. Only twice has he gone scoreless in back-to-back games, and he's put together point streaks of six, six and ten games this year.
FRESHMAN OF THE YEAR

While Parse and fellow sophomore Chris Holt deserve credit for the rapid turnaround at Nebraska-Omaha, so to does a talented crop of freshmen led by forward Bill Thomas. His 18 goals and 42 points are the most among Division I rookies, and only three first-year players nationally have exceeded his 24 assists. The Pittsburgh native is both steady (at least one point in 27 of the Mavericks' 36 games) and explosive (he's had 12 multiple-point outings this season). With UNO losing just one key contributor (senior forward Dan Hacker) from this year's team, expect Thomas and Co. to continue their ascent toward the top of the league.
BREAKTHROUGH PLAYER

When Drew Miller signed a letter of intent to attend Michigan State, most people assumed it was a birthright for him to follow in the footsteps of the nine family members – including his father, Dean, and brother, Ryan – who had previously donned the green and white. Why else would the Spartans bring in a willowy forward who was excellent defensively but displayed marginal offensive skills? Two years later, Miller has become a two-way dynamo. Not only is he among the CCHA's best defensive forwards and top penalty-killers, but he's among the conference leaders in goals (17) and power-play goals (nine) and is one of MSU's unquestioned team leaders.
CCHA Brackets

Other Tournament Previews: Atlantic Hockey | CHA | ECACHL | Hockey East | WCHA