March 9, 2005
Surprises in Store?
By Nate Ewell
Hockey East
REGULAR-SEASON RECAP
TOURNAMENT PREVIEW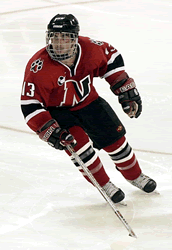 Jason Guerriero is the first Northeastern player to win the Hockey East scoring title.

After a wildly unpredictable final regular season weekend – which saw four teams still within reach of the conference title – Hockey East's first round has the potential to be white-bread boring. None of the four underdogs was able to claim even one win in their season series against their hosts this weekend.
But twice in the past six years No. 8 has knocked off No. 1 in the Hockey East playoffs, and Nos. 5, 6 and 7 all enter this year's festivities with a little momentum. So history – both recent and very recent – tells us to expect surprises this weekend.
All in all, it hasn't been a terribly surprising year in Hockey East, so perhaps we're due. The league has once again held its position as one of the best conferences in the country, second only to the WCHA in most judgments. The usual suspects are at the top of the league again, and Merrimack, picked to finish last, finished with the lowest win total in league history.
As usual, it was the players, not the teams, who provided the best stories in Hockey East this season, from Ben Walter's goal scoring prowess to John Curry's emergence to Peter Trovato's generosity.
Who will be the heroes as the second season begins this weekend? We know enough not to count out a surprise or two.
THE FAVORITE
First-Round Matchups
No. 8 Massachusetts at No. 1 Boston College
MA: 13-21-2 (6-16-2 HEA)
BC: 21-6-7 (14-3-7 HEA)
Season Series: BC won, 2-0-1
Minuteman Fact: If the Minutemen advance, they would double the number of road victories they have posted all year (two).
Eagle Fact: BC is unbeaten in seven straight against UMass (6-0-1), including wins of 9-0, 6-0 and 6-1.
How UMass Wins: Hot goalies have given the Eagles fits at various times this year. Gabe Winer has been up and down at times, but certainly has the ability to put together two good games.
How BC Wins: The Eagles were stunned last year by a BU team that was hungrier and more opportunistic. They don't need stand-on-your-head goaltending like UMass, but Matti Kaltiainen will need to improve on the .774 save percentage he had in last year's two losses to BU.

No. 7 Providence at No. 2 Boston University
PC: 11-19-4 (6-14-4 HEA)
BU: 21-11-4 (15-5-4 HEA)
Season Series: BU won, 3-0-0
Friar Fact: Sophomore Colin McDonald averaged a goal every other game in Hockey East play, a figure that was surpassed by only five other players this year.
Terrier Fact: BU and Providence, meeting for the fifth time in the last seven Hockey East quarterfinals, are tied at 9-9 in Hockey East playoff meetings, but the Terriers have won four straight.
How PC Wins: The Friars boast a strong work ethic, although they don't always showcase the skill to match. If their hard work results in a little puck luck, it could go a long way.
How BU Wins: The Terriers have done a masterful job of limiting opponents' quality chances in their 8-1-3 run to end the season. If they keep the Friar shots to the outside, the Terriers will reach the semifinals for the fourth straight season.

No. 6 Northeastern at No. 3 New Hampshire
NU: 15-16-5 (10-10-4 HEA)
UNH: 22-9-5 (15-5-4 HEA)
Season Series: UNH won, 3-0-0
Husky Fact: Northeastern is 10-7-3 in February and March of the last two years (6-3-1 this season).
Wildcat Fact: New Hampshire is the league's only team not to lose back-to-back games all year.
How NU Wins: A big part of Northeastern's upset chances relies on Keni Gibson's ability to steal a game or two. Another key is limiting UNH's power-play opportunities, and the Huskies are Hockey East's least-penalized team.
How UNH Wins: The Wildcats will score – keeping opponents off the board has been the key to their success. Scoring the first goal would help, too, something they haven't done in their last four games.
No. 5 UMass Lowell at No. 4 Maine
UML: 20-10-4 (11-10-3 HEA)
ME: 18-11-7 (13-6-5 HEA)
Season Series: Maine won, 3-0-0
River Hawk Fact: UMass Lowell, Dartmouth and Sacred Heart are the only teams in the nation that finished the regular season with a winning record but are playing this weekend on the road.
Black Bear Fact: Maine started the year 3-4-0 at Alfond Arena, but is 9-0-3 since.
How UML Wins: An early goal would help the River Hawks, both to take some energy out of Alfond and because Maine plays so much better with the lead. Generating (and cashing in on) power-play opportunities will also be critical.
How ME Wins: The Black Bears need to play with desperation, which shouldn't be difficult given the loser-goes-home nature of this series. If they finish checks and scoring opportunities with equal aplomb, the Black Bears will move on.

Coaches searching for a weakness in Boston College's lineup can feel a bit like a kid playing whack-a-mole – they seem to disappear as quickly as they pop up. Think Matti Kaltiainen is beatable? The Eagle defense limits the shots he faces and his .921 save percentage in league play was stellar. Do they lack size up front? Say that to 6-foot-7 Brian Boyle, who has been red hot of late. Didn't Lowell's sweep show they were vulnerable? Maybe, but that came with Andrew Alberts out of the lineup.
No one in Hockey East is infallible, and if we learned nothing else from the wild final weekend, it's that this league is wide open. But the Eagles finished on top – even by the slimmest of margins – for a reason. They are the team to beat for the automatic bid.
THE GATE CRASHER
As Northeastern head coach Bruce Crowder entered the Beanpot, he was clearly relishing the underdog role. His Huskies nearly rode it to a title, and if anyone was overlooking them then, they won't on this quest to return to the Fleet. In addition to its recent hot streak (6-3-2), Northeastern seems to have the ingredients of a good playoff team, beginning with senior goaltender Keni Gibson. The Huskies also have good experience outside the goal, a reliable first line and a dangerous power play. They can thank conference scoring champion Jason Guerriero for all three of those.
INCH'S ALL-CONFERENCE TEAM
F – Sean Collins, New Hampshire
Collins, our third pick among the first-team forwards, beats out teammate Jacob Micflikier and a couple of UMass Lowell players for this spot. He earned it with determination and timely goals, and an ability to pick up where his longtime linemate, 2004 Hockey East Player of the Year Steve Saviano, left off.
F – Patrick Eaves, Boston College
Eaves has been the league's biggest scoring threat since the puck dropped in October. He had at least a point in 23 of 32 games in the regular season.
F – Jason Guerriero, Northeastern
The conference scoring champion jokes that he's often mistaken for being Hispanic (he's actually Italian). His game has earned more recognition, especially with his and his team's surge in February.
D – Andrew Alberts, Boston College
Alberts' development in four years at BC is nothing short of astonishing. You can't learn size, but you can learn poise, defensive positioning and skill with your puck on his stick. Alberts has been a quick study.
D – Bryan Schmidt, Merrimack
Merrimack's record may not have been much worse without Schmidt in the lineup, but it's hard to imagine the Warriors without him. No player was as indispensable.
G – Keni Gibson, Northeastern
Gibson, the conference leader in save percentage, saves and minutes, had shown brief spells of brilliance in his first three seasons on Huntington Ave. As a senior, he added consistency, edging out Maine's Jimmy Howard to earn the crowd as the best among a very talented goalie crop in Hockey East.
COACH OF THE YEAR
There's a lot new at BU this season, from the shiny rink to the talented freshman class. But they all owe their presence – and success – to a man who isn't new on Comm. Ave. at all, 32-year head coach Jack Parker. Parker has skillfully introduced the freshmen to the Terrier program, and in a way that hasn't alienated his returning players. In fact, it could be easily argued that the key to BU's second-place finish, after taking eighth a year ago, wasn't the freshmen at all – it was really the improvement of his junior class. That group accounts for the team's top two scorers, and four of its top eight.
PLAYER OF THE YEAR
Patrick Eaves' versatility sets him apart. He's the conference's most dangerous goal scorer in tight, but he can also run a power play from up top or jump back on defense in a pinch. He's the closest thing to a complete package in Hockey East.
Eaves has had those qualities since his freshman season, but he elevated his game this year. The two weaknesses in his game entering the season – bad penalties and injuries – were minimized in 2004-05. That ability to improve on an already impressive set of tools makes him our pick as the conference's top player.
FRESHMAN OF THE YEAR
A year ago only one freshman saw significant minutes in goal in Hockey East. The rookies made up for it this year, with four of them playing at least a third of his team's minutes. Kevin Regan, Cory Schneider and Peter Vetri could all stake claims to being the best of the bunch, but we'll pick UMass Lowell's Vetri. He stepped into the crease – playing with a broken hand at the time, no less – and turned around the River Hawks' season. He gave Lowell the stability in net it had lacked for the past few years, and even seemed to push partner John Yaros to improve late in the year.
BREAKTHROUGH PLAYER
Early in the year, New Hampshire's Brett Hemingway seemed to have this locked up. And while he finished the regular season with a team-high 20 goals – nearly triple last year's total – his Wildcat classmate, Jacob Micflikier, caught fire and snatched this distinction away. Micflikier was dangerous as a freshman, to be sure, but he became downright scary this season, especially in the second half. One of the league's best pure offensive talents, Micflikier had 26 of his 39 points after Christmas, including three games with four or more points.
Other Tournament Previews: Atlantic Hockey | CCHA | CHA | ECACHL | WCHA