March 9, 2005
Following the Script
By James Jahnke
College Hockey America
REGULAR-SEASON RECAP
TOURNAMENT PREVIEW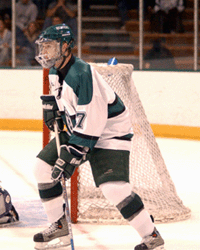 Bemidji State will rely on offense from Brendan Cook with leading scorer Andrew Murray out of the lineup.
Improvisation be damned! The College Hockey America season has followed its script almost to the letter thus far. The preseason coaches poll predicted that Bemidji State would finish first, Wayne State would finish fourth, Air Force would finish fifth and Robert Morris would finish sixth.
Check, check, check and check. That means the only transpiration people didn't foresee in September was Alabama-Huntsville finishing second (not third) and Niagara finishing third (not second).
What drama!
But that doesn't mean it was a boring season. NU's Barret Ehgoetz and UAH's Jared Ross provided some excitement as they rose to the top two spots on the CHA's all-time scoring charts. Robert Morris, a first-year program, played as well as anyone could have expected with more freshmen than a dormitory's Fall Mixer. UAH's Bruce Mulherin has scored more goals per game than anyone in the nation. And Bemidji State coach Tom Serratore continued to kick the tar out of his brother Frank at Air Force, improving his record in the sibling rivalry to 14-0-1.
Such excitement should continue this weekend as the CHA tournament begins and ends at the IRA Civic Center in Grand Rapids, Minn. But don't expect much more in terms of deviation from conventional wisdom. Robert Morris is probably too young to make much noise in the tourney, Air Force doesn't have the depth, and Wayne State, which is almost as youthful as the Colonials, is too inconsistent to win three straight.
That likely leaves Bemidji State and UAH – with an outside threat from Niagara – to duke it out for the automatic bid to the NCAA tournament on the line this weekend. At least that's what this script here says. Now, allow me to exit stage left as you take a look back at the CHA regular season that was and the postseason that will be.
THE FAVORITE
First-Round Matchups
No. 6 Robert Morris vs. No. 3 Niagara
RMU: 8-20-4 (4-14-2)
NU: 14-18-2 (9-9-2)
Season series: Robert Morris won, 2-1-1
Colonial Fact: RMU's most lopsided victory ever (granted, it's a first-year program) was a 6-0 smacking of Niagara on Jan. 29 in Pittsburgh. That game also marks the only time Niagara has been shut out this season.
Purple Eagle Fact: Niagara's five-member senior class has scored nearly half of the team's goals this season (50 of 103).
How Robert Morris Wins: By continuing to convince the Purple Eagles that it has their number. Goalie Christian Boucher will play a large role in that, but the RMU defensive corps must play one of its best games of the season Friday.
How Niagara Wins: By finally living up to its potential. On paper, the Purple Eagles should steam roll the Colonials. But somebody has to make that happen. We're looking at you, Barret.
No. 5 Air Force vs. No. 4 Wayne State
AFA: 13-18-3 (5-14-1)
WSU: 14-16-4 (7-9-4)
Season series: Wayne State won, 2-1-1
Falcon Fact: Senior power forward Josh Priewe (0-4—4) returned to action last weekend after missing 11 games with a fractured rib.
Warrior Fact: With a pair of markers last Saturday, forward Jason Bloomingburg, a Providence transfer, became the first WSU skater to tally 20 goals in a season.
How Air Force Wins: By being tougher than the quarrelsome Warriors. The Falcons have to "want it" more. And it wouldn't hurt if goalie Peter Foster returned to his first-half form.
How Wayne State Wins: With a focused, consistent, 60-minute effort. Sometimes, Bill Wilkinson's young group can go into a funk. That can't happen this weekend.
First-Round Byes
No. 1 Bemidji State
21-12-1 (16-4-0)
How Bemidji State wins it all: By successfully compensating for the loss of Murray. A greater onus will fall on Brendan Cook to lead the top line, but lines 2 through 4 will have to contribute consistently at both ends. And, if the Beavers meet the Chargers, they must force their defensive tempo on UAH.
No. 2 Alabama-Huntsville
17-9-4 (14-5-1)
How UAH wins it all: With superior talent. Now that Murray's out of the lineup, UAH has the best team in the field. But they have to show it. And there will be several thousand Beavers fans in the stands to make it tough on them. The Mulherin-Ross-Bushey line will get a chance to shine on a big stage, with a CSTV audience watching if they reach the title game (Sun., 8 p.m. ET).

Bemidji State. This applies even though leading scorer Andrew Murray is sidelined with a broken collarbone suffered Saturday against Air Force. The main reasons? Home atmosphere and defense. The IRA is just two hours from campus down US-2, and it surely will be packed with BSU faithful this weekend. The buzz will be a boost to the No. 1 seed Beavers. On the ice, Bemidji is the best team in the conference at keeping opposing offenses to the outside and shot totals down. When pucks do get through, freshman goalie Matt Climie is usually solid in net. However, that said, No. 2 seed Alabama-Huntsville can be considered the co-favorite, especially now that Murray is out. BSU is as deep as any team, but when you lose your top player, you're going to suffer a bit.
THE GATE CRASHER
UAH is too close to a favorite to be considered for this category, so we'll go with defending champion Niagara. The Purple Eagles are an experienced team that, for one reason or another, hasn't put it together this season. They're dangerous up front with Barret Ehgoetz, Ryan Gale, Kris Wiebe and Justin Cross, adequate on the blue line with Andrew Lackner and Ryan Carrigan, and capable of great things in net with Jeff Van Nynatten. But their chemistry hasn't clicked yet, and we haven't seen any evidence that it will in Grand Rapids. But maybe traveling to the postseason tournament is just what they need to jog their memories about last year's title run.
INCH'S ALL-CONFERENCE TEAM
G – Scott Munroe, Alabama-Huntsville
Junior posted best save percentage (.929), most wins (15) and second-best goals against average (2.31) in the league. Also played more than 100 more minutes than any other CHA netminder.
D – Steve Kovalchik, Wayne State
Nothing flashy about this junior, but he's as sound as they get defensively and he tied for second among league blueliners in points (6-14—20).
D – Jeremy Schreiber, Alabama-Huntsville
The Medicine Hat, Alberta, native had a down junior year with just two goals, but he still led league defensemen in scoring with 22 points. Adds a dynamic element to UAH's power play.
F – Barret Ehgoetz, Niagara
League scoring champ might graduate as the CHA's all-time leading scorer. He leads second-place Jared Ross, 165-159, heading into the postseason. Ehgoetz's 30 assists were tops in conference.
F – Bruce Mulherin, Alabama-Huntsville
His 24 goals were most in the league and good for a tie for fourth nationally. With one more point, the junior will join linemate Ross at the 40-point mark.
F – Jared Ross, Alabama-Huntsville
Senior captain paced league with 1.43 points per game, showing equal knack for scoring (22 goals) and setting up (18 assists). Is three goals ahead of Ehgoetz on league's all-time goal-scoring list.
COACH OF THE YEAR
Tom Serratore, Bemidji State. Sure, BSU was supposed to win it all this year, meaning all the Beavers did was live up to expectations. But any time a team wins a league championship – especially when its top competitors are strong, veteran squads – the coach deserves credit. Serratore's group was swept just twice this season (both by WCHA schools), and it played with remarkable consistency from beginning to end. His best call of the year might have been settling on Climie as the team's No. 1 goaltender after New Year's.
PLAYER OF THE YEAR
Jared Ross, Alabama-Huntsville forward. The son of UAH coach Doug Ross, Jared gave his father another outstanding season of leadership and offensive production. He is the linchpin of the most effective line in the league and was such a good linemate that he made his left wing, Bruce Mulherin, a candidate for this distinction. Sure, Mulherin is a good player in his own right, but Ross made him great. And Ross made the team great. That's what gave him the leg up on Niagara's Barret Ehgoetz. Both had good years statistically, but Ross was able to captain his team within reach of the league title. Ehgoetz's Purple Eagles never flirted with meeting expectations.
FRESHMAN OF THE YEAR
Christian Boucher, Robert Morris goaltender. It's fitting that the league's top rookie can be found on RMU's almost all-freshman roster. Nobody on the Colonials had a faster acclimation to college hockey than this 5-foot-10 21-year-old who finished third in the league in save percentage (.918) and had a respectable 2.81 GAA for a startup program. Boucher is smooth in the crease and didn't seem flustered by much this year. He played the second most minutes of anyone in the league and appears to be a cornerstone upon which coach Derek Schooley can build the program.
BREAKTHROUGH PLAYER
Too bad this is Niagara forward Ryan Gale's senior season – he's just turning into an offensive force. Gale has posted 23 goals and 14 assists this year after amassing just 16 goals and 11 assists combined in his first three seasons in Buffalo. His previous highs were nine goals as a junior and six assists as a sophomore. He blew away those marks this year, largely thanks to playing on a line with Ehgoetz for several months. But Gale isn't just Ehgoetz's sidekick. In fact, coach Dave Burkholder decided to split up the pair several weeks ago, and Gale further proved his personal worth by making his Ehgoetz-less line one opponents must worry about heading into the tournament.
Other Tournament Previews: Atlantic Hockey | CCHA | ECACHL | Hockey East | WCHA