March 9, 2005
Changing of the Guard
By Jess Myers
WCHA
REGULAR-SEASON RECAP
TOURNAMENT PREVIEW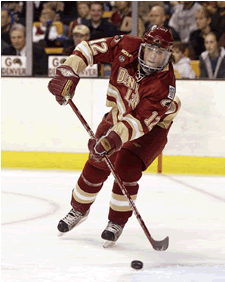 Matt Carle and the Pioneers have their eyes on even more hardware.

It has been noted more than once on these pages that the last WCHA team to win the league's regular season title and the NCAA crown in the same campaign was the Northern Michigan Wildcats, way back in 1991. Not only have the Wildcats been in a different league since 1997, so much else has changed since that season, it's mind-boggling.
For example, the league's cellar-dwellers at the end of the 1990-91 season were Colorado College and Denver. That pair of Front Range rivals combined to win just 14 of their 64 combined league games, and in the days of a nine-team WCHA, Frank Serratore's woeful Pioneers (6-30-2 that year) didn't even get an invite to the league's eight-team playoffs.
Since that time, the league has gotten two new members (Alaska Anchorage and Minnesota State, Mankato) and six new arenas. And the days when CC and Denver called a hotel's horse show venue and a converted blimp hangar, respectively, their home rinks, are long, long gone. Heck, the Stanley Cup has even been to Colorado twice since then.
This time around, the Tigers and Pioneers combined for just 14 league losses (four of them head-to-head) in becoming just the third pair ever to split the WCHA title. History buffs will note that while winning the MacNaughton Cup may seem like a curse, splitting it has historically been somewhat of a blessing.
In 1957-58, the last season that the league was known as the Western Intercollegiate Hockey League, Denver and North Dakota tied for the league title, then played the tie-breaker for the NCAA crown, with the Pioneers prevailing 6-2 at Williams Arena in Minneapolis. The 1996-97 campaign ended with North Dakota and Minnesota deadlocked atop the league standings, but the Sioux won the playoff title, beating the Gophers in overtime. A few weeks later, North Dakota's Dean Blais notched the first of his two national titles, beating Boston University 6-4 in Milwaukee.
So where WCHA champions can't seem to win the national championship, two of the four previous WCHA co-champions have been unable to lose on the national stage. If you're a fan of the Tigers or Pioneers (or both, if you live in Larkspur, Colorado – which is located almost exactly halfway between Colorado Springs World Arena and Magness Arena) and you've always wanted to visit Ohio's state capital, history says you'll have a very good reason to do so soon.
THE FAVORITE
First-Round Matchups
No. 10 Michigan Tech at No. 1 Denver
MTU: 8-23-4, 7-19-2 WCHA
DU: 24-9-2, 19-7-2 WCHA
Season Series: DU leads, 3-1-0
Husky Fact: Michigan Tech has finished in last place in the league in each of the three seasons that there have been co-champions (1958, 1997 and 2005).
Pioneer Fact: The Pioneers are on a two-game home playoff losing streak after Colorado College swept them last March at Magness Arena.
How Michigan Tech Wins: Play with desperation. Tech won a game in Denver just two months ago. The knowledge that anything less than two wins means this is the last time Colin Murphy and Chris Conner will play together may inspire some unexpected heroics.
How Denver Wins: Score early, score often. Tech goalie Cam Ellsworth is good if he gets early confidence. A few early goals by the Pioneers and the league's most prolific offense could make this an ugly weekend for the visitors.

No. 9 St. Cloud State at No. 2 Colorado College
SCSU: 14-21-3, 8-19-1 WCHA
CC: 24-9-2, 19-7-2 WCHA
Season Series: Tied 1-1-0
Husky Fact: It may be good for the Huskies to go on the road for the playoffs. They finished the season on an 0-10-1 streak in WCHA games at the National Hockey Center.
Tiger Fact: The only previous playoff meetings between these schools have come in the WCHA Final Five's third place game. The Tigers have won all three contests, in 1997, '98 and 2002.
How St. Cloud State Wins: Turn the clock back a month. One of CC's biggest bumps in the road to the MacNaughton Cup was a home loss (in overtime) to St. Cloud State last month. The Huskies' odds are even longer now with top scorer Dave Iannazzo out of the lineup.
How Colorado College Wins: Keep on keepin' on. The team with the league's two best forwards and its best goalie simply shouldn't struggle to win two games at home versus the likes of SCSU.

No. 8 Minnesota State, Mankato at No. 3 Minnesota
MSU: 13-17-6, 8-16-4 WCHA
UM: 24-12-1, 17-10-1 WCHA
Season Series: UM leads, 4-0-0
Maverick Fact: Offensive sparkplug Brock Becker will miss the Minnesota series after suffering a deep thigh bruise last weekend. The last time the Mavs faced Minnesota, Becker suffered a broken foot and missed nine games.
Golden Gopher Fact: Since moving to the new Mariucci Arena at the start of the 1992-93 season, the Gophers are an unblemished 20-0 in first round WCHA playoff games there.
How MSU Wins: Keep scoring. The Mavs have averaged nearly seven goals per game in their last three wins. With Minnesota's biggest question marks on defense and in goal, there's your road map to an upset.
How UM Wins: Put up four. Minnesota is 18-0-1 this season when scoring four or more goals in a game. Against the Mavs' unpredictable goalies, that's doable.

No. 7 Alaska Anchorage at No. 4 Wisconsin
UAA: 11-17-6, 9-15-4 WCHA
UW: 21-11-4, 16-9-3 WCHA
Season Series: UW leads 4-0-0
Seawolf Fact: Anchorage head coach John Hill was behind the bench for one of the last college hockey games at Dane County Coliseum. Hill was Don Lucia's assistant at Colorado College in March 1999 when the Tigers lost to Michigan State in the NCAA West Regional played there.
Badger Fact: Wisconsin is one of just two WCHA teams (Denver being the other) to earn at least one win versus each of their nine conference foes this year.
How UAA Wins: Score. The Badgers were the best defensive team in the league this season. The Seawolves were the worst offensive team in the league this season. That's a bad sign for the upset-minded.
How UW Wins: Get the mojo back. A month ago, Badger fans were making plans to be in Columbus in April. A 1-5-3 stretch later and there are legit concerns about Mike Eaves finding a way to get to St. Paul in March.

No. 6 Minnesota Duluth at No. 5 North Dakota
UMD: 15-15-6, 11-13-4 WCHA
UND: 18-13-5, 13-12-3 WCHA
Season Series: Tied 1-1-0
Bulldog Fact: Minnesota Duluth did slightly better on the road (8-7-2) than at home (7-8-4) this season, fueling speculation that the 'Dogs are better off wearing the dark sweaters in the playoffs.
Fighting Sioux Fact: North Dakota is 6-1 all-time versus the Bulldogs in WCHA first round playoff series. The Sioux ended the Bulldogs' season in 1987, '91 and 2001.
How UMD Wins: Get a W on Friday. Only once since the WCHA went to best-of-three first round series has a road team won a series after losing the opener. Denver did it in 1989, in Grand Forks.
How UND Wins: Stick with Jordan. Sophomore goalie Jordan Parise has started four consecutive games, going 2-0-2 and stopping 95% of the shots he's faced. That kind of play this weekend should get him a date for St. Patrick's Day in St. Paul.

When you've got league co-champions and both seem to be playing great heading into the playoffs, how do you pick a favorite? A position-by-position analysis leaves you deadlocked again, as Denver has better defensemen, Colorado College has better forwards, and the teams are close to dead-even in goal (as is evidenced by last weekend, when each team won a share of the MacNaughton Cup by shutting out the other). If they reach the Final Five, both will be a long way from home, and neither will have a band. So with all of that even, we look at history and note that Denver has won two WCHA playoff titles (and a NCAA crown) since 1999, while the Tigers have never been the lone team standing at the end of the league playoffs. The Tigers are really, really good, but the Pioneers are the horse that the smart money's riding on.
THE GATE CRASHER
Minnesota has been living like the main character in a horror flick for the past two months. Since a bewildering series of losses and an equally bewildering series of injuries toppled the Golden Gophers from their perch atop the WCHA and the national polls in January, they've been declared dead more times than Freddy, Jason and Michael Myers combined. But any of those 14,000-plus fans who buy season tickets to the Final Five know that come March, wounded or not, there's rarely a team more dangerous when there are NCAA seeds on the line. Minnesota has won the past two consecutive league playoff titles (one of them with Justin Johnson in goal). A bet against them to be in the mix this time around is not something a wise financial planner would recommend.
INCH's ALL-CONFERENCE TEAM
G – Curtis McElhinney, Colorado College
On a team with the offensive weapons that Colorado College has, it's easy to overlook the goaltending. If McElhinney wouldn't have led the league in nearly every statistical category and helped the Tigers win their second conference crown in three years, we might have overlooked him too.
D – Brett Skinner, Denver
The league's top defenseman doesn't take many penalties (only 10 this season) but makes opponents pay for doing so. Skinner used a deadly shot from the point to record a team-best 22 man-advantage points this year.
D – Matt Carle, Denver
This Anchorage native was called out by Seawolves coach John Hill for not staying at home for college during last year's Final Five. One wonders if he'll bring the MacNaughton Cup up north to show the folks in his hometown this summer.
F – Brett Sterling, Colorado College
You know your team has some talent when you lead the nation in goals (27) and power-play goals (15), as Sterling did, and you're only the second-best player on your line.
F – Colin Murphy, Michigan Tech
On a team that needed more help than most, Murphy was the only player in the nation to average more than one helper per game, with 42 assists for the year. Sadly, by Saturday night Murphy may be remembered as the best player never to win a WCHA playoff game.
F – Marty Sertich, Colorado College
In November, there were concerns that CC's reliance on Sertich for so much of its offense would allow opponents to shut down the Tigers by shutting down one player. It's now March, and no opponent has been effective shutting down either yet.
COACH OF THE YEAR
When Denver's George Gwozdecky guided his Pioneers to the NCAA title last April, it was apparently just the warm-up act. All he did for an encore was re-tool a team of defensive stars (although he'll point out that last year's Pioneers could score, too) into one of the real offensive juggernauts in the college game. By the end of his 11th regular season in the Mile High City, the Pioneers were hoisting more hardware, as the league's co-champions and the top seed in the playoffs. This season was the eighth of those 11 in which Gwoz has orchestrated 20 or more wins. With the regular season title he's now earned two MacNaughton Cups and two WCHA playoff titles. And with the way the Pioneers are playing, he's got a good chance to double his number of NCAA titles a month from now.
PLAYER OF THE YEAR
Minnesotans make a big deal out of the Mr. Hockey Award, given annually to the best high school player in the state. Every winner of the trophy between 1988 and 2000 went on to skate for the home-state Golden Gophers, so there was grumbling aplenty when the 2001 winner announced he was not only not playing for the Gophers, he was leaving the state (and the time zone for that matter) to don a Colorado College sweater. Just four years later, some of those same folks who were mad to see Marty Sertich head for the Rockies are grumbling that it'll be a travesty if the offensive magician doesn't become the second kid with a Hobey next to the Mr. Hockey trophy on his mantle. For those of you scoring at home, Brian Bonin was the first. After Sertich helped the Tigers to their second league title in his three seasons at CC, led the league and the nation in scoring, and made the score sheet in 30 of his team's 38 games, who are we to argue?
FRESHMAN OF THE YEAR
While many freshmen were still trying to figure out the shortest route between their dorm and the dining center, Denver goaltender Peter Mannino was writing his name in the school's hockey record books. The rookie from Farmington Hills, Mich., backstopped 11 of the Pioneers' 19 conference wins, and that last one was a doozy. With a share of the WCHA title on the line, Mannino turned aside all 31 Colorado College shots he faced in a 5-0 win, as Denver earned the top seed for the league playoffs and the right to hoist the MacNaughton Cup for the second time in the past four seasons. At mid-season, when some rookies start to tire out, Mannino did perhaps his most impressive work. Between the end of November and the middle of February, Mannino went 8-0-1 with a 1.64 goals-against average and .945 save percentage during the unbeaten streak. Included in that run was a school record streak of more than 178 minutes without allowing a goal. In fact, Mannino was just 5:52 shy of three consecutive shutouts, which would have been another school record. Not bad, for a freshman.
BREAKTHROUGH PLAYER
On a team with offensive talents like Gino Guyer, Ryan Potulny, Barry Tallackson and Kris Chucko, an undersized and little-heralded kid from a private school in southern Minnesota isn't supposed to be the leading scorer. Apparently, somebody forgot to tell Minnesota forward Tyler Hirsch that those are the rules. The 5-9 junior sparkplug from Shattuck-St. Mary's led the Golden Gophers offensively this season with a career-best 42 points – which nearly doubled his previous season high. Most importantly, when seemingly every other Gopher went through hot and cold stretches, Hirsch was the team's most consistent source of offense, recording a team-best 14 multi-point games and notching at least one point in 28 of his team's 37 games. While he doesn't have the flash of another undersized Shattuck kid named Parise, Hirsch is suddenly the go-to guy as the Gophers look to build momentum and use a friendly schedule to get to Columbus.
Other Tournament Previews: Atlantic Hockey | CCHA | CHA | ECACHL | Hockey East