December 13, 2007
2007-08 Atlantic Hockey Mid-Season Report
By Ken McMillan
SURPRISE TEAM
American International College is not sitting in the cellar. That may not be saying much for most teams but the Yellow Jackets have finished last in MAAC/Atlantic Hockey for the past four seasons. AIC, which has two games with Mercyhurst this weekend, is tied for seventh and just two points out of sixth.
AIC's 4-9-2 start matches the 2002-03 team — the 'Jackets placed ninth out of 11 teams in the MAAC that season — and is the best since the 2001-02 team opened at 6-9. AIC has posted consecutive wins twice already — it had been two years since the team won two in a row.
AIC swept Canisius, which isn't saying much since those two teams have been neck-and-neck for several years running, but the Yellow Jackets earned a tie at RPI (losing a tournament shootout) and then stunned a lot of people with a 4-1 win over preseason favorite Rochester Institute of Technology.
AIC has inched up its goal production just a hair but has cut its goals against by more than half-a-goal. Jereme Tendler and Mike McMillan give AIC a good 1-2 scoring punch. Tom Fenton's numbers in goal have taken a turn for the worse but freshman Dan Ramirez has raisedhopes with his 4-3-1 start and 2.35 goals against.
SURPRISE INDIVIDUAL
Army sophomore Owen Meyer has jumped into the elite of Atlantic Hockey scorers. He has already matched his goal total of last season with 11 and has nine assists – his 20 points trails Air Force's Eric Ehn by one. He needs just seven points to match his total from last season. Meyer plays with seniors Luke Flicek and Bryce Hollweg, forming one of the top scoring lines in the nation.
WHAT HAPPENED TO…
Mercyhurst was expected to make a move back into the upper division of Atlantic Hockey but instead the Lakers are mired in ninth place, one point out of last. Injuries have benched a host of players, notably Matt Lundin, Ben Cottreau and Ryan Toomey. Lundin, the highly touted goalie transfer from Maine, hurt himself in the season opener and missed the next nine games. Cottreau, one of the finest scorers in league history, has missed five games with a leg injury and may return this weekend. Toomey, another senior forward, has missed seven games with an abdominal muscle tear and is doubtful until early January.
BEST NEW FACE
Bentley coach Ryan Soderquist had two junior netminders he could have turned to but he rolled the dice with Joe Calvi and the freshman hasn't disappointed. Calvi is the top rookie netminder with . He has a 2.40 goals against, a mark that goes down to 2.19 in league play. He is 5-3-2 … He is second in save pct 924 … he leads with 924 minutes.
BIGGEST UPSET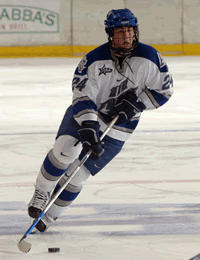 Eric Ehn and Air Force earned a very impressive sweep to start the season.
Air Force didn't wait very long to throw out the first Atlantic Hockey salvo, sweeping 14th-ranked Quinnipiac, 4-1 and 3-1, in an October series in Colorado Springs. The Falcons are carrying a hot hand into the holiday season with upcoming dates against Boston College, Denver, Colorado College and possibly Minnesota.
Rochester Institute of Technology also has to get credit, pulling off a 4-1 win over No. 18 Cornell in a "neutral" site game at Rochester's Blue Cross Arena.
Sadly, Atlantic Hockey has just two other non-league wins: Holy Cross at Providence and Connecticut at Colgate. The league has a 5-30-3 mark in out-of-conference contests.
TOUGHEST ROAD OUT
Connecticut opened with an exhibition win over Ryerson and a win over AIC before going on a five-game skid. The Huskies have gained no traction since then, splitting three weekend sets with Bentley, Air Force and Colgate and managing just one point against Holy Cross and losing last week at AIC. Connecticut is just 1-4 at home, and its next game in Storrs is against second-place Army on Dec. 29.
TOUGHEST ROAD IN
In Masters golf parlance, Air Force has entered Amen Corner. The Falcons have a very tough schedule until Feb. 2, facing the four teams immediately behind them – survive this portion, and Air Force will get some relative breathers over the final three weekends. Air Force also has non-league dates with Boston College, Denver and Colorado College.
On the easier side, Rochester Institute of Technology has just four of 16 games remaining against top-four teams. And Army is the envy of all, scheduling a stretch of nine consecutive home games from Jan. 18-Feb. 15.
MUST-SEE WEEKENDS
It's the regular-season champ (RIT) at the playoff champ (Air Force) on the weekend of Jan. 11-12, the only meeting between the top two preseason picks. Two weeks later, Air Force heads to West Point for a Friday/Sunday series on Jan. 25 and 27 – the latter will be an ESPNU telecast. The season-ending series between Sacred Heart and Army on Feb. 29 (Milford) and March 1 (West Point) could be very interesting for seeding purposes among title hopefuls.
BIGGEST QUESTION ANSWERED
Could Sacred Heart still challenge for league surpremacy following the graduation of its top goal scorer (Pierre-Luc O'Brien) and top goalie (Jason Smith)? The answer is yes. Sure, the Pioneers' offense isn't as robust as last season but the team is spreading the goal scoring with 11 players posting at least two goals thus far. Veterans Bear Trapp and Alex Parent have been complemented with Nick Johnson and Erik Boisvert. Junior Stefan Drew has been good in the nets, posting a 6-5-1 record, 2.27 goals against and .910 save percentage. The second half, though, should be interesting since the Pioneers have six dates with Air Force, Army and RIT and four more with Holy Cross.
BIGGEST QUESTION REMAINING
Can RIT make a move toward the top? The Tigers cannot be happy with their .500 record and 5-4-3 start in league play. Losing games to Mercyhurst and AIC may come back to haunt the Tigers in their pursuit of Air Force – but then again, it may not matter since RIT will have "home" advantage in the Atlantic Hockey playoffs at Blue Cross Arena. Louis Menard's goals against has risen a bit since assuming the starter's role but not to the point of alarm. The Tigers have three fine goal scorers in Simon Lambert, Matt Smith and Matt Crowell and a top notch defense. At least RIT is headed in the right direction, earning points in six of its last seven games (3-1-3).
INCH's First Half All-Atlantic Hockey Team

Pos.

Player
Of Note

G

Andrew Volkening,
Air Force
The sophomore has carried over his success from late last season when he led the Falcons to the NCAA tournament. Volkening has nine wins, three more than any other goalie in the league. He is a fraction off the best goals against (2.36).

D

Michael Mayra,
Air Force
The junior owns a plus-10 rating and takes a penalty roughly once in every two games. Mayra is tied for the league lead for defensemen scoring with three goals and eight assists.

D

Sean Erickson,
Connecticut
Erickson is getting it done from the blue line, leading the Huskies in scoring with three goals and eight assists. He has two power play goals and owns a plus-one rating.

F

Eric Ehn,
Air Force
The senior has slowly made his way to the top of the league scoring list with six goals and 15 assists. Ehn is still Mr. Clutch with three power play goals and two game-winners. He has a plus-five rating.

F

Owen Meyer,
Army
There is certainly no sophomore jinx going on at West Point. Meyer has a league-high 11 goals, three more than any other player, and has nine assists.

F

Simon Lambert,
RIT
The senior is enjoying another solid season, leading the Tigers with eight goals and 11 assists. He has three power play goals and one game-winner. He has 116 points in 98 career games.