December 13, 2007
2007-08 ECAC Hockey Mid-Season Report
By Joe Gladziszewski
SURPRISE TEAM
With a solid group of newcomers contributing early in their careers, and stellar goaltending from the tandem of Jordan Alford and Mathias Lange, Rensselaer is making some noise early in the 2007-08 season. It's just the second year for head coach Seth Appert behind the bench and assistants Shawn Kurluak and Jim Montgomery have hit the recruiting trail to find impact players, like freshman forward Tyler Helfrich who leads RPI with 10 assists and ranks second on the team with 13 points. The Engineers are off to an 8-5-3 start and done a nice job of winning the games they are favored to win and also had Minnesota and Notre Dame on the ropes before losing to those teams. The other three losses are nothing to be ashamed of – versus Michigan, at Quinnipiac, and at Harvard.
SURPRISE INDIVIDUAL
When Dartmouth lost three of its top four scorers following the 2006-07 season, most people expected Nick Johnson to pick up most of the slack offensively for the Big Green. Instead, senior classmate J.T. Wyman has been the go-to guy for Dartmouth so far this season with a team-best 12 points through nine games. Wyman has always been a solid player and totaled 55 points through three years and 94 games, but this year he's put up the kind of numbers that have made him a legitimate candidate for all-league recognition.
BEST NEW FACE
Yale goalie Alec Richards started the majority of games for the Bulldogs in the first two years of his collegiate career, but suffered an injury this season that forced the Yale coaching staff to find another option in net. Enter sophomore Billy Blase, who technically isn't a new face by class year, but he's a new face on the ice as he only had one start as a freshman and played one other period in relief of Richards early in the 2006-07 season. This year, Blase has posted a 1.63 goals-against average, a .937 save percentage, and has started every game since the first of the season.
WHAT HAPPENED TO…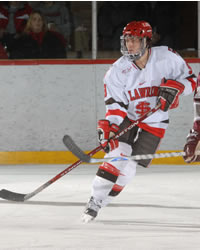 Kevin Devergilio leads St. Lawrence in scoring, but the Saints haven't had much success in close games this year.
St. Lawrence was the surprise story of last season, winning the regular season title and earning an at-large bid in the NCAA Tournament. Things just simply went their way last year. The hard work, discipline, and tenacity that most Saint clubs have exhibited under Joe Marsh paid dividends with a number of close wins and consistently strong performances. This year, the effort and persistence are still there and the team has shown potential with a pair of wins over Clarkson and a three-point weekend at Princeton and Quinnipiac but the close games haven't gone their way. Of St. Lawrence's eight losses, six have come by one goal.
BIGGEST UPSET
Union has just one league win and Quinnipiac has traditionally been a very strong home-ice team dating back to the Bobcats' days at the Northford Ice Pavilion and now in the TD Banknorth Sports Center. But that home ice advantage didn't help when Union earned a 4-3 win at Quinnipiac on Nov. 30. Union jumped out to a 2-0 lead after the first period only to see Quinnipiac rally to tie the game 3-3 after two periods. Andrew Buote scored his first career goal for Union halfway through the third period and Dutchmen goalie Corey Milan stopped 13 shots in the last 20 minutes to give Union the win. Quinnipiac was 1-for-8 on the power play in that contest, and had a power-play opportunity in the final three minutes of the game, but could not convert.
TOUGHEST ROAD OUT
Brown has played 12 games so far (counting an exhibition), and just two of them have come at Meehan Auditorium. Fortunately for the Bears, those 10 road games have included three at Yale's Ingalls Rink, one across town at Providence College, and a short trip up to Boston against Northeastern. However, longer trips to Clarkson and St. Lawrence and Union and RPI made for a lot of hours on the bus during the first semester. The two home games for Brown resulted in a split, with a win over Colgate and loss against Cornell. After playing at the UConn Tournament later this month, Brown will play 10 of its last 16 games at home.
TOUGHEST ROAD IN
Princeton and Quinnipiac play four of their remaining seven ECAC league weekends on the road, including weekends at Harvard and Dartmouth and a season-finale weekend at Clarkson and St. Lawrence. Also on tap is a late-February home set against Colgate and Cornell, two teams that have traditionally been stronger at the end of the season than at the beginning.
MUST-SEE WEEKEND
As is usually the case, the last weekend of the ECAC Hockey season (Feb. 29 and March 1) will provide must-watch action on the ice and on the scoreboards from around the league as the standings and playoff seedings will seemingly shuffle with each lead change and eventual final result in every game being played. Some especially significant games to keep an eye on during the last day of ECAC Hockey action include Quinnipiac at Clarkson, Harvard at Cornell, and Rensselaer at Yale.
BIGGEST QUESTION ANSWERED
Can Clarkson back up its strong year last season and sustain prominence in ECAC Hockey? So far, so good for the Golden Knights. They're 10-5-0 overall with just one loss at home, and that came against St. Cloud State. The concern for Clarkson is that they haven't really had any signature wins so far this season, although victories over Harvard, St. Cloud State, and Massachusetts are certainly good ones to get. The Golden Knights have a real chance to improve their national standing with a home game against Boston College on Jan. 5 and two on the road at Colorado College on Feb. 1-2.
BIGGEST QUESTIONS REMAINING
Will any of the ECAC Hockey member schools go on a significant run beginning with holiday tournaments and continuing through the second half of the season to become worthy of consideration for an at-large berth to the NCAA Tournament? Clarkson, Harvard, and Rensselaer have the best credentials thus far and if the Golden Knights should stumble in the playoffs, it's nearly impossible to declare a favorite to win the Whitelaw Cup and earn the automatic qualifier for the NCAAs.
How good is Harvard goalie Kyle Richter? The sophomore got off to an amazing start and was leading the nation in both of the significant goaltending statistics, but has proven to be vulnerable in recent games. Earlier this week, Richter got beat for six goals by Boston College before being yanked in the third period. A tie against Vermont and loss to Rensselaer preceded that BC game.
INCH's First Half All-ECAC Hockey Team

Pos.

Player
Of Note

G

Kyle Richter,
Harvard
Even after Boston College put six pucks behind him, Richter's numbers are still absolutely incredible. He's got a .938 save percentage (tops in the league) and a 1.85 goals-against average (second in ECAC Hockey).

D

Shawn Fensel,
St. Lawrence
The junior captain logs lots of minutes for the Saints and makes good decisions in all three zones. Fensel has seven points so far this season.

D

Alex Biega,
Harvard
Biega has contributed at both ends of the ice and is a big part of Harvard's new youth movement in recent years. Biega ranks second on the team in scoring.

F

Cam MacIntyre,
Princeton
MacIntyre got off to a hot start and is part of a very strong top line for the Tigers including Brett Wilson and Lee Jubinville.

F

Ben Nelson,
Quinnipiac
Once again, Nelson quietly keeps putting up big numbers for the Bobcats. Seven of his 16 points have come on the power play. He already has 115 points in his career.

F

Chris D'Alvise,
Clarkson
D'Alvise has taken a step forward in offensive production in his junior season and has been one of Clarkson's most consistent players. He is currently tied for the team lead in scoring with Nick Dodge.