December 20, 2007
2007-08 CCHA Hockey Mid-Season Report
By James V. Dowd
SURPRISE TEAM
Having occupied the CCHA cellar throughout last season, no one expected much from Bowling Green heading into this season. The team looked very much the same, and seemed destined for similar results. The Falcons have, however, bounced back and find themselves in the middle of the pack in the league, having notched sweeps of Western Michigan and Ferris State, as well as winning a game against Northern Michigan. Taking into account close games with Michigan and Notre Dame, the Falcons look to improve despite a tough second-half schedule.
SURPRISE INDIVIDUAL
Many Michigan fans were hoping Bryan Hogan would turn out to be a more reliable goaltender then they had been accustomed to since Al Montoya left Ann Arbor for the New York Rangers farm system. But Hogan never got the chance, as incumbent starter Billy Sauer has matured into a legitimate, every-night No. 1 goaltender and now finds himself matching wits with the top goaltenders in the conference and country. Instead of dwelling on mistakes and digging himself a hole like he had done in his first two season in Ann Arbor, Sauer has learned to face his problems and learn from them.
BEST NEW FACE
A seven-game losing streak — not the way a coach envisions his first lead job to start. Nevertheless, rookie Alaska head coach Doc DelCastillo has proven his mettle in recent weeks, piloting his team to a 3-2-2 mark in its next seven games. DelCastillo stayed patient at the helm, helping his team improve week-by-week, and even notched a win over seemingly untouchable Miami — in Oxford, nonetheless. Look for the Nanooks to continue to build on this recent success in the second half under DelCastillo's more than adequate tutelage.
WHAT HAPPENED TO…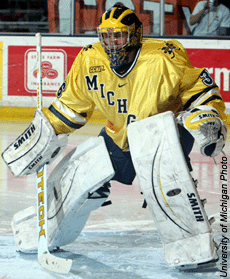 Forwards Kevin Porter and Chad Kolarik and the team's freshmen have received much of the credit for Michigan's success, but goaltender Billy Sauer's improvement has been just as vital.
Prospects for Ohio State's season looked bright after knocking off Wisconsin to win the Lefty McFadden Invitational in week one, but it was all downhill after that for the Buckeyes. It took 12 more games for Ohio State to get back into the win column, and now appear all but eliminated from contending for a first-round bye in the CCHA playoffs — a spot they were aiming for at this season's onset.
The Buckeyes couldn't seem to do anything right, falling behind in the first two periods — where they are minus-8 and minus-16 in goal differential — and failing to build upon whatever chemistry was present in the season-opening wins.
BIGGEST UPSET
With just one win in its first 11 games and having received a 3-1 beating at the hand of Miami one night prior, few expected Alaska to come out firing on all cylinders for a series finale in Oxford Dec. 8. But the Nanooks had something to say about that, running all over the RedHawks en route to a 3-0 victory, one that might help to turn their season around. The Nanooks took advantage of two power-play goals to power ahead of the home team before delivering the knockout blow on an empty net in the final minute.
TOUGHEST ROAD OUT
Lake Superior State fans knew it would be tough moving on without graduated goalie Jeff Jakaitis, but no one anticipated an 0-8-2 start in the league. But if there is one thing the Lakers can take away from it, it's that they've had quite a tough slate during the first half of the season. The Lakers skated against Michigan State, Michigan, and Notre Dame and traveled to Nebraska-Omaha.
TOUGHEST ROAD IN
The Michigan Wolverines have looked strong so far, but it will only get tougher as the season progresses. With a plethora of freshman, there is no telling how the season will wear on them, and whether Sauer can continue to keep pace with the league's best netminders isn't a given. Even if they experience the best case scenario with the goalkeeper and the newcomers, the Wolverines still must face Michigan State four times, Notre Dame twice, and Miami twice.
MUST-SEE WEEKEND
Without question, the most important series will be when Michigan heads to Miami Feb. 8-9. Throughout the first half, these two teams have proven themselves as not only the CCHA's elite, but also the NCAA's elite. Michigan will have to rely on continued magic from Billy Sauer and its freshman class, while Miami will aim to continue crushing opponents with their high-octane offense. Whether a shootout or a goaltender's duel, these games promise to be highly entertaining.
BIGGEST QUESTIONS ANSWERED
Will Michigan's Kevin Porter be as productive without T.J. Hensick on his line? As everyone in the nation has quickly come to realize, the answer to this question is a resounding "yes." Porter has absolutely dominated the CCHA so far, scoring two more goals than any other player in the country. Fellow senior Chad Kolarik has been a huge asset to Porter's play thus far, as the two have developed a chemistry that has frustrated NHL fans in Phoenix — both seniors are Coyotes' draftees — drooling.
Is Jeff Jackson going to falter much like Charlie Weis? While many people across the country have a strong distaste for Notre Dame athletics, few would argue that Notre Dame's newfound success in hockey could have a profound benefit on the sport's visibility. With that in mind, it looks as though the Irish are here to stay as Jeff Jackson has once again molded a team that has an eye on competing for titles. The Irish might not be running away with the league as they were this time last season, but they found themselves in first place for one weekend and have a balanced approach that should keep them in the thick of the race as season progresses.
BIGGEST QUESTIONS REMAINING
How good is Michigan State? The defending national champions find themselves sitting in fourth place in the CCHA at the break, but with two games in hand, MSU could easily get right back in the mix. Obviously, the season got off on the wrong foot when the Spartans were routed by North Dakota. But since then, the team's only two losses came against a very strong Miami squad. State faces a tough second half with four games against Michigan and two with Notre Dame — they've not fared well against ranked opponents so far this season. That must change if MSU harbors any aspirations of winning the conference's regular-season title.
INCH's First Half All-CCHA Team

Pos.

Player
Of Note

G

Jeff Zatkoff,
Miami
Zatkoff, who leads the league in goals against average and save percentage, keeps his team in the game every single night.

D

Alec Martinez,
Miami
Martinez does it all — he's an extremely reliable defender with a +11 plus-minus rating and leads conference defensemen in scoring.

D

Mark Mitera,
Michigan
Known less for his offense than former teammates Jack Johnson and Matt Hunwick, Mitera shows that staying at home is OK. too, as evidenced by his +14 plus-minus rating.

F

Erik Condra,
Notre Dame
Condra continues to find the back of the net at key times, and creates offense when the Irish need it most.

F

Bryan Marshall,
Nebraska-Omaha
Having been overshadowed by Scott Parse and Bill Thomas in the past, Marshall has emerge as a star in his own right and sits atop the league's assist list.

F

Kevin Porter,
Michigan
If the vote was today, Porter — the nation's leading scorer — would likely win the Hobey Baker Award.
A variety of sources were utilized in the compilation of this report. James V. Dowd can be reached at james@insidecollegehockey.com.