December 20, 2007
2007-08 WCHA Hockey Mid-Season Report
By Jess Myers
SURPRISE TEAM
Like it has been for a few of us in the college hockey world, it's been a rough December for the Minnesota Duluth Bulldogs, who have recently endured a recent 0-2-2 streak to fall to .500 at the break. But that's actually not a bad mark for a team with not much in the way of go-to offense, and for which expectations were mighty low (INCH had them pegged for eighth in the league). The team has pulled off a few notable wins (at Denver and at North Dakota) and spent more than a month ranked nationally via solid defense and the goaltending everyone expected from Alex Stalock a year ago. The Bulldogs are currently third in the WCHA and aren't likely to finish that high, but may be building toward something good this year and in the future.
SURPRISE INDIVIDUAL
When you tell people in St. Cloud that a rookie is from Virginia, they smile, because they know Iron Rangers play great hockey. When you explain that he's not from Virginia, Minn., but from the suburbs of Washington, D.C., they give you a puzzled look, because they don't expect anything other than bad traffic and bureaucracy to come out of the Beltway. Then they watch Garrett Roe move the puck, shoot the puck, and light the lamp, and they smile. The rookie forward has recorded points in 14 consecutive games, and leads all D-I rookies with 1.47 points per game.
BEST NEW FACE
With well-deserved nods to Roe and Denver's Tyler Bozak, no newcomer has meant more to his team thus far than goalie Richard Bachman has to Colorado College. Goaltending was supposed to be a question mark for the Tigers, but with Bachman between the pipes, it has been an exclamation point. In eight of his collegiate 12 starts, Bachman has allowed one goal or fewer, and he's already been named the league's rookie of the week three times. We're always cautious about how young goalies will fare over the course of a full season (after seeing a few youngsters hit a big wall on or around Jan. 15) but for now the sun is shining brightly off the snow-capped peaks outside Bachman's new home.
WHAT HAPPENED TO…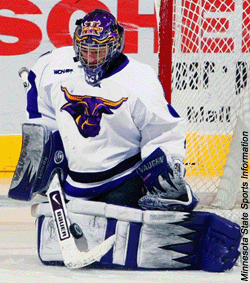 Minnesota State's Mike Zacharias has a sterling 1.94 GAA and a .929 save percentage. But we haven't mentioned him yet. How does he figure in to the mid-season report?
A more appropriate question would be, "What hasn't happened to Minnesota since last season ended?" It was expected that the Gophers would take their lumps this year, having suffered a rash of early departures and facing the future with a very young defensive corps. The optimist will note that the Gophers head to the break above .500 (9-8-1) after upsetting North Dakota their last time out. But uncharacteristic home losses that have fans grumbling, and the unexpected losses of Ryan Stoa (to a season-ending knee injury) and Kyle Okposo (to a collegiate career-ending pro contract) leave very, very little margin for error for a team that's struggled offensively. Opportunities abound for young players to step up and fill those voids. If they don't, the Gophers may spend Easter weekend watching the WCHA Final Five on TV.
BIGGEST UPSET
The first half of the regular season has gone surprisingly true to form in the WCHA, with parity abounding and no great or awful teams identifying themselves yet. At one time, Alaska Anchorage's 4-2 win at Minnesota in November would've been a huge upset, but in fact it was the Seawolves' second win in their previous four games in Minneapolis. Instead, we'll give a nod to the stars of tomorrow and note the USA Under-18 Team's 2-1 win at Minnesota Duluth last weekend, fueled by 31 saves by Joe Cannata. It marked the first time a WCHA team has ever lost to the U-18s.
TOUGHEST ROAD OUT
In November, having just survived back-to-back trips to North Dakota and New Hampshire, Colorado College coach Scott Owens breathed a bit of a sigh of relief. His team logged trips to Anchorage, St. Cloud and Denver in the first half, too. The holiday break comes with the Tigers atop the WCHA standings and looking to stay that way, thanks to a favorable second-half schedule. After a trip to Wisconsin (which will be missing key players due to World Juniors) in early January, the Tigers are at home for 11 of their final 16 games.
TOUGHEST ROAD IN
Folks in the Minnesota program like to say that in the WCHA, they're everybody's archrival — and in the case of five of the other nine teams, they're right. With that in mind, and considering the struggles the Gophers have had already this season, January and February could be particularly cold in Minneapolis. After a home date with St. Cloud State on Jan. 11, Minnesota is on the visitors' side of the scoreboard for nine of its final 15 games — a slate that includes trips to St. Cloud, Denver, Anchorage, and Duluth. This is looking like one of those rare seasons where the Gophers have a WCHA playoff road trip, too.
MUST-SEE WEEKEND
A few years ago, the season-ending home-and-home affair between Colorado College and Denver ended with both teams getting a chance to hoist the MacNaughton Cup. With the teams atop the league standings at the break and winning in similar style, there's no reason to think that the league title won't be up for grabs between these two when they meet again on March 7 in Denver and the next night in Colorado Springs.
BIGGEST QUESTIONS ANSWERED
Is Shane Connelly Wisconsin's next great goaltender? This far into his first season as the Badgers' top netminder, the answer is no. Or at least, not yet. Connelly has been good in stretches, but not good enough consistently for a team that looked solid in October, struggled in November, and played better in December. The team's success doesn't rest entirely on his shoulders, but if the Badgers want to get back to the NCAA tournament, Connelly is going to have to be better than the 4-5-1 conference record he's put up so far.
Is there more to Michigan Tech than defense? The Huskies have been somewhat less than the breakout team we predicted in the preseason — and that their 4-1-0 start led us to believe — but veterans have Tech scoring at a better clip than we expected. The defense and goaltending have been as good as advertised, and the team's four top-scoring forwards are a junior and three seniors, proving that maybe there's something to the theory that experience matters in college hockey. Still, Tyler Shelast is the only Husky with double-digits in points, meaning greater output is needed if Tech wants to host playoff games in March.
BIGGEST QUESTIONS REMAINING
Are backup goaltenders an endangered species? The days of the goalie tandem look numbered league-wide, as one person is getting the lion's share of the starts nearly everywhere. Alex Kangas has seen a little bit of duty behind Jeff Frazee at Minnesota, and Rob Nolan rotated with Michael-Lee Teslak at Michigan Tech for a little while, but on most WCHA teams goaltending is a one-man show. Add to that the scary eye injury suffered by Alaska Anchorage backup Matthew Gordon (while riding the bench), and North Dakota backup Anthony Grieco's decision to leave school after just over a year, and the goaltending job opportunities are looking sparse.
Will a Colorado-based team be playing "home" games at the Frozen Four? The hot starts by Denver and Colorado College are a marketer's dream for the folks selling the Frozen Four, which will be held in the Mile High City in April. While we won't go so far as to predict the Tigers-Pioneers semifinal we saw in Columbus a few years ago, the current WCHA standings (not to mention the good season Air Force is having) give Colorado hockey folks high hopes that there will be plenty of local rooting interest at the Pepsi Center when the nation's top teams gather there for the season's final three games.
INCH's First Half All-WCHA Team

Pos.

Player
Of Note

G

Mike Zacharias,
Minnesota State
With all due respect to guys wearing green, black and crimson, this Mav's great numbers have meant the most to his team's successes.

D

Robbie Bina,
North Dakota
His recovery from a potential career-ending neck injury and his leadership of the Sioux defense make for a heart-warming holiday story.

D

Josh Meyers,
Minnesota Duluth
He leads the Bulldogs in offense and all WCHA defensemen in goals, and is an impressive plus-11 on a team that doesn't score much.

F

Ryan Lasch,
St. Cloud State
He's been held without a point just three times this season, and has 10 multi-point games while leading the WCHA in scoring.

F

Chad Rau,
Colorado College
Rau heads into the break on a 10-game scoring streak and has a point in 14 of the Tigers' 16 games this season.

F

Brock Trotter,
Denver
How did we know it would be another good year for Trotter? How about the goal he scored six seconds into the Pioneers' game with Maine on Oct. 12?