December 13, 2007
2007-08 Hockey East Mid-Season Report
By Jeff Howe
SURPRISE TEAM
Northeastern was the pick for breakthrough team in Hockey East this year, so how do the Huskies also earn the spot for surprise team? They rip off an eight-game unbeaten streak (6-0-2) after starting the season 1-4-0. Not to mention, Northeastern has led a topsy-turvy Hockey East for a few weeks now. On paper, the Huskies don't do a single thing overwhelmingly well. They're seventh in the league with 2.69 goals per game, fifth in scoring defense (2.54 goals per game), fifth in penalty minutes per game (13.4), ninth on the power play (11.8 percent) and fourth on the penalty kill (85.3 percent). But they're the only team in first place.
SURPRISE INDIVIDUAL
We weren't alone when we thought the sky may have been falling over Amherst when Jon Quick joined the pro ranks after his ridiculous sophomore season, but freshman goalie Paul Dainton has entered the Mullins Center and provided a proper encore. Dan Meyers could forever be known as college hockey's Wally Pipp, as Dainton leads all Hockey East netminders who have at least six starts in save percentage (.929) and goals-against average (2.01).
WHAT HAPPENED TO…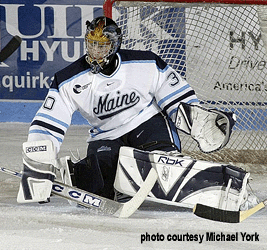 Ben Bishop and the Maine Black Bears need to find a way to get some points in the second half if they want to make the Hockey East playoffs.
Heading into the season, it looked like Maine would have issues. The team lost seven of its top 10 scorers, collapsed down the stretch in league play (before coming together in the NCAA tournament – but let's not kid ourselves, that wasn't a powerhouse bracket) and Ben Bishop struggled to stay healthy last year. Put it all together, and there's a recipe for a tough season in Orono. Tim Whitehead is a damn fine coach by our count; Maine has just been stuck in a transition year by losing a great class on top of Teddy Purcell's premature departure. Still, the Black Bears are stuck a point above the Hockey East cellar. Forget home ice, Maine has its work cut out to make the league playoffs.
BEST NEW FACE
Dainton could easily take this honor, as well, but we'll spread the wealth in the holiday season. James van Riemsdyk is the most talented freshman in the league, not much of a surprise after the Flyers took him with the second pick in last summer's NHL Draft. He's smooth and can take over a shift much the way Teddy Purcell did last year. But, van Riemsdyk needs to play with a little more edge and should stay off the officials if he wants to take it to the next level down the stretch. The New Hampshire freshman has six goals and nine assists through 13 games.
BIGGEST UPSET
Exhibition or not, there's little excuse for a Hockey East team to lose to New Brunswick, and those are crimes in which both UNH (4-3, on Oct. 12) and Maine (2-1, on Dec. 1) are found guilty. But let's get to the real upset here. For the second time in a year, Boston College has prematurely ended a game due to fog in Conte Forum. No big deal last season, since the Eagles know where the Terriers live, but this year's episode put the kibosh on a great regular-season matchup between BC and North Dakota. You could make a case the teams have played in the game of the year in each of the last two Frozen Fours, and things may have been heading down a similar path on Oct. 19, when a scoreless game was halted after two periods.
TOUGHEST ROAD OUT
Despite the solid start, Northeastern has survived a tough challenge in the season's first half. After a win over Providence, the Huskies fell to North Dakota, Maine (twice) and New Hampshire before a win at UNH. Following was a win over Vermont, a tie with Boston University, a win at UNH, a win over UMass Lowell, a win at Boston College and a pair of snoozers – a win over Brown and a tie with Union.
TOUGHEST ROAD IN
This is about as easy as picking which Backstreet Boys album you'd rather get stuck listening to while stuck in a station wagon full of 8-year-old girls on the way to a birthday party. Either way, there aren't many Hockey East teams with an easy road home. Vermont gets the nod, especially with a difficult seven-day stretch in January. The Catamounts visit Boston University on Jan. 5, and then return (or stay, depending on the team's battle plan) to take on Boston College on Jan. 9-11. Over the course of the remainder of the second half are two games with Northeastern, two at UMass, three with UNH (two on the road), three with UMass Lowell (two on the road), two at Providence, two against Merrimack and two against Maine. Ain't nothin' but a heartache…
MUST-SEE SERIES
There are so many crucial series over the next three months, particularly due to the league's parity, but the season-ending home-and-home between Northeastern and Boston College looks like gold from a December point of view. This could potentially serve as a rematch between Beanpot finalists, but either way should hold heavy weight in the Hockey East standings. Northeastern visits BC on March 7, before the series shifts to Huntington Ave. the following night.
BIGGEST QUESTIONS ANSWERED
Can Maine overcome the loss of its firepower? Could Pinocchio survive a termite attack? The Black Bears are sitting in a tie for seventh in the standings, and they're ninth in scoring with 2.23 goals per game. Keenan Hopson leads Maine's forwards with three goals. The Black Bears have been shut out twice and held to one goal four times (0-3-1).
Can UMass do it again? It looks like it, since the Minutemen are tied for second in the conference. This was a question mainly due to the loss of Jon Quick, but the departures of Matt Anderson, Chris Capraro, Kevin Jarman and Mark Matheson weren't understated. Dainton's emergence has been huge, as has that of James Marcou. This is a tremendously balanced scoring attack, with Will Ortiz leading the way with six goals and 13 players who have lit the lamp twice.
BIGGEST QUESTIONS REMAINING
Can John Muse forget Boston College fans forget about Cory Schneider? As of right now, no. But Muse's legacy will be compared to Schneider's by his postseason résumé. Muse is 5-4-5, and his 2.34 goals-against average and .919 save percentage are pretty impressive for a freshman entering The Heights under these circumstances. However, the veterans on this team measure success by tournament hardware.
Can UNH survive the loss of its forwards? This question will probably be asked forever, and it always seems to have a similar answer. Right now, the answer is yes, but let's hold the jury until March and April. Matt Fornataro made the jump last year, and he's one of the most impressive forwards in Hockey East this season (6-11—17). Mike Radja (8-4—12) and Jerry Pollastrone (4-6—10) are continuing to improve, while freshmen James van Riemsdyk (6-9—15) and Paul Thompson (6-4—10) are filling the shoes of those departed (Trevor Smith, Jacob Micflikier and Brett Hemingway).
INCH's First Half All-Hockey East Team

Pos.

Player
Of Note

G

Paul Dainton,
Massachusetts
It's not much of a debate when someone leads the league in both goals-against and save percentage.

D

Brad Flaishans,
New Hampshire
Still one of the most impressive defensemen in the league.

D

Justin Braun,
Massachusetts
He continues to do it all, playing consistent on the back end while helping the offense with three goals and six assists.

F

Nathan Gerbe,
Boston College
He's the most exciting player in the league, and he can take over a game by himself, as his three short-handed goals will attest.

F

Pete MacArthur,
Boston University
The Hockey East Player of the Month in November has eight goals and nine assists this season, and he'll need some help if BU returns to grace.

F

Rob Ricci,
Merrimack
He lost a season with last year's suspension, but Ricci has returned strong as a junior. His six goals and 10 assists have given the Warriors some legitimacy on the first line.