December 20, 2007
2007-08 College Hockey America Mid-Season Report
By Warren Kozireski
SURPRISE TEAM
As mentioned in the season preview, the early play of Bemidji State should not be a surprise to anyone who has even mildly followed the conference. Over the past two years, the Beavers finished a combined three points behind first-place Niagara, and won the league the year before that.
That said, the pre-season coaches poll had them slotted third, and that has obviously proved a bit of a motivator for the green and white. They have taken at least two points from every conference weekend with half of their six conference wins coming via shutout.
Matt Climie has stood among the leading goaltenders in the nation in goals against and save percentage while freshman Matt Read, with sophomore Joey Moggach and upperclassmen Travis Winter, Tyler Scofield, Matt Pope and Blaine Jarvis has given the Beavers two bona fide scoring lines. The key for Bemidji State will be keeping Scofield healthy. He has missed six games already plus checking forward Brandon Marino has missed five.
One odd note for a first-place team — BSU isjust 1-6 in one-goal games this season, but only one of those was against a conference opponent.
Will Bemidji State enjoy sitting on the sidelines and watching during the final weekend of the regular season? If either Niagara or Robert Morris is in a position to catch and/or pass them for first place over the last two games, you can bet that the Beavers would rather be able to do something about it on the ice, but there is that scheduling matter of having five teams.
SURPRISE INDIVIDUAL
Bemidji State sophomore defenseman Graham McManamin registered just one point in 10 games as a freshman, and didn't even see the ice for the first four games this season. After going minus-4 over his first eight games, the Anchorage, Alaska native has reversed direction at plus-6 over his last six games heading into the break, a stretch in which he notched four of his six assists on the year. Being paired with rock-solid senior Riley Weselowski hasn't hurt his cause.
BEST NEW FACE
With Wayne State and Alabama-Huntsville each carrying more than one dozen freshmen, there are plenty of new faces around the league. But one stands out. Bemidji State forward Matt Read leads his team in scoring and assists and plays in every situation. The former Des Moines Buccaneer saves his offensive contributions for key games, with all but one goal and all but five points tallied in conference tilts a big reason the Beavers have opened up a five-point lead in the league race. Robert Morris's Nathan Longpre is a close second in this category.
WHAT HAPPENED TO…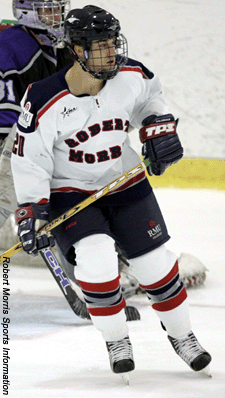 Robert Morris forward Jason Towsley scored the game-winning goal in the Colonials' come-from-behind win against Boston University in the first round of this year's Nye Frontier Classic in Anchorage.
... Niagara's dynamic duo of Ted Cook and Les Reaney? After combining for 92 points as sophomores, the juniors have just 22 points at the midway point of this season. We say "just" because of the standard the two have set in their first two seasons; Cook, for example, led the country in power-play goals in 2006-07.
The Niagara power play is getting contributions from elsewhere, however. With seniors Sean Bentivoglio and Pat Oliveto running the show, the Purple Eagles' man advantage scored at a 20 percent clip last season. Without the two departed seniors this season, Niagara is at 19.5 percent (16 goals on 82 chances) through 15 games.
BIGGEST UPSET
In their first game of the season, Robert Morris traveled to Anchorage, Alaska to participate in the Nye Frontier Classic and a first-round draw against Boston University. The Colonials overcame a 2-0 deficit on goals from Sean Berkstresser, Scott Kobialko, and Jason Towsley over the final 13 minutes of the third period to win, 3-2. RMU beat Wayne State in the second round to win the tournament title.
TOUGHEST ROAD OUT
Niagara has played six of its first eight conference games against the league's top two teams, and four of those six games were on the road. With that in mind, a 4-3-1 record and third place doesn't seem quite so bad.
Niagara has 12 conference games remaining; eight are against teams at the bottom of the standings. But if the Purps are going to three-peat as regular season champs, they will need help.
TOUGHEST ROAD IN
Robert Morris plays just three games the rest of the way that are outside of conference. Among their 14 league games are four at Niagara and two more at Bemidji State. The Colonials are in the midst of a stretch of eight consecutive road games. That run ends in mid-January as RMU hits the highway for series at Bemidji State and at Niagara. Thankfully for Robert Morris, the crucial conference series are separated by a bye weekend.
MUST-SEE WEEKEND
It's probably the Robert Morris at Niagara series Jan. 11-12. The two meet again in New York on the next-to-last weekend of the regular season, but the January series will go a long way in determining the pecking order among the big three. Will the Colonials and Purps continue to beat up on each other (and not gain any ground on first-place Bemidji State), or will one team emerge from the pack with a sweep?
BIGGEST QUESTION ANSWERED
Prior to the start of the season, the buzz around Moon Township, Pa. and other CHA burgs revolved around whether Robert Morris senior netminder Christian Boucher could regain his freshman form, when he posted a 2.86 goals against averange and a .916 save percentage. After two declining seasons —a 3.21 GAA and a .903 save pct. as a sophomore, a 3.58 GAA and .899 save pct. as a junior — the answer is a resounding "yes."
Through 12 games, the Orleans, Ontario native has a 2.86 goals against average and a .905 save percentage. Boucher's resurgence is a big reason the Colonials are off to a 4-1-1 start in league play and won the first tournament (the aforementioned Nye Frontier Classic) in the program's history.
BIGGEST QUESTIONS REMAINING
What does the future hold for the College Hockey America? Or is there a future? Three months have now passed since Wayne State announced the dissolution of their men's hockey program, jeopardizing the conference's existence (not that it was on terra firma previously) and we still have no news as to where the conference is headed.
The coaches may deny it, but the uncertainty has to have affected recruiting efforts for the four remaining teams, not to mention 2008-09 scheduling and the impending rink deal in Bemidji. Most fans — not to mention the teams (and the media) — are at the point where they just want to know, regardless of the answer.
INCH's First Half All-CHA Hockey Team

Pos.

Player
Of Note

G

Matt Climie,
Bemidji State
He's sixth in the nation in goals against average and second in shutouts; the Beavers are 1-5 when he doesn't play, 7-3-2 when he does.

D

Jeff Caister,
Wayne State
Leading his team in scoring — as a sophomore, no less. Power play is centered around his shot from the left point. Has nearly matched last season's point total already.

D

Tyler Gotto,
Niagara
Seven of his team-high 11 assists have come in league play. His four-point weekend heading into the break after sitting out for a game could be good karma for both Gotto and the Purps.

F

Matt Caruana,
Niagara
Has slowed a bit of late, but the senior carried the Niagara offense for much of the first half. Shows great anticipation on the penalty kill and in the faceoff circle.

F

Ryan Cruthers,
Robert Morris
10-10-20 overall; 11 points in just six conference games. Has been a solid 5-on-5 player, though half of his goals have come on the power play.

F

Travis Winter,
Bemidji State
Three of his five goals this season have been game-winners. This junior seems to know where rebounds are heading, and he finds his way on the score sheet almost every night.