2002-03 CCHA Preview
By Mike Eidelbes
THE SKINNY
Welcome to "American Idol", college hockey-style.
The Beyonce, Ashanti and Shakira of the CCHA – namely, Cammalleri, Komisarek and Miller – have departed for the professional ranks, leaving a serious dent in the conference's Q Rating. Remaining are 12 teams, each with its share of question marks and unknown quantities. So which team will turn out to be the league's Kelly Clarkson? And which squad will end up being Simon Cowell-ed to a lower-division finish?
Don't ask the league's coaches. They don't have any idea.
"I found it tough to pick who's going to win the CCHA this year," said Miami bench boss Enrico Blasi on filling out his ballot for the league's preseason coaches poll.
Predicted Finish
1. Northern Michigan
2. Michigan
3. Michigan State
4. Notre Dame
5. Ohio State
6. Alaska Fairbanks
7. Nebraska-Omaha
8. Ferris State
9. Western Michigan
10. Miami
11. Bowling Green
12. Lake Superior
"I changed four times who to pick for first place," added Michigan's Red Berenson.
"I think if you voted a month from now," said new Michigan State mentor Rick Comley, "the poll would change. It's going to be a dogfight…a great race and a great league."
No one is really sure who will emerge as the CCHA's top team or top player. So what do we know heading into the 2002-03 campaign?
"There are six or seven teams that can win it," said John Markell of Ohio State. "It's going to be a great year for the fans."
BREAKTHROUGH TEAM
Over the past couple seasons, Northern Michigan has been the CCHA's version of actor Steve Buscemi: balancing outstanding performances like "Reservoir Dogs" and "Fargo" with clunkers like "Spy Kids 2" and "Ghost World". For example, last season NMU jumps out to a 3-0-1 start after sweeping Michigan in Ann Arbor, then follows by giving up five goals in a loss to visiting Notre Dame. Or the 'Cats back up a season-high, six-game winning streak – a stretch that included a sweep at Alaska Fairbanks – by dropping three straight to middle-of-the-pack Ferris State and Western Michigan.
First-year coach Walt Kyle, however, lost just five contributors from last year's unit, which finished with a 26-12-2 overall mark. Among the returnees are high-scoring seniors Bryce Cockburn (20 goals and 19 assists for 39 points in 2001-02), Chris Gobert (19-19—38) and Mike Stutzel (16-17—33), arguably the best forward trio in the conference. Alan Swanson scored 11 goals as a freshman, while senior Terry Harrison (6-9—15 in 25 games last season) should approach the 25-point plateau if he can stay healthy.
Senior Jimmy Jackson is one of the CCHA's top rearguards, but needs to approach the 31 points he scored as a sophomore rather than the 15 he tallied last season. He leads a talented group of letterwinning defensemen that includes Peter Michelutti (1-17—18) and Jesse Baraniuk (0-11—11). Junior goaltender Craig Kowalski can be shaky at times – witness his four goals allowed on 19 shots in a loss to Michigan State or four goals on 21 shots in a defeat against Ferris State – but became more consistent last season, posting a 24-11-2 record and a 2.35 goals against average.
PRIMED FOR A FALL
Nebraska-Omaha, which was knocked out of the CCHA playoffs by Notre Dame in the first round last season, are in a period of transition. Coach Mike Kemp welcomes two new assistants in Doc DelCastillo and Mark Strobel. Eight freshmen are also in the fold for UNO this season, making for Kemp's youngest team since his first year with the Mavs in 1997-98.
UNO struggled to score at times last season, failing to score more than two goals in eight of its last 13 contests, and there are question marks up front. Senior David Brisson (9-23—32) and junior Andrew Wong (11-29—40) are known quantities, but veterans Aaron Smith (9-10—19) and Scotty Turner (4-6—10) are both returning from knee injuries and Gus Groslie (5-3—8) is out indefinitely with post-concussion syndrome. He's slated to return in November. The Mavericks need immediate contributions from freshmen Mike Lefley and Micah Sanford, a Las Vegas native and roller hockey refugee who's been skating on ice for only five years. Another top forward recruit, Kaleb Betts, is academically ineligible.
Much of the burden for the Mavericks' success falls on goaltender Dan Ellis. The junior, who was named to the 2002 All-CCHA second team, made more saves (1,098) than any goalie in college hockey last season and finished the year with a 20-15-4 record and a 2.42 goals against average.
The UNO defense needs to minimize the amount of rubber Ellis sees. Two-time All-American Greg Zanon is back for his senior campaign. He's joined by junior Mike Gabinet, another player returning from injury last season, and sophomores Chris Claffey and Brett Davis. Bryce Lampman, who would've been a sophomore this season, left Omaha for the pro ranks.
BEST COACH
Alaska Fairbanks' Guy Gadowsky deservedly earned 2002 CCHA Coach of the Year honors, but a strong case could've been made for Michigan's Red Berenson. For the second straight year, the Wolverines lost a pair of key underclassmen – forward Andy Hilbert and defenseman Jeff Jillson – to professional hockey during the summer, and played nearly half of the season without top scorer Mike Cammalleri, who had a bout with mononucleosis. All Berenson did was lead Michigan to the league's regular-season and playoff titles and a berth in the NCAA Frozen Four.
Berenson faces similar challenges this season. Gone are Cammalleri, who joined the Los Angeles Kings, and defenseman Mike Komisarek, who bolted for the Montreal Canadiens. The projected starter in goal, 17-year-old freshman Alvaro Montoya, sounds more like a middle infielder than a hockey player, but he helped the U.S. team to a first-place finish at the 2002 World Under-17 Challenge.
A talented nucleus returns, however, led by the heart and soul of the Wolverines – senior forwards Jed Ortmeyer and John Shouneyia. Feisty sophomore Eric Nystrom has the ability to be the CCHA's best forward, and classmates Milan Gajic, Dwight Helminen and Jason Ryznar will continue to develop. Steady defensemen Andy Burnes and Eric Werner also are back. Add to the mix heralded newcomers Brandon Kaleniecki (2002 North American Hockey League MVP), Jeff Tambellini (last year's Canadian Junior A player of the year) and Danny Richmond (2002 United States Hockey League Rookie of the Year). Berenson's squad, which opens the year at the Xerox College Hockey Showcase at HSBC Arena in Buffalo, could very well find themselves in the same arena at the end of the season.
COACH ON THE HOT SEAT
Why are we putting Notre Dame's Dave Poulin on the hot seat? Well, the Fighting Irish lost just two key players – forwards David Inman and Jon Maruk – from last year's team that finished seventh in the CCHA but closed the year by winning seven of its last nine games and advancing to the CCHA "Super Six" Tournament. Besides, the long-time NHLer spent a combined 11 seasons in Philadelphia and Boston, so he's used to the pressure.
Poulin calls this year's squad "the deepest and most experienced team that we've had in my eight years in Notre Dame." The Irish are loaded on the blue line with seven letterwinners, including juniors Tom Galvin (4-19—23), Neil Komadoski (2-9—11) and Brett Lebda (6-8—14) and senior Evan Nielsen (7-13—20), returning. Notre Dame also welcomes back Morgan Cey, who set the school's single-season saves percentage record as a freshman last season, stopping 91 percent of the shots he faced while posting a 15-14-3 record and a 2.72 goals against average.
The collection of talent up front includes center Connor Dunlop, the fourth-leading scorer in the CCHA last season with 9-36—45. He's joined by a trio of giant wingers – senior Michael Chin (6-3, 210 lbs., 13-8—21), junior Rob Globke (6-4, 214 lbs., 11-11—22) and senior John Wroblewski (6-1, 196 lbs., 10-11—21). Junior center Aaron Gill (8-14—22) and sophomore winger Yan Stasny (6-11—17) also return.
TOUGHEST ACT TO FOLLOW
Michigan State's Ryan Miller won the 2001 Hobey Baker Award, was a two-time All-American and posted a career 73-18-12 record, a 1.53 goals against average and an NCAA-record 26 shutouts. Michigan's Josh Blackburn, meanwhile, had a 92-36-20 career mark, a 2.29 goals against average and made two trips to the NCAA Frozen Four.
The goaltenders replacing these two standouts – State's Matt Migliaccio and Justin Tobe and the Wolverines' aforementioned Al Montoya – have combined for three collegiate appearances and one start. Furthermone, Tobe and Montoya are both 17-year-old freshmen.
Playing goalie at Michigan State is like playing quarterback at Florida State – it's a glamour position. For every Charlie Ward, however, there's a Thad Busby. Tobe, who helped Compuware to the U.S. Junior A championship last season, won't have to go it alone to start, as coach Rick Comley has indicated he will split time with sophomore Migliaccio to start. Montoya, on the other hand, has been handed the starting job by Berenson.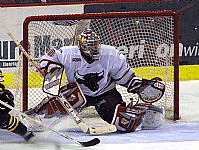 Dan Ellis, Nebraska-Omaha
BEST PLAYER
The CCHA has been dominated by goaltenders in recent years. This year is no different. Without Dan Ellis, the Mavericks are probably no better than ninth in the league this season. With him, they'll challenge for home ice in the first round of the conference playoffs and a berth in the "Super Six" Championship. The second-round draft pick of the Dallas Stars is a technically sound goalie and in great physical condition – he boasts a 29-inch vertical jump and 4 percent body fat.
The Mavericks, who were consistently outshot by their opponents and struggled to score at times (two or fewer in 20 of 40 games) last season, still forged a fifth-place finish thanks to the efforts of their goaltender. Ellis gave up two or fewer goals in 15 of UNO's 21 wins last season. More remarkably, he allowed two or fewer goals in five of the team's 16 losses and three of the Mavericks' four ties. During an incredible 10-game unbeaten streak last January and February, he let in a total of nine goals, and the stretch included a shutout streak of 244:15.
UNSUNG PLAYER
Michigan State was bounced from postseason play March 22 with a loss to Colorado College in the first round of the NCAA Tournament. But the Spartans' season effectively ended March 8, when wing Brian Maloney hit a rut in the Munn Arena ice during a CCHA first-round playoff game vs. Bowling Green. He slammed into the boards, lacerating his kidney and breaking two ribs and missed State's last four contests.
A gritty forward – he's led the Spartans in penalty minutes in each of his three seasons in East Lansing – Maloney is the CCHA's hardest hitter. He's also a big-time scorer, with three straight seasons of 30 or more points and a career plus-minus rating of +45. With 18 career power-play goals, Maloney is a major factor in the team's power-play unit that is consistently among the nation's best and he's the Spartans' top penalty-killer among forwards. He's also the consummate leader. Denver goaltender Wade Dubielewicz and MSU forward Kevin Estrada, both teammates of Maloney in Chilliwack of the British Columbia Junior Hockey League, say he's the best captain they've ever seen.
BEST NEWCOMER
Fellow freshman Jeff Tambellini comes to Ann Arbor with more accolades, but Danny Richmond will make an immediate impact. At 6-feet, 172 pounds, he's built a lot like Michigan State rearguard Duncan Keith. And while he may not skate like Keith, he is an offensive defenseman with creative flair, great hands and hockey sense and Wolverine coaches vow to let him play to his strengths this season. Richmond should see plenty of action on the power play as a rookie and combines with Eric Werner to give Michigan a lethal one-two scoring punch from the blue line. Defensively, he's is technically sound and doesn't shy away from contact – he racked up 129 penalty minutes with the USHL's Chicago Freeze last season.
MARK IT DOWN – Six things you can take to the bank in the CCHA this season:
1. For the first time in six years, a team other than Michigan or Michigan State will win the CCHA regular season title. We'll take Northern Michigan in a tight race.
2. The six teams advancing to the CCHA "Super Six" Tournament at the Joe will be Michigan, Michigan State, Northern Michigan, Notre Dame, Ohio State and Alaska Fairbanks. The Wolverines will triumph for the second straight year.
3. Ohio State junior R.J. Umberger will emerge as the league's top forward and lead the CCHA in scoring.
4. Ellis, Umberger and Nystrom will be the league's Hobey Baker finalists.
5. Nebraska-Omaha's sellout streak at Civic Auditorium will come to an end this season. The Mavericks leave the venerable barn for the 14,500-seat Mecca Arena in downtown Omaha for the start of the 2003-04 campaign.
6. College hockey fans attending the inaugural Lefty McFadden Invitational Oct. 4-5 at the Nutter Center in Dayton, Ohio, will not only feel good about seeing the first regular-season action of the year. All the proceeds from the event, which features host Miami, Bowling Green, Air Force and Niagara, will go to the Children's Hospital in Dayton.
SEE YOU AT TOURNEY TIME
Michigan, Michigan State, Northern Michigan, Notre Dame