If familiarity does in fact breed contempt, expect the 2002-03 CHA campaign to be a six-month scrap.
BREAKTHROUGH TEAM
It's 2 A.B. – After Bob, as in Peters, who ranks second on the NCAA's all-time wins list – at Bemidji State. The Beavers were 12-18-5 in the first year of the Tom Serratore Era, but return their top eight scorers from last year. Among that quartet are senior forward Marty Goulet, a preseason all-CHA selection who shared the conference scoring title last season with 16 goals and 23 assists for 39 points, and frontliner Riley Riddell, the league's top-scoring freshman in 2001-02 with 14-18—32. Riddell was one of three BSU rookies to tally more than 20 points last season. Columbus draft pick Andrew Murray had 15-15—30, while Wade Chiodo, a transfer from Alaska Anchorage, notched 7-15—22. The key to the Beavers' hopes falls on a defensive corps led by Bryce Methven and the progression of junior goaltender Grady Hunt, who needs to improve on his 3.87 goals-against average and .878 save percentage. The sudden departure of rearguard Clay Simmons, who left the team due to personal reasons Oct. 3, is a big loss.
PRIMED FOR A FALL
Pity Niagara head coach Dave Burkholder. He takes over for Blaise MacDonald, who piloted the Purple Eagles to an NCAA Tournament berth in 2000 and stood behind the bench for arguably one of the biggest upsets in college hockey history when his team downed New Hampshire in the first round. He inherits a team consisting of 20 freshmen and sophomores – the youngest in the country last season – and guides them to a .500 overall record and a fourth-place CHA finish. The problem? Niagara is still young, with seven sophomores and nine freshmen. The schedule is a killer – the Purple Eagles' non-conference slate includes Michigan, North Dakota and Michigan State and the team closes the regular season by hosting Wayne State, travelling to Bemidji State and returning home for a two-game set against Alabama-Huntsville. This team looks to be a year away.
BEST COACH
The Alabama-Huntsville program hasn't skipped a beat since moving to Division I from the now-defunct Division II ranks prior to the 1998-99 season (the Chargers also played at the D-I level from 1986 to 1992, but that's a story for another time). The legacy of success is due mainly to one man – head coach Doug Ross. Entering his 21st year in Huntsville and 24th as a head coach, Ross comes into the season with a 431-231-29 (.645) overall record. He currently ranks in the top 10 among active Division I coaches in winning percentage – ahead of luminaries such as Jerry York and Rick Comley – and trails only Jack Parker, York, Comley and Red Berenson among active coaches in victories. With 23 letterwinners returning, including four of the CHA's top eight scorers from a year ago, Ross has a good chance of improving that career record and leading his team to an automatic invitation to the NCAA Tournament.
COACH ON THE HOT SEAT
How can Wayne State's Bill Wilkinson be on the hot seat? Aren't the Warriors the defending CHA regular season champions and winners of three straight league postseason titles? Doesn't Wilkinson welcome back 21 letterwinners from last season's team, including the 2002 CHA Player of the Year, goalie David Guerrera? Absolutely. But while Wayne State is the favorite to repeat as league titleist, there hasn't been an NCAA bid at stake in any of the prior seasons. The pressure is on, but it says here the Warriors are up to the task.
TOUGHEST ACT TO FOLLOW
Thanks to the aforementioned MacDonald, the CHA qualifier for the 2003 NCAA Tournament enters the postseason knowing the last league team to make the trip shocked the world. Or at least the entire state of New Hampshire. It's not like the conference isn't up to the task, however. Wayne State marched into the Kohl Center last October and shaded Wisconsin. Bemidji State won at Ferris State, a place where even the best CCHA teams struggle. Alabama-Huntsville beat both Bowling Green and Western Michigan two years ago. And Niagara counts Boston U., Rensselaer, Cornell, Colorado College and Nebraska-Omaha among its all-time victims. Hey, it's not like winning the final game of the Summit Series, but don't say you weren't at least warned of the potential.
BEST PLAYER
Wayne State goaltender David Guerrara, according to the league's preseason press release, has a chance to become the second goaltender in college hockey history to repeat as a conference player of the year, joining Michigan State's Ryan Miller and Minnesota's Murray McLachlan on that list. That's pretty good company. Guerrera set CHA records for save percentage (.904), goals-against average (3.00) and winning percentage (.618) to go along with a 19-11-4 record last season. Among his better performances were a 50-save effort in the win at Wisconsin, 40 stops in a victory at Alabama-Huntsville and 32 saves in a win at Lake Superior State in which the Lakers enjoyed 10 power plays. Bemidji State's Goulet is not far behind, however.
UNSUNG PLAYER
Findlay, Ohio, is a city of 37,000 people located about halfway between Bowling Green and Lima on I-75. That didn't help, did it? Nevertheless, the Oilers' hopes for staying out of the CHA basement fall on the shoulders of sophomore Rigel Shaw. The Vancouver native led all Division I freshmen with 18 goals last season and set a conference record with 15 goals in league play. As a point of comparison, no other Findlay skater managed more than nine goals last season. Shaw was selected to the CHA's preseason all-conference team, and he'll have his work cut out for him this year. He's the only returnee on the Oilers' roster who managed more than 20 points last season.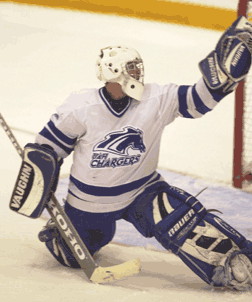 Mark Byrne, Alabama-Huntsville
BEST NEWCOMER
With every CHA team returning a number of letterwinners, the opportunities for freshmen to break into the lineup are few and far between. Two recruits stand out, however, and both are from the Saskatchewan Junior Hockey League. Alabama-Huntsville goaltender Scott Munroe, late of the Athol Murray College of Notre Dame Hounds, earned all-SJHL first-team honors and the Harold Jones Trophy as the league's top netminder after setting the circuit record for lowest goals-against average. He'll likely back up Charger senior Mark Byrne, however. Bemidji State's Jean-Guy Gervais, who played for Nipawin, was also an all-SJHL first team pick last season after scoring 35 goals and 44 assists for 79 points for the Hawks last season. His career totals with Nipawin – 180 points in 215 games. Oh, and don't forget 482 penalty minutes.
MARK IT DOWN – Six things you can take to the bank in the CHA this season:
1. Alabama-Huntsville will be hard pressed to start the season with a record other than 0-6. The Chargers' first three series – at Wisconsin, at Denver, at Minnesota.
2. While Huntsville may have difficulty avoiding a winless start to the year, there will be a handful of upsets scored by CHA teams this season. One to watch – look for Wayne State to knock off Notre Dame at Joe Louis Arena in Detroit Dec. 14.
3. Bemidji State's Marty Goulet and Riley Riddell will make life miserable for the conference's goaltenders this season. Expect the Beavers to be among the nation's top 15 teams in goals per game.
4. Kearney, Neb., will be a great host city for the conference tournament. The city's two-year-old, 4,500-seat arena is regularly packed for games of the United States Hockey League's Tri-City Storm. Plus, Nebraskans will do whatever they can to take their minds off this season's marginal Cornhusker football team.
5. Niagara will make its presence felt at this year's Frozen Four. The Purple Eagles, along with Canisius of the Metro Atlantic Athletic Conference, are the hosts for the 2003 national semifinals and finals, scheduled for April 10 and 12 at HSBC Arena in Buffalo.
6. We'll take the supposed sure thing and tab Wayne State as the 2003 CHA Tournament champion. But don't be surprised if the Warriors don't end up atop the league standings at the end of the regular season, because Alabama-Huntsville and Bemidji State will be part of a tight three-way race.
SEE YOU AT TOURNEY TIME
Wayne State