2002-03 Hockey East Preview
By Nate Ewell
THE SKINNY
There are no surprises among the four favorites in Hockey East – traditional powers Boston College, Boston University, Maine and New Hampshire.
The conference's five other teams hold out hope that they can be this year's Providence (2000-01) or UMass Lowell (2001-02), but on paper, the big four look like they hold their elite status for a reason. Not only could any one of them win Hockey East, they are all contenders to capture the national title next April in Buffalo.
Predicted Finish
1. New Hampshire
2. Boston University
3. Maine
4. Boston College
5. Providence
6. UMass Lowell
7. Northeastern
8. Massachusetts
9. Merrimack
BC has great talent up front, and a solid group of young defensemen. BU's defensemen are nothing short of phenomenal. And while Maine and UNH both lost some key players, they are blessed with depth, and the experience of last year's Frozen Four trips.
But there's hope for the rest of the pack – or at least Providence, UMass Lowell and Northeastern. BC, BU, Maine and UNH have finished 1-2-3-4 (in any order) only once in the 18 years of Hockey East (1999-2000).
Barring a big surprise, 2002-03 will make it twice.
BREAKTHROUGH TEAM
Providence's seventh-place finish last year may have eased the expectations the team had after it finished second in 2000-01. But the Friars certainly have the potential to surprise. Terrific forwards like Jon DiSalvatore (16-26—42), Peter Fregoe (15-23—38) and Devin Rask (16-19—35) posted solid numbers even during last year's disappointment and played big roles on the NCAA Tournament team two years ago. They are part of a talented senior class (Fregoe is actually a graduate student).
Five defensemen return in front of senior Nolan Schafer (11-18-5, 3.29, .905), a second-team All-American in 2000-01, and highly touted Bobby Goepfert, the 2002 USHL Player of the Year.
PRIMED FOR A FALL
Given the strength throughout the conference – and the losses the River Hawks suffered – it's tough to expect UMass Lowell to duplicate last season's fourth-place finish. Gone from the banks of the Merrimack are both goaltenders from last season, including Hockey East goals-against average leader Cam McCormick, and two of the top three scorers, French Olympians Yorick Treille and Laurent Meunier.
UMass Lowell was primed for an NCAA Tournament bid before a 6-10-2 stretch to close last season – and still could have made it in with a break or two, including another goal in a 4-3 Hockey East semifinal loss to UNH. It will take another surprising performance from Blaise MacDonald and crew to get that close this season.
BEST COACH
While we're tempted to tab Blaise MacDonald for his efforts at Niagara and UMass Lowell, or Tim Whitehead for his "interim" effort at Maine last year, it's impossible to overlook consistent success. And if Jack Parker's 655 wins and two national titles don't speak for themselves, get this – he got a promotion this summer, becoming BU's first Executive Director of Athletics.
Unlike Ron Mason, who took over as Athletic Director at Michigan State, Parker remains behind the bench. And while Mason's college hockey record of 924 career wins may be out of reach, Parker will add impressively to his current total with this year's Terriers. Led by captain Freddy Meyer (5-15—20) and first-round draft pick Ryan Whitney (4-17—21), BU has the deepest and most talented defense in Hockey East, if not the country.
COACH ON THE HOT SEAT
Although it would take a lot to put his job in jeopardy, it's important for head coach Paul Pooley's Providence team to show improvement from its seventh-place finish last year. With one top-three finish in eight years at the helm, Pooley has shown the ability to develop a winner, and has the talent to sneak back into the top three again this year.
TOUGHEST ACT TO FOLLOW
By the time his team reached St. Paul, the "interim" that preceded Maine head coach Tim Whitehead's title had become comical. They could have called him "janitor", "Zamboni driver" or "Governor" (which more than a few Mainers considered Shawn Walsh) – everyone knew he would be the coach at Maine this year.
Two days after leaving St. Paul it was official, and now Whitehead follows not only Walsh, but also his own success. While he strives to repeat last year's accomplishments, the means may not be the same.
"Each year is a new team-building process, and we're going to make adjustments, just as we did last year," he says. "You have to see what you have and what it takes to win games."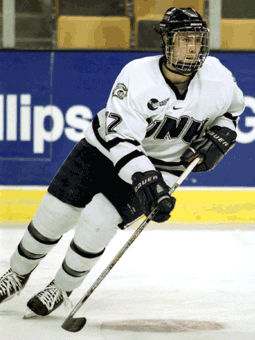 Colin Hemingway, New Hampshire
BEST PLAYER
There are some unknowns in debating the best player in Hockey East:
• Can Colin Hemingway be "the man" now that Darren Haydar has left UNH?
• Can Ben Eaves stay healthy all season?
• Will they stand out from their teammates, like Tony Voce at BC or Sean Collins at UNH?
Both Hemingway and Eaves can dazzle – there's no debate about that. And while we came away impressed from our brief chat with Ben, Hemingway earned the preseason nod as the conference's best player with his 66-point performance last year (33-33—66).
Don't expect Hemingway to have any trouble assuming the go-to role in Haydar's absence. While Haydar received a lot of attention last season, Hemingway did a lot of his work on his own. The first-team All-American from Surrey, British Columbia, scored nearly a goal a game in conference play (23 in 24) and led the nation with 10 game-winning goals.
UNSUNG PLAYER
People who watch him often contend that UMass Lowell's Ed McGrane belongs in the category above this one – and for good reason. McGrane is simply Hockey East's most complete forward, with the ability to score, win faceoffs, and kill penalties. He has led the River Hawks in scoring for two straight years and was a runner-up for Hockey East's Best Defensive Forward award last year.
Amazingly, only people who can pronounce "Tsongas" have ever heard of McGrane. But his return helps head coach Blaise MacDonald offset heavy losses to graduation. If the River Hawks can finish in fourth place in the league again, McGrane will be a big reason – and you'll know his name when it turns up among the Hobey finalists.
BEST NEWCOMER
Mike Morrison and Matt Yeats have departed, but Maine plans to rotate two more goaltenders – freshman Jimmy Howard and sophomore Frank Doyle – at the start of the season. Expect Howard to take over the top spot before too long, except during his stint as starter for Team USA at the World Junior Championships – at age 18, a la former No. 1 draft pick Rick DiPietro. Howard led the U.S. to its first gold medal in the World Under-18 Championships last year, was the USA Hockey Goaltender of the Year, and should establish himself as the top freshman goaltender – and one of the best goaltenders, period – in the country.
MARK IT DOWN – Six things you can take to the bank in Hockey East this season:
1. Colin Hemingway and Ben Eaves will decide the scoring title when they meet for two games in the last week of the regular season. Their teams could have the league title on the line as well.
2. Maine will earn a fifth straight NCAA tournament bid, the only team in Hockey East that can make that claim.
3. For the fifth time in six years, two Hockey East teams will reach the Frozen Four.
The incomparable
Skating Friar
4. Providence will still have the nation's best uniforms, thanks to the decision to stick with the Skating Friar over the university's somewhat haunting new logo.
5. BU will win the Beanpot. Sources also tell us that the sun will continue to rise in the East.
6. Head coach Don Cahoon's team at Massachusetts will improve, albeit gradually. His freshman class could provide the foundation for future success, much like his Jeff Halpern-Steve Shirreffs class at Princeton, especially if a player or two emerges as a star. Still, it could take time – neither Halpern or Shirreffs had noteworthy freshman years. Two names from the Minutemen's rookie class to watch: Stephen Werner, who like Halpern is from the Washington, DC, area, and Michael Mullen, son of former BC and NHL star Joe Mullen.
SEE YOU AT TOURNEY TIME
Maine, New Hampshire, Boston College, Boston University