2002-03 ECAC Preview
By Ken Schott
THE SKINNY
It's the dawn of a new era in ECAC hockey in 2002-03.
For the first time in league history, all 12 teams will make the playoffs. And there will be a new site for the conference's final four tournament. After a 10-year stay in Lake Placid, the tournament begins a three-year run at Pepsi Arena in Albany, N.Y. The arena has hosted two NCAA Frozen Fours and four East Regionals.
The tournament's move from the quaint village that was home to the Miracle on Ice during the 1980 Winter Olympics to the capital of New York state created controversy. During the 2001 tournament, ECAC commissioner Phil Buttafuoco announced a five-year deal to keep the tournament in Lake Placid. However, that deal was never signed.
Predicted Finish
1. Cornell
2. Harvard
3. Clarkson
4. Brown
5. Dartmouth
6. Colgate
7. Yale
8. St. Lawrence
9. Union
10. Rensselaer
11. Princeton
12. Vermont
"The Lake Placid verbal relationship was one that was developing," Buttafuoco said. "We had to look at relationships we had in the ECAC, relationships that ORDA (Olympic Regional Development Authority) had as an organization and also relations ORDA had with the USOC (United States Olympic Committee). We had to look at our strategic planning process and what was – for the future of the conference – what was best for the ECAC both on and off the ice."
The Pepsi seats 14,000 to 15,000 for hockey. Lake Placid's Olympic Center has a capacity of 7,700.
Location was an important factor, too. Ten schools are less than 200 miles from Albany. Only five schools were within 200 miles of Lake Placid.
The ECAC's playoff format is unique. Unlike the CCHA and WCHA, the other two leagues in which every team makes the playoffs, the ECAC will have two rounds of best-of-three series. The top four teams will receive a first-round bye, and teams that finish five through eight will host first-round series. The winners advance to the best-of-three quarterfinals. Those winners advance to the semifinals.
One other change is the increased number of regular-season games the six non-Ivy League schools (Clarkson, Colgate, Rensselaer, St. Lawrence, Union and Vermont) can play, from 32 to 34. Rensselaer will be playing 36 games thanks to its participation in the Ice Breaker Invitational, an NCAA-exempt tourney.
BREAKTHROUGH TEAM
Brown wasn't expected to do much last season. The coaches and media picked the Bears to finish last. But the Bears rode the hot goaltending of Yann Danis (11-10-2, 1.68, .938) to a tie for sixth place, and they played Harvard tough in the first round of the playoffs before losing to the eventual tournament champions. This season, the coaches selected Brown to finish fourth, and the media has it fifth. If the Bears can find some scoring, they will make the coaches and media look good.
PRIMED FOR A FALL
Rensselaer lost its top two scorers, Marc Cavosie and Matt Murley. They combined for 47 goals and 49 assists, helping Rensselaer lead the ECAC in scoring with 120 goals. Cavosie, the ECAC Player of the Year, gave up his senior season and signed with the Minnesota Wild. Murley graduated, and is in the Pittsburgh Penguins organization. The Engineers have just one returning player, Carson Butterwick (13-13-26), who scored more than 10 goals last season. If he doesn't get any help, it could be a long year for Rensselaer.
BEST COACH
Cornell was a struggling team with no direction when Mike Schafer was hired by his alma mater (he's a 1986 graduate) in the summer of 1995. All Schafer has done is re-established the Cornell program as one of the best in the nation. The Big Red won back-to-back ECAC tournament titles in 1996 and 1997, and were finalists last year after running away with the ECAC regular-season title with a 17-3-2 record.
They have their top five scorers returning, including Hobey finalist Doug Murray (11-21-32), and one of the league's best goalies in David LeNeveu (11-2-1, 1.50, .936). Credit for the program's resurgence goes to Schafer, who is 126-83-24 in his seven years at the helm.
COACH ON THE HOT SEAT
Vermont's Mike Gilligan survived the hazing scandal that shut down the program during the 1999-2000 season and got the 10th-seeded Catamounts to the 2001 ECAC tournament final five. He remains on the job even though Vermont finished last in 2001-02 with a 3-18-1 league record and were 3-26-3 overall. But Gilligan lost his leading scorer, Patrick Sharp, who bolted for the Philadelphia Flyers. A Gilligan ally, athletic director, Rick Farnham, will retire next June. And Gutterson Fieldhouse, usually one of the most intimidating places to play, was quiet last season as fans stayed away. Another bad season could spell doom for Gilligan after 19 years.
TOUGHEST ACT TO FOLLOW
When it came to inter-conference play last season, the ECAC was awful. It posted a dismal 34-62-7 record. Only four teams (Brown, Cornell, Rensselaer and Union) posted winning records. Vermont was 0-8-1, the only team which didn't win an inter-conference game. There is no way the ECAC can be that bad again. If a winning inter-conference record is out of reach, the 12 teams should at least be a little bit better in that department.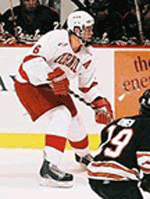 Doug Murray, Cornell
BEST PLAYER
Tough call here between Cornell senior defenseman Doug Murray and Yale sophomore forward Chris Higgins. Higgins won the ECAC Rookie of the Year award after leading all freshmen with 14 goals and 17 assists. He is a very talented offensive player.
However, the pick here is Murray. He is a brute force, both on offense and defense. He stands 6-foot-3 and weighs 230 pounds, so he can throw ferocious body checks. But he also can score. He tied for the team lead in scoring with 32 points (11 goals, 21 assists). How do you stop this guy? You can't.
UNSUNG PLAYER
Rensselaer's Carson Butterwick was lost in the shadow of Marc Cavosie and Matt Murley last season. He finished on the team in scoring with 26 points (13 goals, 13 assists). In addition to his scoring, the 6-0, 210-pound forward is a punishing checker, and is tough to knock off his skates. He will be counted on to lead the Engineers in their transition from the Cavosie-Murley era.
BEST NEWCOMER
This is always a tough call because players who perform so well in juniors sometimes struggle making the move to college hockey. That shouldn't be the case with Yale freshman forward Jeff Hristovski. Playing for the Brampton Capitals of the Ontario Provincial Junior Hockey League, Hristovski led the league in scoring with 55 goals and 47 assists and was the Western Division MVP. He could give Yale its second straight ECAC Rookie of the Year award.
MARK IT DOWN – Six things you can take to the bank in the ECAC this season:
1. Cornell will win the ECAC regular season title, but it will be a closer race than last year.
2. The four teams that will make it to Albany are Clarkson, Cornell, Harvard and St. Lawrence. Cornell will beat Clarkson to win the tournament title.
3. Union will finish ahead of its Rensselaer, its New York State Capital Region rival, for the first time since it became a Division I program in 1991.
4. Yale's Chris Higgins and Cornell's Doug Murray will be finalists for the Hobey Baker Award.
5. After not having a regular-season TV contract last year, the ECAC will have a game of the week package this season.
6. Cornell will get to the NCAA Frozen Four.
SEE YOU AT TOURNEY TIME
Cornell, Harvard