2002-03 MAAC Preview
By Nate Ewell
THE SKINNY
Just because everyone in the Metro Atlantic Athletic Conference (MAAC) is pointing towards the NCAA Frozen Four, don't think the league has gotten delusions of grandeur.
The MAAC will host college hockey's annual summit this April in Buffalo, with the help of member school Canisius and Niagara (which is a MAAC school in every sport but hockey). That's reason for excitement, even if the five-year-old league realistically knows none of its teams will reach that peak.

Predicted Finish
1. Quinnipiac
2. Mercyhurst
3. Sacred Heart
4. Holy Cross
5. Connecticut
6. Army
7. Canisius
8. Iona
9. Fairfield
10. American Intl.
11. Bentley
And there's no shame in that. The MAAC has made great stride in four years, as the top-to-bottom competitiveness suggests.
"This league just gets better and better every single year," said Rick Gotkin, head coach of the reigning champs, Mercyhurst. "The MAAC name is really being spread throughout North America. We have enhanced our product, and we really have a league that's anybody's to win. Of course you have your favorites in the regular season, but if you win three playoff games you're the MAAC champion."
Spoken like a true favorite. But Gotkin speaks from experience – after winning the league title by 10 points last year, the Lakers missed out on a second straight NCAA Tournament trip (their first, in 2000, resulted in a close 4-3 loss to Michigan) when they were upset by Quinnipiac in the MAAC championship game.
Those two teams have reached the MAAC semifinals every year they have been in the league, and 2002-03 should be no different. Sacred Heart should join them in this year's semifinals, but as Gotkin says, the bid could be up for grabs.
BREAKTHROUGH TEAM
Several teams appear poised to duplicate the surprise success Holy Cross enjoyed last year, when the Crusaders jumped to a tie for third in the league after finishing 10th in 2000-01. An infusion of young talent – like the 14 freshmen Iona welcomes – can make a big difference, especially in a young conference which saw all six of its first-team all-league players graduate.
But at the top of the conference, two teams have defined the MAAC of late. College hockey observers nationwide spent two years learning where Mercyhurst and Quinnipiac are located (Erie, Pa., and Hamden, Conn., respectively, if you're just catching up now). Take note: Sacred Heart is in Fairfield, Conn. (as is Fairfield, but one thing at a time).
Can the Pioneers crack the top two? Tough to pick against the Bobcats and Lakers, but Sacred Heart has the talent and experience to improve on its third-place conference finish and first semifinal appearance last year. Twenty-one letterwinners return, including MAAC co-Preseason Player of the Year Martin Paquet (16-19—35) and Preseason Goalie of the Year Eddy Ferhi (13-12-4, 3.04, .905). Four of the top five goals scorers are back, helping make up for the fact that all four departed letterwinners were forwards.
PRIMED FOR A FALL
Is it a fall if you still contend for the title? Probably not, but after running away with last year's title – winning by 10 points – expect a much tougher fight for Mercyhurst this season. Think Bush-Gore, not Bush-Dukakis. And strong performances by Quinnipiac and Sacred Heart could leave the Lakers in third.
The loss of forward Louis Goulet and goaltender Peter Aubry – who both earned first-team all-league honors last year – should help bring the Lakers back to earth. And a 3-3-0 end to the 2001-02 season, including the championship game loss to Quinnipiac, showed the rest of the league that Mercyhurst has vulnerabilities.
BEST COACH
Reaching the Division I, II and III NCAA Tournaments at the same school is something akin to Allison Janney winning both the Best Actress and Best Supporting Actress Emmys for the same character on The West Wing. Yet Mercyhurst's Rick Gotkin has accomplished the nearly inexplicable coaching feat during his 14-year career at Mercyhurst, reaching tourneys in 1991, '93, '95 and 2001 as he has built the Lakers into a MAAC power.
A terrific tactician and motivator, Gotkin loses some talented players this season, and has to hold of some hard-charging MAAC programs. He's proven before, however, that he can accomplish the unexpected.
COACH ON THE HOT SEAT
Nine MAAC coaches have been with their schools since the league was founded five years ago (or since their team joined the league). No changes are imminent, either, although the pressure is on at Army. Expectations were high for head coach Rob Riley's club when it joined the MAAC in 2000-01, and the Black Knights have produced seventh- and eighth-place finishes.
Riley – in his 17th season as head coach after taking over for his legendary father, Jack – leads Army into its 100th season of hockey. While MAAC coaches picked Army eighth in the league's preseason poll, there's reason to believe that the Black Knights, despite their obvious recruiting limitations, could be playing when the conference semifinals come to West Point in March.
Forward Chris Casey (10-15—25) earned MAAC Offensive Rookie of the Year honors last year, while classmate Chris Garceau (12-14—26) led the team in scoring. Their development helped Army close the season with a 7-5-1 record in its last 13 games, including a 3-2, come-from-behind win over Mercyhurst.
TOUGHEST ACT TO FOLLOW
For members of both the MAAC and College Hockey America, Niagara's 2000 NCAA Tournament upset of New Hampshire provides a benchmark – and optimism that a repeat performance is possible.
But the advent of the 16-team tournament makes a similar upset even tougher to pull off. The MAAC and CHA teams in this year's tournament will likely face one of the top four teams in the country in the first round – teams that would have had a bye in the 12-team format.
Can it be done? Of course – following Niagara's recipe from 2000. All it takes is a great goaltender, a well-executed game plan, opportunistic offense and a bit of overconfidence on the opponents' part. It very nearly worked for Mercyhurst in 2001.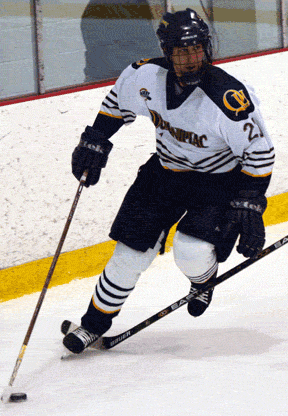 Brian Herbert , Quinnipiac
BEST PLAYER
Conference coaches tabbed two players as co-Preseason Players of the Year – but the leading active career scorer in Division I wasn't among them. Brian Herbert, Quinnipiac's senior forward, enters 2002-03 with 133 career points – 25 more than Nebraska-Omaha's David Brisson and Colorado College's Peter Sejna. Say what you want about competition; they're impressive numbers.
The Langley, British Columbia, native's totals last year (14-29—43) tied him for third in the MAAC with Hobey Baker finalist Ryan Carter of Iona, and he stands first among returning players.
UNSUNG PLAYER
Nearly everyone's unsung in a conference that gets next-to-nothing in national respect. But write down the name R.J. Irving, and watch the skilled blue-liner if you get the chance. The junior led MAAC defensemen in scoring last year (10-15—25) and quarterbacked the nation's second-best power play (30.1 percent). MAAC coaches named him a Preseason First-Team All-MAAC selection.
BEST NEWCOMER
While the Central Scouting Bureau rankings treasure size and strength, college hockey fans know that the players who make the biggest impact are often waterbugs – the small, skilled, speedy playmakers. So while being 5-foot-9, 175 pounds has probably rarely helped Dave Borrelli in hockey, don't let it discount him. The Mercyhurst rookie led the Soo Thunderbirds of the Northern Ontario Junior Hockey League last season with 50 goals and 95 points in 41 games, and has the speed and skill that Rick Gotkin says characterizes his freshman class.
MARK IT DOWN – Six things you can take to the bank in the MAAC this season:
1. The first four years of MAAC play have produced four conference tournament champions – Holy Cross, Connecticut, Mercyhurst and Quinnipiac. One of the latter two will become the first to win the title twice this year.
2. Not-so-clever journalists will credit Quinnipiac's new nickname – Bobcats, replacing Braves – instead of their talent when the 'Cats finish October with just one loss (at Maine).
3. More NHL scouts will find MAAC rinks, thanks to the success of players like Holy Cross graduate Pat Rissmiller in San Jose Sharks training camp.
4. Quinnipiac may give Northeastern a scare and Connecticut will come close vs. Massachusetts, but the MAAC will wait another year before its first win over a Hockey East team.
5. Canisius and Connecticut will get deserved credit – and will improve – thanks to their tough non-conference schedules.
6. Quinnipiac's Brian Herbert or Mercyhurst's Adam Tackaberry will end Iona's two-year hold on the conference scoring title.
SEE YOU AT TOURNEY TIME
Quinnipiac