2002-03 WCHA Preview
By Jess Myers
THE SKINNY
A few years ago in Anaheim (of all places), WCHA fans were hanging their heads and lamenting the fact that the nation's oldest established permanent floating college hockey conference had gone two years without a team in the Frozen Four. There was talk that the once-great league was no more.
Talk about a resurrection. WCHA teams have claimed two of the last three NCAA titles, and finished second (in overtime) in the third. It's a good bet that there will be a Western team or two in Western New York for the 2003 Frozen Four.
Predicted Finish
1. Minnesota
2. Denver
3. North Dakota
4. Wisconsin
5. Alaska Anchorage
6. Minnesota-Duluth
7. Colorado College
8. St. Cloud State
9. Michigan Tech
10. MSU-Mankato
Defending national champ Minnesota lost the nation's top defenseman and top player in Hobey winner Jordan Leopold. Ironically, defense is where the Gophers look most solid this year, with potential superstars Paul Martin and Keith Ballard on rearguard duty. They'll score goals in bunches, and only need to answer a big question between the pipes in order to contend for league and national trophies again.
Denver, which claimed the league title last year, has most of its team intact and looks to make another run. After winning the league's regular season and playoff titles, then falling 20 minutes short of the Frozen Four, the Pioneers are surely thinking "unfinished business" this time around.
New coach Mike Eaves is the all-time leading scorer in Wisconsin hockey history. If he could don a sweater, his Badgers would be the league's favorite. Instead he inherits a talented team that underachieved in the last of Jeff Sauer's 20 seasons in Madison. Goaltending and defense are solid. But Eaves' team might struggle due to the fact that the two best forwards named "Eaves" (Mike's sons Ben and Patrick) play for Boston College.
Rounding out the upper reaches of the league should be North Dakota (which brings in a load of young talent in hopes of erasing the nightmare of last season) and upstart Alaska Anchorage, which was one-upped by in-state rival Alaska Fairbanks (of the CCHA) last year. Second-year coach John Hill had the Seawolves in the hunt for home ice in the playoffs until late in the season last year. It says here that they'll take the next step in 2002-03.
BREAKTHROUGH TEAM
John Hill knows how to build something from nothing. He saw it done first as a player for Alaska Anchorage when the Seawolves went from a club team to a real competitor on the NCAA scene. He saw it next as Don Lucia's assistant at Colorado College, where he helped turn a moribund program back into a national power in a span of 10 months.
Nobody's expecting miracles at UAA, where the recruiting challenges are immense, but Hill's program showed some encouraging signs of growth last year, winning some big games at home.
Junior goalie Chris King was stellar as a rookie, then suffered a sophomore slump. He will split time with fellow junior Kevin Reiter (who had worse stats but more wins than King last season). Their play, and the ability of freshmen to contribute points, might be enough to lift UAA into the league's upper echelon for the first time in its decade as a league member. Another key to success are re-establishing the jaunt to Alaska as a trip nobody wants to make (due to more than just the long flight) and improving on last season's dismal 3-14-1 road mark.
PRIMED FOR A FALL
It was a cold spring in Central Minnesota, and fall is looking chilly as well, at least inside the National Hockey Center for St. Cloud State.
After a late-season collapse during which they went 3-6 in their final month, April began with the Huskies' first-ever Hobey finalist, junior forward Mark Hartigan, leaving a year early to become an Atlanta Thrasher. September began with word that two of SCSU's veteran defenders (senior Derek Eastman and junior Joel Peterson) will miss the season due to academic troubles. Two more blueliners (juniors Ryan LaMere and Jason Reimers) will be out until November. LaMere is recovering from shoulder surgery, and Reimers is sitting out after transferring from Wisconsin.
Looks like the Huskies (who have made a league-best three straight trips to the NCAAs) could spend March chasing home ice instead of chasing the MacNaughton Cup.
BEST COACH
I'm reminded of that scene at the end of "Real Genius" when the evil prof is threatening to flunk Chris Knight (Val Kilmer) out of Pacific Tech and Chris replies, "OK, I'll go talk to the dean, and my work on the laser alone ought to merit a degree."
It's easy to feel the same way about Don Lucia. Forget the Gophers winning the 2002 NCAA title (believe me, plenty of fans in St. Cloud, Duluth and Grand Forks are trying hard to forget it) and take away the formerly great hair. You're left with a guy who was able to win (when nobody else had) at Alaska-Fairbanks and a guy who was able to win big (when nobody else, not even the legendary Jeff Sauer, had for decades) at Colorado College.
Add to that the fact that he's realistic enough to know when it's time to take a break – underscored by Lucia taking himself off the coaching staff for a world tournament in Scandinavia last May so he could spend more off-season time with his wife and family.
Call me crazy, but when this guy retires (with a few more NCAA titles under his belt to be sure) I could see statues of him erected outside Mariucci Arena (which needs a little something monument-like in front) and Colorado Springs World Arena (which wouldn't exist if Lucia hadn't resurrected the CC program in the 1990s).
COACH ON THE HOT SEAT
Sure he's won four league titles and two national crowns in less than a decade with the Sioux. But when your sugar daddy drops $100-some million on a rink, and you respond by tying for sixth in the WCHA, there's some work that needs to be done. Normally-rabid Sioux fans get a little restless when their team is a combined 0-6-1 at home versus Minnesota, MSU-Mankato and Alaska Anchorage, as Dean Blais's troops were last season.
Add to that the rumblings from some (possibly jealous) rival coaches that Blais is stockpiling the top young talent, and you're looking at what could be a watershed year for the North Dakota program.
A finish in the league's top half might be enough to quickly get Blais back into the good graces of the NoDak fans and benefactors. Another year without home playoff games in the Palace on the Prairie and blizzards might not be the only storms in Grand Forks.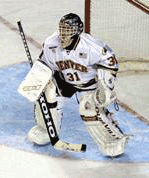 Wade Dubielewicz, Denver
TOUGHEST ACT TO FOLLOW
As if spelling and pronouncing his name wasn't enough of a challenge, Denver goaltender Wade Dubielewicz (for the record, it's DOOB-uhl-wits) will have a heavy workload replicating the past performances of – himself. A senior, Dubielewicz was Mr. Everything between the Pioneer pipes last year, winning 20 games and putting up ridiculously impressive numbers (1.72 GAA, .943 SV%) that make him statistically the top returning netminder in the nation. The results of his final college campaign will determine whether he's remembered alongside Hobey winner Robb Stauber or is a candidate for the Jim Carey One-Year Wonder Award.
BEST PLAYER
Colorado College's Peter Sejna -- the speedy kid from that renowned hockey hotbed of Liptovsky Mikulas, Slovakia -- lit up the league as a freshman, then handled the "sophomore jinx" thusly: 26 goals, 24 assists, 50 points. The Tigers' run was stopped a game shy of the Frozen Four a year ago, but it wasn't due to offensive failings. Sejna's biggest challenge as a junior might be loneliness, with fellow 50-point man Matt Cullen departed for the greener pastures of pro hockey. The Tigers are primed to take a step back this year (after huge personnel losses at forward and in goal). But if Sejna comes to play every night, he could be the league's first Hobey winner on a seventh-place team since Minnesota-Duluth's Chris Marinucci in 1994.
UNSUNG PLAYER
Not particularly big (6-0, 190) or fast, Matt Koalska has been the definition of "sparkplug" for the Gophers in his two seasons on campus. He hails from the St. Paul city youth hockey programs that produced guys with names like "Sauer" and "Brooks" then supposedly quit cranking out hockey talent a decade ago. He's so anonymous that the team media guide his freshman year listed his first name as "Mark." He responded to the slight by lighting up Notre Dame in the first college game at the Xcel Energy Center. With scoring stars like Jeff Taffe and Johnny Pohl no longer wearing the big "M," it's a golden opportunity for this unsung junior to be a team, and league, leader.
BEST NEWCOMER
True story: The Twin Cities born-and-bred Zach Parise committed to be a Fighting Sioux just prior to the start of the 2001-02 season. Former Gopher coach Glen Sonmor (who now provides colorful assessments of the WCHA officials' skills and knowledge during Minnesota radio broadcasts) was so shocked that he actually drove an hour or so visit to Parise (who was toiling for Shattuck-St. Mary's School in Faribault, Minn., at the time) to try to convince the kid into a change of heart. Sonmor's Jedi mind tricks were no match for the lure of a chance to live in sunny and scenic Grand Forks, and Parise brings his outstanding offensive talents (chronicled in Sports Illustrated last season) to a North Dakota squad desperate for goals. Zach is the son of former Minnesota North Star J.P. Parise. The bet here is that the sight of "PARISE" on the back of a green and white sweater will still produce a few smiles for hockey fans in Minnesota (especially those who live near the North Dakota border).
MARK IT DOWN – Six things you can take to the bank in the WCHA this season:
1. It won't just be Badger fans rooting for Wisconsin junior defenseman Dan Boeser to recover from his current bout with follicular B cell lymphoma. The junior spent September undergoing 20 radiation therapies, and vowing to be in uniform on Bucky's blue line for the team's Oct. 11 opener with RPI.
2. There will be very few empty seats when the Golden Gophers open the season by returning to the site of their national championship (St. Paul's Xcel Energy Center) to open the season versus Ohio State on Oct. 12. No, it won't be as loud as when Grant Potulny's overtime goal gave Minnesota the NCAA crown last April. It might never be that loud again.
3. Team Italy will not play before any capacity crowds during its five-game December tour of the league. Note to Commissioner Bruce McLeod: Please, no more of these meaningless international games. Fans just don't care to see the Byrnas Tigers, Swiss Selects or St. Petersburg Red Army like they used to. Instead, give the kids a longer holiday break. With seasons stretching from late September to mid April, another week of R&R would be good for the troops.
4. On at least one occasion, that stunning and stirring laser light show that accompanies the introduction of the Fighting Sioux before games at Ralph Engelstad Arena will momentarily make fans forget that just outside the etched-glass doors there's a blowing snow advisory and the wind chill is 43 below zero. That stuff happens like clockwork every January in Grand Forks.
5. More than one Minnesota-Duluth fan (yes, there is more than one out there) will have December 28 circled in red on their kitchen wall calendar. That's the day that highly-regarded forward T.J. Caig becomes eligible (the NCAA has ruled that he must sit out the first semester of the school year) and will be in the lineup when UMD hosts Union at the DECC. There hasn't been a rookie debut this anticipated in Duluth since Bobby Hull's son (I believe his name was "Brett") first donned #29 for the Bulldogs in 1984.
6. Minnesota will win its first outright MacNaughton Cup in more than a decade (the Gophers last stood alone atop the WCHA in 1992). But the western team most likely to remain standing in Buffalo when the Frozen Four is concluded is (drum roll please) … that crew from the Front Range with that cool-looking red-tailed hawk on their shoulders. George Gwozdecky will finally prove that on occasion, nice guys do indeed finish first.
SEE YOU AT TOURNEY TIME
Minnesota, Denver, Wisconsin, North Dakota