INCH UPDATE DESK
May 15, 2006
McKee Added to U.S. Team
Former Cornell goaltender David McKee, who signed this spring with the Anaheim Mighty Ducks, has been added to the U.S. National Team competing at the IIHF World Championship in Riga, Latvia.
McKee joins Team USA as it prepares to face the Czech Republic on Tuesday, May 16, in the final qualification-round game for both teams.
May 5, 2006
Spirko Departs from North Dakota
Inside College Hockey has learned that North Dakota forward Rastislav Spirko will not skate for the Fighting Sioux next season. According to the school's sports information office, Sioux coach Dave Hakstol asked that Spirko's name be removed from next season's roster, although he did not elaborate why.
Spirko, who hails from Slovakia, scored 11 goals and added 21 assists as a sophomore last season. According to teammates, Spirko generally kept to himself and had said that playing so far from home was sometimes difficult.
Dan Benson, the school's sports information director, said that Spirko returned from a trip to Slovakia over the holiday break and announced that he had gotten engaged there. Many expect that his departure from UND is to pursue a pro career in Europe.
Spirko came to UND after a season in the USHL and was second on the team in goals as a freshman with 16. He was named WCHA Rookie of the Week twice that year, and made the 2005 WCHA Final Five all-tournament team.
— Jess Myers
May 4, 2006
Kessel Added to World Championship Team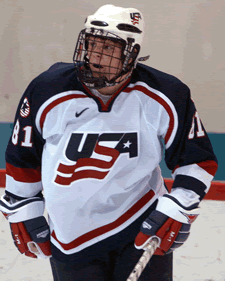 Kessel makes his first appearance on a U.S. Men's National Team.
Minnesota forward Phil Kessel will represent the United States at the 2006 IIHF World Championship, USA Hockey announced today.
Kessel joins former North Dakota forward Drew Stafford as the two U.S. players who played college hockey this season. They will be coached by Wisconsin's Mike Eaves, Team USA's head coach.
All seven players added to the team today have college hockey ties. In addition to Kessel, today's announcement included defensemen Mike Komisarek (Michigan), Freddy Meyer (Boston University) and Ryan Suter (Wisconsin) and forwards Adam Hall (Michigan State), Yan Stastny (Notre Dame) and R.J. Umberger (Ohio State).
Kessel, who famously chose to attend Minnesota over Eaves' Wisconsin team, is representing USA Hockey on a men's national team for the first time. He has played in two World Junior Championships and two World Under-18 Championships.
Previously announced former college players include Stafford, plus: defensemen Andrew Alberts (Boston College), Joe Corvo (Wsetern Michigan), Hal Gill (Providence) and Brooks Orpik (Boston College) and forwards Mark Cullen (Colorado College), Andy Hilbert (Michigan), Ryan Kesler (Ohio State), Ryan Malone (St. Cloud State), Marty Reasoner (Boston College) and Jim Slater (Michigan State).
INCH Update Desk Archives: April | March | February | January
2005: December | November | October | September | August | July | June | May | April