INCH UPDATE DESK
July 22, 2006
Lammers Leaves Geneseo for OSU
Jason Lammers has been named an assistant coach at Ohio State, head coach John Markell announced Monday. Lammers spent last season as the head coach at SUNY Geneseo, his alma mater, where he led the Knights to the NCAA Division III tournament.
"We're tremendously excited to add a coach to our staff with Jason's experience, not only at the assistant coaching position, but also with the experience of being a Division III head coach," Markell said. "His past experiences working with student-athletes will help him in the transition to our program. We're anxious to get him acclimated to campus and the Columbus area."
"I'm excited about the opportunity to work with the coaching staff and players at Ohio State," said Lammers. "Ohio State has grown into one of the premier hockey programs in the NCAA because it offers student-athletes, and more specifically hockey players, an opportunity to reach their goals as both a student and an athlete. I look forward to working with Coach Markell and Coach (Casey) Jones throughout the challenging CCHA conference schedule and look forward to the opportunity to work with some excellent student-athletes."
In 2005-06, Lammers led Geneseo to a 19-9-2 ledger, the State University of New York Athletic Conference (SUNYAC) tournament title and to the NCAA Division III tournament. The squad, which was 10-4 in league play and finished one point out of first place, ended the year ranked sixth nationally.
July 22, 2006
Quinnipiac's Pecknold Signs Extension
Quinnipiac head coach Rand Pecknold has agreed to a contract extension that will run through the 2009-10 season, athletic director Jack McDonald announced.
"Over the past 12 years Rand has brought Quinnipiac men's ice hockey from a Division II/III program to one of the most respected programs in Division I," McDonald said. "Our inaugural ECAC Hockey League season was highlighted by Rand opening the season with victories against Harvard and Dartmouth and closing the season with an excellent showing in the ECACHL playoffs. We are very pleased that Rand, Nikki and son Tate will continue to be a part of our wonderful community at Quinnipiac."
Pecknold enters his 13th season behind the Quinnipiac bench in 2006-07 and is the program's winningest coach of all time with a 222-136-32 career record. Pecknold has guided Quinnipiac to two MAAC regular season titles, one Atlantic Hockey regular season title, one MAAC tournament title and the first-ever NCAA berth in program history in 2002.
July 18, 2006
Alaska Anchorage, Holy Cross Add Assistants
Alaska Anchorage coach Dave Shyiak rounded out his coaching staff by bringing Campbell Blair in from Maine to serve as his top assistant.
Blair, a former Black Bear defenseman, spent five seasons in Orono as an assistant to Tim Whitehead. During that span, Maine made three trips to the Frozen Four and won the Hockey East playoff championship in 2004. The Prince George, B.C., native sees the position at UAA as a step up career-wise.
"To be a head coach, I need to be able to recruit," Blair told the Anchorage Daily News. "It might make me more attractive as a head coach. The goal is to apply for a D-I job and have a good chance at getting one. If I can help build this program and turn it around, that bodes better for me."
In other coaching news, Holy Cross added former Niagara assistant Albie O'Connell to its staff. O'Connell was an aide to Dave Burkholder for two seasons. Prior to that, the former Boston University skater served one season as an assistant at Colby College in Waterville, Maine, and a year as head coach at the Berkshire (Mass.) School.
July 18, 2006
Gardner Returns to Niagara as Assistant Coach

Former Niagara goaltender has rejoined the Purple Eagles' program as an assistant to head coach Dave Burkholder.
"I am very excited to have Greg back at Niagara," Burkholder said in a statement. "We shared some very special times throughout his storied career here. Add to that his professional experience and it makes him the perfect fit for our staff at this time."
Gardner played professionally for six seasons, the past two with Bremerhaven in the second division of Germany's Bundesliga. Prior to that, he spent two seasons with the ECHL's Mississippi Sea Wolves and two seasons in the Columbus organization, splitting time between the Blue Jackets' AHL club in Syracuse and its ECHL affiliate in Dayton.
A native of Mississauga, Ont., Gardner compiled a 64-33-12 record in goal for the Purple Eagles during his career. His best season was 1999-2000, when he posted a 29-8-4 record, a 1.53 goals against average, a .936 save percentage and 12 shutouts, an NCAA single-season record. That season, he backstopped Niagara to its first NCAA postseason berth and led the team to a first-round upset against New Hampshire.
July 13, 2006
Pavelski Signing Becomes Official; Skille Next?

As Inside College Hockey reported earlier this week, the San Jose Sharks officially announced it had signed Wisconsin forward Joe Pavelski to a contract. Pavelski, who will forgo his final two seasons of eligibility with the Badgers, lead the team in scoring in each of the last two seasons.
"It was a long process," Pavelski said at a news conference in Madison Friday. "To leave two years early the contract offer had to be right and San Jose made a great offer."
Pavelski, a native of Plover, Wis., was chosen by the Sharks in the seventh round with the 205th overall selection in the 2003 NHL Draft. He becomes the second Wisconsin skater to leave school with eligibility remaining – forward Robbie Earl signed with Toronto days after the Badgers' national championship win against Boston College.
Meanwhile, forward Jack Skille told Andy Baggott of the Wisconsin State Journal he'll decide whether to sign with the Chicago Blackhawks, the team that chose him in the first round of the 2005 draft, or return to Madison for his junior campaign.
July 13, 2006
Lewis Bypasses Wolverines for L.A. Kings

Michigan coach Red Berenson is used to losing underclassmen to the professional ranks. Friday, he lost a player who hadn't even enrolled in classes.
Forward Trevor Lewis, who would've been a Wolverine freshman this fall, signed a three-year contract with the Los Angeles Kings, which selected him with the 17th overall pick in last month's NHL Draft.
A Salt Lake City native, Lewis scored 35 goals and 40 assists in 56 regular-season games for the United States Hockey League's Des Moines Buccaneers and added 16 points in 11 playoff games as the Bucs captured the circuit's postseason title. For his efforts, Lewis was named USHL player of the year, forward of the year and won the Curt Hammer Award, given to league's most gentlemanly player.
July 11, 2006
Mankato's Carter Signs with Anaheim

Minnesota State forward Ryan Carter has decided to forgo his final two seasons with the Mavericks and sign as a free agent with the Anaheim Ducks.
Carter is the second underclassman to leave Minnesota State this summer, joining David Backes, and the third college hockey underclassman to sign with the Ducks, joining Cornell's David McKee and Michigan State's Drew Miller.
As a sophomore Carter finished second on the Mavericks in goals (19) and third in points (35) in 39 games.
July 10, 2006
Miami to Show Off New Goggin to Fans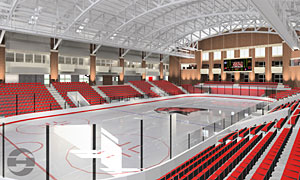 An artist's rendering of Miami's new rink.
As part of the festivities surrounding the Miami ice hockey program's alumni weekend, fans will be able to get a sneak preview of the new state-of-the-art Goggin Ice Center on Sat., July 15. During the annual alumni game, which takes place from noon-2 p.m., fans are invited to come to the new home of Miami hockey, located between Oak Street and Campus Avenue adjacent to the Recreational Sports Center.
Among the list of former Miami hockey greats slated to skate in the alumni game are current National Hockey League players Brian Savage (Philadelphia Flyers) and Mike Glumac (St. Louis Blues) along with two-time All-American Andy Greene, who signed a contract with the New Jersey Devils after completing his collegiate eligibility this past season.
July 10, 2006
Sandelin Signs Contract Extension

Minnesota Duluth head coach Scott Sandelin has signed a three-year contract extension that will keep him behind the Bulldog bench through the 2009-10 season, it was announced today by athletic director Bob Nielson.
The agreement calls for Sandelin to receive an annual base salary of $130,000.
"We very pleased with the leadership Scott has provided to our men's hockey program and are encouraged about what lies ahead for the Bulldogs, " said Nielson. "He's continually demonstrated the ability to bring in top quality student-athletes -- young men who excel both on the ice and in the classroom."
In his six seasons with the Bulldogs, Sandelin, the 2003-04 Spencer Penrose Award recipient (American Hockey Coaches Association NCAA I Coach of the Year), has helped thrust the UMD program back firmly into the national forefront. In addition to compiling an overall record of 96-122-26, including a 76-70-19 mark since the start of the 2002-03 season, he has taken UMD to three of the past four WCHA Final Five Tournaments.
July 9, 2006
Sertich Signs with Stars
Colorado College forward Marty Sertich, who won the 2005 Hobey Baker Award as a junior, has signed with the Dallas Stars according to multiple reports.
Sertich, who was a free agent, signs with the same organization that inked 2004 Hobey winner Junior Lessard out of Minnesota Duluth. He will likely begin his professional career with the Iowa Stars of the AHL.
July 7, 2006
Blues Confirm: Johnson Will Be a Gopher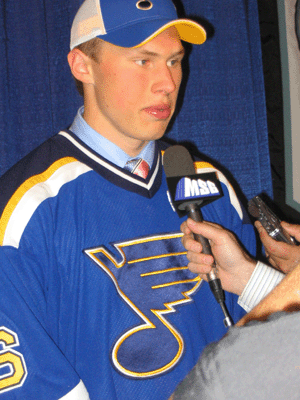 St. Louis Blues' president John Davidson announced today that defenseman Erik Johnson will attend Minnesota in the fall. Johnson, a Bloomington, Minn., native, had committed to the Gophers, but was the No. 1 selection in the 2006 NHL Entry Draft, fueling speculation that he might join the Blues this fall.
"We feel this is a win-win situation for Erik to be going to an excellent hockey program to continue his development," said Davidson. "This is beneficial for his career, short term and long term, to play for the Gophers. He will have an opportunity to compete for an NCAA National Championship (in St. Louis in April of 2007), play in the World Junior Championships and enjoy university life."
Johnson has spent the previous two years with USA Hockey's National Team Development Program in Ann Arbor, MI.
July 6, 2006
Maine's Standbrook Announces Retirement

Longtime Maine assistant coach Grant Standbrook announced that he is retiring from full-time coaching after 18 seasons with the Black Bears. He will stay with the team as a volunteer assistant.
"Grant has meant so much to the Maine hockey program over the last 18 years," said head coach Tim Whitehead in a statement. "He is without a doubt the common denominator for the program's unprecedented success during that time."
Widely regarded as one of the nation's top recruiters, Standbrook helped lure the likes of Paul Kariya, Garth Snow and Dustin Penner to Orono. He was recognized for his efforts when he was presented with the Terry Flanagan Award, given to the nation's top assistant coach by the American Hockey Coaches Association, in 2005.
Before arriving at Maine, Standbrook was an assistant at Wisconsin for 12 seasons. From 1970-75, he served as head coach at Dartmouth and led the Big Green to an Ivy League championship in 1973.
INCH Update Desk Archives: June | May | April | March | February | January
2005: December | November | October | September | August | July | June | May | April