INCH UPDATE DESK
December 30, 2006
Hirsch Dismissed from Gophers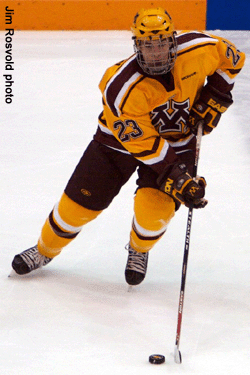 Minnesota forward Tyler Hirsch scored 117 points in 144 career games.
The college career of mercurial Minnesota forward Tyler Hirsch came to an end Saturday as the senior was dismissed from the team.
"Tyler Hirsch's hockey career at the University of Minnesota has come to an end," Gopher head coach Don Lucia said in a statement released prior to the team's 5-2 win against Ferris State Saturday in the Dodge Holiday Classic championship game at Mariucci Arena. "This is a private and confidential matter between Tyler and the coaching staff."
After sitting out the entire 2005-06 season for personal reasons, Hirsch returned to the Gophers lineup for his senior year and was off to a great start, with four goals and 18 assists in 15 games, but his misdeeds kept him in Lucia's doghouse. Hirsch was benched for the season-opener against Maine for showing up late to a team meeting, missed two games in November for lackluster efforts in practice, and sat for the team's series against Minnesota State earlier this month because of academic issues.
Rumors of Hirsch's demise first surfaced Friday after the Gophers' 3-1 win against Alabama-Huntsville, a game in which Hirsch – who was clearly going through the motions – was benched for the third period.
Hirsch's most publicized incident occurred following a Minnesota loss to Colorado College in the 2005 WCHA Final Five when he skated from center ice at full speed into one of the nets, knocking it into the end boards. He missed the next three games, returning to the lineup for the Gophers' loss to North Dakota in the Frozen Four in Columbus.
– Mike Eidelbes
December 27, 2006
New Look for Nine College Teams
The Nike Swift Hockey Jersey, first unveiled to the global stage in Torino, Italy in February, will make its college hockey debut this weekend as nine NCAA teams will pull on the revolutionary uniform for the first time during holiday tournament action.
Cornell, Denver, Maine, Miami, Michigan, Michigan State, New Hampshire, North Dakota, and Ohio State will all have access to the jerseys when the teams take to the ice this weekend. Some of the jerseys feature minor graphic re-designs, and four examples are pictured below.
A culmination of more than three years of research, testing and feedback from some of the world's greatest hockey players, the Nike Swift Hockey Jersey reduces overall uniform weight, adds increased mobility and comfort while making the jersey aerodynamically the most advanced in the world.
| | |
| --- | --- |
| Maine | Michigan State |
| New Hampshire | North Dakota |
December 19, 2006
Michigan's Bailey Latest to Bolt for Major Juniors

Michigan sophomore forward Jason Bailey has left school and signed with the Ontario Hockey League's Ottawa 67's, the team announced Monday.
Bailey, a native of Nepean, Ontario, was scoreless in 19 games with the Wolverines this season. In 46 career appearances at Michigan, he scored five goals and added two assists. Bailey was chosen by the Anaheim Ducks in the third round (63rd overall) of the 2005 National Hockey League Entry Draft.
December 17, 2006
Three Collegians Make Canadian Team for WJC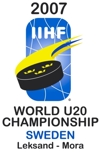 Three current collegiate players were named to the 22-man Canadian roster for the IIHF World Junior Championship tournament. North Dakota's Jonathan Toews, Michigan's Andrew Cogliano, and Boston College's Dan Bertram were the only three collegiate players invited to the team's tryout camp and all made the team.
All three players were members of last year's team, that won the gold medal at the tournament, which was held in Vancouver. Toews was named an alternate captain for this year's team.
December 14, 2006
Dartmouth Sophomore Opts For Major Junior
Sophomore forward Ryan Bellows has left the Dartmouth hockey team and has signed a contract with the Barrie Colts of the Ontario Hockey League. Bellows played in eight of Dartmouth's 10 games so far this season, recording a pair of assists. He dressed in 32 of the Big Green's 33 games during his freshman campaign.
December 13, 2006
CCHA Commissioner Gets Contract Extension
The Central Collegiate Hockey Association announced Dec. 13 that commissioner Tom Anastos has agreed to a five-year contract extension that runs through the 2011-12 season.
The announcement was made by Tom Nevala, Notre Dame's associate athletic director for business operations, who served as chairperson of the CCHA Executive Committee during the renewal process.
"The members of the CCHA have the utmost confidence in Tom's leadership, and we look forward to his continued good stewardship of our league during these years to come," said Nevala in making the announcement.
Anastos, recognized by The Hockey News as No. 81 on the list of the 100 most influential and powerful people in the sport, is in his ninth season as commissioner, having been named to the post on March 18, 1998.
December 12, 2006
Clarkson Goalie Matt Smith Leaves Program

Freshman goalie Matt Smith is leaving the Clarkson hockey program to play in the Quebec Major Junior Hockey League. The freshman goalie will complete his final exams at Clarkson this semester.
Smith was expected to compete for the starting position at Clarkson, but didn't receive much playing time, and cited a lack of playing time as his reason for leaving the Golden Knights. Smith played in one game, an exhibition against the US NTDP Under-18 team, and allowed four goals on 16 shots in one period.
December 11 , 2006
OSU's Montgomery Signs With OHL's London Knights
Defenseman Kevin Montgomery has left Ohio State and signed a contract with the Ontario Hockey League's London Knights, it was announced Monday.
Montgomery scored one goal and added four assists in 17 games with the Buckeyes. INCH listed Montgomery, a fourth-round pick (110th overall) of the Colorado Avalanche in June's NHL Draft, third among incoming freshmen defensemen in its annual Recruiting Rankings. The 6-foot-1, 185-pound native of Rochester, N.Y., spent the 2005-06 season with the U.S. National Team Development Program in Ann Arbor.
December 5, 2006
USA Hockey Announces 2007 World Junior Championship Roster
Eight returnees from the team that finished fourth at the 2006 IIHF World Junior Championship highlight the 22-man U.S. roster for the 2007 WJC that begins in Sweden later this month.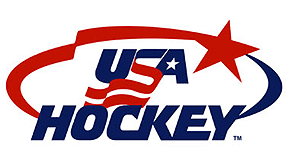 The returnees include four defensemen – Minnesota's Erik Johnson, Michigan's Jack Johnson, and North Dakota's Taylor Chorney and Brian Lee. Lee is appearing in his third World Junior Championship. He was also member of the 2005 U.S. team that finished fourth in Grand Forks, N.D.
Three forwards who played for the U.S. team in Vancouver last year are back for another shot at a medal. They are Boston College's Nathan Gerbe, Wisconsin's Jack Skille, and Peter Mueller, the former Minnesota recruit who now plays for the Western Hockey League's Everett Silvertips. Also returning is Minnesota goaltender Jeff Frazee, who backed up BC's Cory Schneider a year ago.
Top-ranked Minnesota is represented by five players – Frazee, Erik Johnson, and forwards Mike Carman, Kyle Okposo, and Ryan Stoa. The only other teams with more than one player on the U.S. roster are Wisconsin (Skille, Blake Geoffrion, Jamie McBain) and North Dakota (Chorney and Lee).
The 2007 World Junior Championship begins Tuesday, Dec. 26 in Mora and Leksand, Sweden. The U.S. team opens pool play against Germany.
The complete 2007 U.S. World Junior Championship roster:
| | | | |
| --- | --- | --- | --- |
| No. | Player | Pos. | Hometown (Current Team) |
| 2 | Kyle Lawson | D | New Hudson, Mich. (Notre Dame) |
| 3 | Jack Johnson | D | Ann Arbor, Mich. (Michigan) |
| 4 | Taylor Chorney | D | Hastings, Minn. (North Dakota) |
| 5 | Blake Geoffrion | F | Brentwood, Tenn. (Wisconsin) |
| 6 | Erik Johnson | D | Bloomington, Minn. (Minnesota) |
| 8 | Kyle Okposo | F | St. Paul, Minn. (Minnesota) |
| 9 | Nate Gerbe | F | Oxford, Mich. (Boston College) |
| 11 | Jim Fraser | F | Port Huron, Mich. (Harvard) |
| 12 | James vanRiemsdyk | F | Middletown, N.J. (U.S. Under-18 Team) |
| 16 | Mike Carman | F | Apple Valley, Minn. (Minnesota) |
| 17 | Jamie McBain | D | Faribault, Minn. (Wisconsin) |
| 18 | Justin Abdelkader | F | Muskegon, Mich. (Michigan State) |
| 19 | Ryan Stoa | F | Bloomington, Minn. (Minnesota) |
| 20 | Jack Skille | F | Madison, Wis. (Wisconsin) |
| 21 | Bill Sweatt | F | Elburn, Ill. (Colorado College) |
| 22 | Brian Lee | D | Moorhead, Minn. (North Dakota) |
| 23 | Sean Zimmerman | D | Denver, Colo. (Spokane Chiefs) |
| 24 | Trevor Lewis | F | Murray, Utah (Owen Sound Attack) |
| 27 | Patrick Kane | F | Buffalo, N.Y. (London Knights) |
| 30 | Jeff Frazee | G | Burnsville, Minn. (Minnesota) |
| 37 | Jeff Zatkoff | G | Chesterfield, Mich. (Miami) |
| 88 | Peter Mueller | F | Bloomington, Minn. (Everett Silvertips) |
December 5, 2006
Three Collegians Invited to Canada's World Junior Camp
Three collegians – all veterans from the Canadian team that won the gold medal at the 2006 IIHF World Junior Championship in Vancouver – earned invitations to the tryout camp for the 2007 team set to begin Friday in Calgary.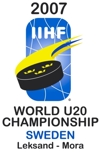 Boston College forward Dan Bertram, Michigan forward Andrew Cogliano, and North Dakota forward Jonathan Toews were among the 38 players asked to take part in the five-day camp. The trio is among 11 returnees from last year.
Cogliano, a native of Woodbridge, Ontario, scored a goal and four assists in six WJC games last year. Toews, who hails from Winnipeg, had a pair of assists in six outings, while Bertram, who calls Calgary home, recorded a single assist during last year's event.
The 2007 World Junior Championship begins Tuesday, Dec. 26 in Mora and Leksand, Sweden. Canada begins its title defense against the host Swedes.
INCH Update Desk Archives: November | October | September | August | July | June | May | April | March | February | January
2005: December | November | October | September | August | July | June | May | April