October 5, 2004
2004-05 Atlantic Hockey Preview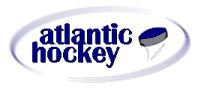 By James Jahnke
THE SKINNY
The same teams. The same commissioner. The same name.
Could this really be Atlantic Hockey?
The conference to which changes are second nature amazingly looks pretty much the same as when we left it. Oh, sure, there's a new coach (but not a new last name) at Army. Brian Riley has replaced his brother Rob, who replaced their father, Jack, years ago. And the league tournament has switched from a one-rink format to a various-site, on-campus affair. And we all know that Quinnipiac is blowing the coop before next year, destined for the ECACHL. But, for this precious season at least, things seem calm.

Commissioner Bob DeGregorio is still making the calls. The same nine teams that finished last season are starting this one. The same scholarship limit is in place, yet the quality of play continues to improve. Mercyhurst is still the team to beat. Quinnipiac, Holy Cross, Sacred Heart and Connecticut are right there. Canisius and Bentley are on the way up, and Army and American International are trying to figure out how to join them.

Next year, the league will be back to normal, meaning that everything's up in the air and enrollment issues will be at the forefront. Air Force, Robert Morris and Division III Rochester Institute of Technology have expressed various levels of interest in joining the conference, and the rumor mill has included other schools in the speculation.

But, for now, we know what we've got. So let's enjoy the season.

BREAKTHROUGH TEAM
Without a doubt, Connecticut has the talent to compete for the Atlantic Hockey championship. The question is whether one season of college hockey was enough seasoning for the 14 sophomores on the Huskies' roster. If those second-year players can step up, the upperclassmen are good enough to make it a special season in Storrs.

Forward Tim Olsen is the league's most productive forward, and defenseman Mark Murphy is as difficult to beat 1-on-1 as any rearguard in Atlantic Hockey. Mix in forwards Chris Uber, Matt Scherer and Beau McLaughin, and UConn is fine up front. If Scott Tomes can stop a few more pucks (3.31, .895 last season), the Huskies easily could improve upon last year's fifth-place finish.
PRIMED FOR A FALL
Holy Cross had a charmed run to the AHA regular-season and playoff titles last year, building a monstrous early lead in the standings and coasting into the league tournament. But it's tough to stay on top. The pucks that bounced their way last season might not this year, you know? Especially without R.J. Irving and J.R. Walker manning the blue line.

No one's saying Holy Cross is incapable of repeating. With Tony Quesada in net and Pierre Napert-Frenette, Jimmy Sixsmith and Andrew McKay up front, Holy Cross has the pieces in place. But if they think they had to work hard to win last season, they're going to have take it up another notch to avoid a letdown.

PRESSURE TO PERFORM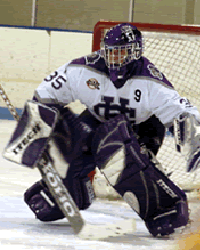 Tony Quesada backstopped Holy Cross to the school's first-ever NCAA Tournament berth in 2004.
With a move to the tougher ECACHL looming on the horizon, this could be lame-duck Quinnipiac's best chance to make the NCAA tournament for the next few years. Star goalie Jamie Holden is as good as it gets in Atlantic Hockey, and the lineup card is loaded with skilled players at every position.

Expectations are more moderate after last year's somewhat disappointing injury-plagued campaign, but that might be a blessing. No one's saying that other teams won't respect the Bobcats – in actuality, opponents would probably love to stick it to them before they leave the league – but the target on their backs isn't quite so noticeable. If they can put everything together, the Bobcats could play into late March. If they do, however, they had better savor the flavor. It won't be easy to get back.

TOUGHEST ACT TO FOLLOW
American International was a bad team even with all-league forward Guillaume Caron. So what will the Yellow Jackets be without him? A lot of that depends on junior C.J. McConnell. The Sault Ste. Marie, Ontario, native has the best nose for the net among returning AIC forwards, meaning that he'll not only have to replace Caron's scoring, he'll probably have to surpass it to make the Jackets competitive. He'll certainly benefit from Jeremy Leroux's play-making ability, but Andy Walbert will have to deflect some of the defensive pressure away from McConnell by having another strong year.
BEST PLAYER

Until someone goes on a tear this year, Connecticut's Tim Olsen arguably is still the hottest player of 2004. After all, he erupted for 33 points (including 18 goals) in the Huskies' final 20 games of last season – a streak that started right about the time the calendar turned over. If he finishes '04 the way he started it, the reigning AHA Player of the Year could start generating some All-American buzz come Christmas. At the very least, Olsen is the most menacing forward on a UConn team that looks poised to score a bunch of goals this season.
BEST NEWCOMER
Mercyhurst forward Ben Cottreau was named to the Ontario Hockey Association's top prospects team after scoring 43 goals and 52 assists in 43 games for the Markham Waxers last season. At 6-feet, 200 pounds, he has a college-ready body and will fit in well on a Lakers team that won't need him to carry the load this year. Also keep an eye on Mercyhurst forward Matt Warren and Holy Cross forward Cal St. Denis, whom one AHA coach called "one of the top prospects in any conference."
UNSUNG PLAYER
The name doesn't immediately spring to mind, but Bentley forward Brendan McCartin is one of the most dynamic players to ever play in the MAAC/Atlantic Hockey. He is somewhat anonymous because he hasn't really showed his talent yet. McCartin played one season at Miami before transferring to Fairfield, which dropped its program after the NCAA-mandated year he spent sitting out. So McCartin headed to his third school, Bentley, with three years of eligibility remaining but not an inkling of how good he could be in Atlantic Hockey. He started slowly last season before picking it up and scoring 18 of his team-high 26 points after Christmas. He capped it off with a hat trick and an assist in a league tournament loss to Mercyhurst.

Coach Ryan Soderquist expects McCartin to become more of a "brand-name player" in the league this year. "He has great speed, great size, a great shot, and he plays hard every game. He didn't really know what he could do in this league at first. He was just taking the puck past the center line and dumping it in. But then he realized, 'Hey, I can carry the puck in, I can get to the net. And, hey, I can score.' He knows he can handle the league now.".

THREE BURNING QUESTIONS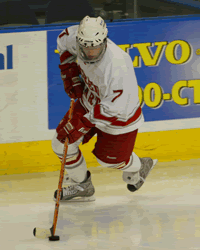 Garrett Larson was Sacred Heart's leading scorer a year ago with 19 goals and 10 assists.
1. Will Brian Riley be able to reinvigorate Army's squad? Yep. Will it be enough this year? We'll see. Riley won't settle for anything less than maximum effort, and he isn't afraid to sacrifice a few wins in the present to get his point across. Thus, he cut skilled senior Chris Casey, among other thought-to-be-returners, this offseason. The Black Knights will play hard this year. Whether that translates to wins is to be determined.

2. Will anyone be able to challenge Mercyhurst for the league crown? Of course. Honestly, it wouldn't be surprising at all if Quinnipiac, Holy Cross or Sacred Heart were able to walk off with the championship. Even Connecticut, which seems to be a year or two away, could be a contender. The Lakers have two things going for them: history and the best roster on paper. But they had the same attributes last season, yet watched the Crusaders lead wire-to-wire and fly to Colorado for the NCAA tournament while they stayed home.
3. Are any of the lower-division teams poised to crack the upper echelon? Why don't you ask Quinnipiac, which was bounced from the conference tournament by Canisius last year? Or Holy Cross, which was beaten by Bentley on the last day of the regular season? Those same Falcons also swept weekends from Quinnipiac and Sacred Heart in 2003-04. They're right there. Army and AIC don't appear to be threats to finish in the top half of the league, but Canisius and Bentley are just about ready to make the jump. With another goal per game and a little luck (the Griffs and Falcons combined for 12 ties last year), they could do it.
MARK IT DOWN
Five things you can take to the bank in Atlantic Hockey this season
1. Jason Smith will get more chances to help out in Sacred Heart's net. Kevin LaPointe performed admirably last season, but sophomore Smith will be the team's netminder when the Pioneers eventually get where they want to be. He might as well play like it now.
2. Soderquist will find some way to wring more offense out of his squad that scored just 2.47 goals per game and clicked on 11.3 percent of its power plays last season. With star goalie Simon St. Pierre on his final year of eligibility, he'd better do it quickly.
3. Holding the league tournament at campus sites will prove to be a good decision. Army's Tate Rink did a great job hosting the one-site tournament, but bringing the real March Madness to campus rinks will help get more fans in more regions excited about the action.
4. Mercyhurst will lead the league on Presidents' Day. Whether the Lakers hold it through their final four regular-season games (two at Holy Cross, two versus Sacred Heart) will determine the character of the team.
5. Quinnipiac will be missed. Yeah, it's too bad the Bobcats are leaving. But you can't be overly mad at them (after all, Mercyhurst, Holy Cross and Sacred Heart tried to leave, too). Just remember the good times and wish them luck as they go on their way.
Predicted Finish

No.

School
Of Note

1.

Mercyhurst
Rich Hansen setting up David Wrigley for a goal is a
thing of beauty. Again, again and again.

2.

Quinnipiac
Will need Matt Froehlich to regain goal-scoring touch
he had as a sophomore.

3.

Holy Cross
Loss of leaders Greg Kealey, Jeff Dams and R.J. Irving
creates need for someone to step up.

4.

Connecticut
Ten of first 11 games are on the road. So are three of final four. Longest homestand of the year is three games.

5.

Sacred Heart
If Pierre-Luc O'Brien can build on strong freshman year and complement leading scorer Garrett Larson, the Pioneers will be a tough draw for anyone.

6.

Canisius
Two Coccimiglios, two Irish-Bakers and two Rubertos make Golden Griffins feel like a family reunion.

7.

Bentley
Soderquist excited to finally have two lines capable of
scoring.

8.

Army
Forward Chad Fifield has gone from a roster cut under Rob Riley to a team captain under Brian Riley.

9.

American International
On the plus side for the Yellow Jackets, the goaltending tandem of Frank Novello and Chad Davis is experienced and formidable.

Send this to a friend
About Us | Advertiser Info | Site Map | Privacy Policy
© 2002-04 Inside College Hockey, Inc., All Rights Reserved