September 27, 2004
2004-05 WCHA Preview
By Jess Myers

THE SKINNY
"It's a cruel, cruel summer … Leaving me here on my own … It's a cruel, cruel summer… Now you're gone."
British girl groups rarely croon about college hockey. But in the WCHA, where this summer of discontent couldn't end quickly enough, many fans might be thinking that Bananarama had their team in mind when those lyrics were first sung. A little more than six months after Minnesota and North Dakota battled for the Broadmoor Trophy in one of the most entertaining playoff championship games in league history, the 10 squads that take to the ice look much different than they did last March. A few of them look much different than they did last month.
While fans can steel themselves for the departure of seniors when the team's final game is played in March or April, most are not quite as prepared to deal with the unexpected departure of sophomores and juniors in early September. But when a league blessed with an abundance of young talent catches the eyes of NHL officials and aggressive agents, a rash of pre-lockout panic signings can occur. That's precisely what happened to several of the WCHA's contenders over the course of the summer and early fall, with eight prominent underclassmen and the league's most successful coach saying "auf wiedersehen." Many fans searching for familiar names on the WCHA's 2004-05 rosters may be left scratching their heads.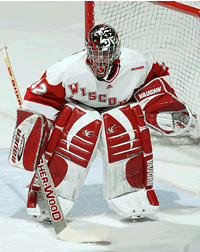 A rash of early departures left Bernd Brückler among a short list of established stars in the WCHA.
There's a good debate to be had about which team took the worst hit of the early-signing spree. Minnesota can make a good case, with three prominent underclassmen gone in forward Thomas Vanek and defensemen Keith Ballard and Jake Taylor. North Dakota may have lost the most offense, with two Hobey finalists (Brandon Bochenski and Zach Parise) leaving early. Add to those transactions ex-coach Dean Blais' decision to move to Columbus rather than work toward getting his team to the Frozen Four in Columbus and the unusually cold summer in Grand Forks may have seemed just a bit chillier.
Wisconsin also lost a big name (and a big part of its defensive corps) when Badgers defenseman Ryan Suter bolted to Nashville a few weeks ago. And former St. Cloud State defenseman Tim Conboy had a busy off-season, as he was cut by the team for a rules violation, then signed a contract with San Jose, then got arrested when drugs were allegedly found in his car during a traffic stop.
But perhaps the team that stands to suffer the most from early departures is Alaska Anchorage, which saw its two top scorers leave school early, for different reasons. The team had barely returned from its first-ever Final Five appearance when Curtis Glencross signed a pact with Anaheim. Then, sometime over the summer, Chris Fournier decided to walk away from his second college hockey program (he had transferred to UAA after a season at North Dakota). The cruel summer in Anchorage may be followed by an even crueler winter.
What does it all mean? The optimist will note that it's a testament to the league's talent. The pessimist will say that WCHA hockey this season will be more about who's not on the roster than who's playing. Incidentally, that looks to be the theme in the NHL this year too.
The realist will underscore the age-old notion that talent wins games, but experienced talent wins championships. With that in mind, we're not the only pundits pointing out that Minnesota Duluth has 11 seniors who played in the Frozen Four last year on its roster.
Just a few blocks from Mariucci Arena (site of the next NCAA West Regional) there's a fabulous Asian eatery called the Village Wok, where each table has Chinese zodiac placemats proclaiming 2005 as the year of the rooster. But if the WCHA is going to claim its fourth consecutive NCAA crown, it may look more like the year of the 'Dog.
BREAKTHROUGH TEAM
Colorado College Tigers. While some WCHA teams blast Linkin Park's blood-pumping tunes during warm-ups, it might be appropriate to hear the band's more downbeat number "In The End" playing inside Colorado Springs World Arena. For a team plagued by missed opportunities the past two seasons, the lyrics, "I tried so hard, and got so far, but in the end, it doesn't even matter," seem to fit recent CC teams well. The Tigers won the MacNaughton Cup and brought the Hobey to the Rockies two seasons ago, only to fall short of the Frozen Four. Last season's promise of a WCHA repeat was derailed almost from the start by a rash of injuries and off-ice distractions. The end result was the first playoff road trip for the school in a decade. This time Tigers line up for another run with their health restored and loads of talent at all of the key positions (including the league's most proven goalie tandem in Matt Zaba and Curtis McElhinney). And the schedule-makers have them taking just one trip outside of Colorado in the first two months of the season, setting the table for a fast start.
PRIMED FOR A FALL
Alaska Anchorage Seawolves. Last March, WCHA fans may have witnessed the shortest-running feel-good story in college hockey history. After rebounding from a one-win season two years ago and finishing eighth last year, the Seawolves were the talk of the league playoffs, upsetting third-seed Wisconsin in Madison for the first two WCHA playoff wins in school history. John Hill's crew advanced to the Final Five where they were unexpected fan favorites versus Colorado College, and beat the Tigers before an adoring crowd of 12,000-plus. Then, the gold rush abruptly ended. Hill and company begin the current season having lost their top two goalies and their top three scorers. Adding injury to that insult is the recent suspension (and arrest) of defenseman Lee Green after the deposed team captain allegedly punched and broke the jaw of teammate Brett Arcand-Kootenay in a locker room fracas. Winters are rarely easy in the Last Frontier, where the sun barely makes an appearance for months at a time. But Seawolf fans who finally got a small taste of the good life last spring must wonder if it's supposed to be this bleak and dark in the summer and fall.
PRESSURE TO PERFORM
Denver's goalies. Give us three reasons why they'll raise a national championship banner in Magness Arena on Oct. 23, and you cannot use the word "Berkhoel" in any of your responses. … OK, we're waiting. … Still waiting. … Give up? We don't blame you. While DU's undefeated trip through the NCAA tournament was not a one-man effort, the physical and psychological barrier that Adam Berkhoel erected between the Pioneer pipes in late March and early April was all but insurmountable. The new season means opportunity and the oppressive weight of high expectations from hungry hockey fans in a town suddenly bereft of its popular NHL team. Sophomore Glenn Fisher saw action in nine games as a rookie (with five starts and four relief appearances in rare games where Berkhoel wasn't sharp) but his .872 save percentage has raised some concerns. Freshman Peter Mannino had the best stats in the USHL last year and, like Fisher, puts his 6-foot-1 frame to good use. One or both of them stepping up will be required if the Pioneers want to stay relevant in the NCAA playoff picture.
TOUGHEST ACT TO FOLLOW
Minnesota defenseman Chris Harrington. The top Gopher defenseman from 2002 (Jordan Leopold) won the Hobey and played for the Stanley Cup last spring. The top Gopher defenseman from 2003 (Paul Martin) was on the YoungStars team at the NHL All-Star Game last winter. The top Gopher defenseman from 2004 (Keith Ballard) just signed a big money NHL contract. This leaves the Gopher blue line squarely in the hands of a kid previously best known for his Dad's Olympic gold medal. "I guess it's my turn," says Harrington. While some players skate all summer, this optimistic youth got away from the ice in the warmer months, then came back to campus fully prepared to face the pressure that comes with the job. "If you look at it one way, it's overwhelming," says Harrington. "If you look at it another way, it's a huge opportunity. But I learned a lot from Leo and Paul and Keith, and I learned from them that it's rare to get this opportunity, so you've got to take full advantage of it."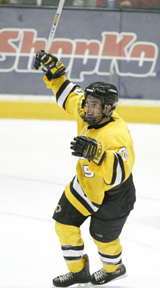 No returning player in the nation had more goals per game than Chris Conner last season (0.66, 25 in 38 GP).
BEST PLAYER
Chris Conner, Michigan Tech forward. Even if you take good notes during a lecture class, you're bound to have some questions for the instructor when it's done. It's the same way after watching Professor Conner on the ice for 60 minutes. Among the questions commonly produced by the Houghton Hurricane:
1) How does a guy that size (a non-threatening 5-foot-8, 175) cause that much trouble for the sizable defensemen he faces?

2) How did a suburban Detroit kid with that much talent escape the scouts from Michigan and Michigan State?

3) After causing more trouble than any player on a last-place team is worth, what is he capable of with a more complimentary cast of characters at his side?
To recap, the Huskies' race to the WCHA cellar last year came despite Conner notching 18 points in his first seven games, leading the nation in short-handed goals, and getting prominent play on ESPN after a jaw-dropping goal versus Michigan State. If Jamie Russell can counter the checking lines that limited Conner's production late last season, Tech should have its second Hobey finalist in March.
BEST NEWCOMER
Travis Zajac, North Dakota forward. Stop us if you've heard this before, but another hockey season is approaching, and there are hockey people raving about a North Dakota freshman. The heir apparent to Brandon Bochenski, Zach Parise and Brady Murray as the "next big thing in Grand Forks" comes to the western shore of the Red River from just a bit downstream (Winnipeg) and is already drawing raves from WCHA coaches before he has so much as taken a shift. "He's a great hockey player," says Minnesota State, Mankato coach Troy Jutting, who scouted Zajac last year while the 6-2 forward was skating for Salmon Arm in the British Columbia Hockey League. "He combines size and skill with intelligent leadership. There's always a kid or two in our league that you look at coming in and you expect great things. He's that guy this year." If Zajac's numbers from last season (112 points in 59 games) are any indication of what he'll do in the WCHA, Sioux fans may get to keep the MacNaughton Cup for another year.
UNSUNG PLAYER
Matt Jones, North Dakota defenseman. Maybe it's his nondescript name (although Joe Smith managed to get a lot of hype during his college hoops career). Maybe it's the fact that most defensemen naturally get overlooked in a game where the spotlight shines on goalies and goal-scorers. Maybe any non-forward would struggle to get noticed on a team that featured the likes of Parise, Bochenski and Murray. Whatever the case, the finest North Dakota rearguard ever to come out of Lisle, Ill., has spent three seasons making opponents pay for underestimating his impact in games. On a team with a propensity for huge defenseman, Jones' 6-0 frame puts him on the smallish side of the Sioux roster. The seven goals he scored last season were a career high for a player one coach describes as "a rock-solid defensive defenseman," but Jones clearly brings to the rink an element that can't be measured. "He's not a flashy player, and he might not get the spotlight often," says Sioux coach Dave Hakstol. "But when you watch what he does during games, he's as important as anyone we have on the team."
THREE BURNING QUESTIONS
1. Has the black cat left Colorado Springs? While ups and downs are part of life and definitely part of college hockey, Colorado College players and fans dealt with about a decade worth of trials and tribulations in 2003-04. A season ago, the distraction of having some at the NCAA want to prevent Division III schools (like CC) from offering D-I scholarships was just an appetizer. The main course included significant injury (star forward Brett Sterling missed a month with a broken hand), a near-tragic accident (assistant coach Norm Bazin is still recovering from a November 2003 car crash that left him hospitalized for months) and the indignity of having to watch arch-rivals win the NCAA title. When Alaska Anchorage ended the Tigers' season at the Final Five in March, one could nearly feel a sense of relief among the physically and emotionally drained CC squad. Just for the sake of levity, here's hoping someone cranks "Getting Better" by the Beatles over the locker room stereo while the Tigers get ready for their first official practice this season.
2. Has the window of opportunity closed for St. Cloud State? While a second consecutive sixth-place finish in the WCHA (after four consecutive trips to the NCAA tournament) shouldn't be a reason to panic, most in the know are predicting a third straight season of the Huskies going on the road for the playoffs. And even the most ardent optimist will be hard-pressed to find a silver lining in the Huskies' 0-4 record during those four trips to the NCAAs. While a new season always brings renewed hope to the raucous fans at the National Hockey Center, the team's 0-7-1 streak to end 2003-04 and some off-ice trouble has led to plenty of grumbling that another sub-par season may produce plenty of empty seats.
3. Will there be a championship banner hoisted to the rafters of the DECC anytime soon? Last season was clearly a breakout year for coach Scott Sandelin and his Minnesota Duluth squad. Most notably, the Hobey Baker and Spencer Penrose awards got to spend the summer on Lake Superior. Combine that with a 5-1-0 record versus arch-rival Minnesota and an April trip to the Frozen Four, and Bulldog fans are invigorated again (it was a busy summer for the folks who sell UMD season tickets). But the "glass is half empty" crowd will point out that the Bulldogs went 0-for-3 in the race for the WCHA regular season title, the WCHA Final Five title, and the NCAA title. With 11 seniors on the team and one of the better returning goalies in the nation, it's feeling like a "now-or-never" season in the Twin Ports.
MARK IT DOWN
Five things you can take to the bank in the WCHA this season
1. Despite the damage caused since Jeb Bush enrolled the Sunshine State in the "Hurricane of the Week" club, there will still be a strong contingent of central Minnesota hockey fans making their way to Estero, Fla., between Christmas and New Year's. St. Cloud State's inclusion in this year's Everblades College Classic (along with Maine, Boston College and Cornell) marks the first appearance by a WCHA team in the Sun Belt's finest college hockey gathering, and has many Husky fans planning to spend a few December days under the gently swaying palms.
2. You'll hear a rousing rendition of "In Heaven There Is No Beer" sung by the visiting fans at least once or twice inside Mariucci Arena this season. The WCHA schedule-makers have deemed that for the first time in more than 40 years, the Minnesota Golden Gophers will not visit Minnesota Duluth in the regular season, meaning that Bulldog fans by the busload will be making the trek to Minneapolis on Jan. 28-29 for the only scheduled meetings between these arch-rivals. The loud and boisterous members of the UMD Penalty Box (official motto: "Win or Lose, We Booze") have been tirelessly combing the Internet, snapping up every available ticket for that two-gamer in hopes of ensuring that the Bulldogs don't feel totally alone in the big city.
3. After a hard-fought Minnesota State, Mankato game this year, a few of the Mavericks' freshmen will go out for beers – legally. Smarting from last season's ninth-place finish, MSU coach Troy Jutting has brought in perhaps the oldest group of rookies in WCHA history. Of the seven newest Mavericks, six had used up all of their junior hockey eligibility at the end of last season, and four of them will be 21 before Thanksgiving. They come to a team which led the WCHA in penalties last season and had the second-worst penalty kill in the league – two items Jutting has placed in a file labeled "must improve" for the Mavericks to fare better in 2004-05.
4. A few visiting teams will have fun away from the rink on their annual trip to Madison, and will have very little fun inside the Kohl Center. It was a busy winter for Mike Eaves, who won a gold medal for Team USA at the World Juniors, then lifted his Badgers from eighth place two years ago to within an overtime goal of the Frozen Four last March. Most encouraging for his bosses within the Wisconsin athletic department may be the sellout crowds of 15,000-plus that became a common occurrence at Bucky's home rink late last season. While they're not planning a championship parade down State Street just yet, the Badgers have enough offensive and defensive depth to again make Madison the place opposing fans love and opposing teams loathe.
5. NHL hockey or not this season, the WCHA will guarantee that at least a few great games will be played at the Xcel Energy Center in 2004-05. For fans in the capital city of the self-proclaimed "State of Hockey" the season won't be a total wash. While the Wild may not play a game, Minnesota and Denver will visit St. Paul on Oct. 8 and determine which of the last two NCAA champs will get early bragging rights. And after last season's record-setting WCHA Final Five which saw a classic see-saw battle for the Broadmoor Trophy between generations-old rivals Minnesota and North Dakota, tickets for the expected 2005 rematch are going fast. Knowing the pre- and post-game revelry habits of some college hockey fans, that weekend alone may make up for all of the lost NHL-related bar business in downtown St. Paul.
Predicted Finish

No.

School
Of Note

1.

Minnesota Duluth
With 20 lettermen returning from a Frozen Four team, it looks like the 'Dogs could have their day.

2.

Wisconsin
Defense wins championships, and with the likes of Brückler, Gilbert and Likens in Madison, Bucky's got a good shot at one.

3.

Colorado College
The Tigers may have the most balanced individual talent in the nation, and designs on keeping the NCAA title in-state.

4.

North Dakota
Coach Hakstol's been handed the keys to a real hot rod. Keep it on the road, and it could be another fun ride for Sioux fans.

5.

Minnesota
A deep freshman class holds the key to providing enough scoring for the Gophers to be competitive every night.

6.

Denver
After a fairy tale run to the NCAA title, the Pioneers need any remaining championship hangover to wear off quickly.

7.

Michigan Tech
Nearly a dozen fresh faces in Houghton mean a few new people feeding pucks to Chris Conner.

8.

Minnesota State, Mankato
Eliminating defensive mistakes will be key if the Mavs are to be competitive.

9.

St. Cloud State
Help is on the way for the Huskies. But, sadly, Bobby Goepfert's eligibility is still a year away.

10.

Alaska Anchorage
After flirting with the spotlight last March, the youthful Seawolves may face a harsh reality this winter.

Send this to a friend
About Us | Advertiser Info | Site Map | Privacy Policy
© 2002-04 Inside College Hockey, Inc., All Rights Reserved