September 29, 2004
2004-05 Hockey East Preview
By Nate Ewell

THE SKINNY
As Hockey East enters the 2004-05 season, it's unlikely to throw a raging 21st birthday party. If anything, the esteemed conference's drink of choice might be a snifter of port in front of a crackling fire.
Yes, Hockey East is truly among the rich and famous when it comes to college hockey conferences. It's got a wealth of nationally-ranked teams and top players, and top-to-bottom it compares favorably with any of the other five conferences.
With that elevated status comes a sense of routine every year. We've had a Hockey East team reach the national championship game for eight straight years. We haven't even had a coaching change in four years.
But just because something's routine doesn't make it boring. Tara Reid's routine includes a party every night – it may not be the life for us, but we'd hardly call it boring.
Similarly, Hockey East's nightlife offers plenty of excitement. A new team (Vermont) arrives next year and a new rink (BU's Agganis Arena) opens in January. And as we all know, every Friday and Saturday night in New England offers a few good reasons to party.
BREAKTHROUGH TEAM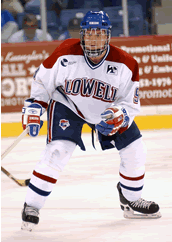 Big things are expected from Ben Walter and UMass Lowell.
One nugget that didn't make our preseason feature on UMass Lowell: as much as he feels that his team is poised for a breakthrough this fall, head coach Blaise MacDonald thought they were almost there at the end of last year. "If we had done a better job on the power play late last year," he said, "and gotten a little better goaltending – not a lot, but a little – we would have been right in there at the end of the year."
With another year of experience and, with any luck, no worries about midseason forfeits, this year's River Hawks should be good enough to overcome any flaws in their game. They won't need a power play goal every night, and the goaltender – whether it's John Yaros, Chris Davidson or Peter Vetri – won't need to be great. At least not for this team to crack the top four in the conference.
PRIMED FOR A FALL
Massachusetts barely missed its first NCAA Tournament berth a year ago, falling to Maine in the Hockey East championship game, and afterwards players and coaches talked about getting back in that position – and winning. Then, just hours later, Thomas Pöck was on his way to play for the Rangers, and the realization set in that he and defense partner Nick Kuiper were gone. Greg Mauldin soon followed, leaving before his senior year, and it now appears that another trip to the FleetCenter would be a surprise, rather than the natural progression of a program on the rise.
PRESSURE TO PERFORM
He's started 84 games in three years at Boston College and returns after earning second-team All-Hockey East honors last season. Yet despite that impressive resume, and consistent praise from teammates and coaches, Matti Kaltiainen remains the perceived weak link at The Heights. Opposing coaches cite his tendency to allow soft goals, and to endure stretches of every game when it seems like he's fighting the puck.
If he falters this season, head coach Jerry York has a more-than- viable option waiting in the wings. Cory Schneider, originally recruited to arrive next fall, comes to campus a year early as a first-round NHL draft pick and a top American goaltending prospect along the lines of Jimmy Howard or Al Montoya. He'll certainly see time for the Eagles – Kaltiainen's play should dictate how much.
TOUGHEST ACT TO FOLLOW
Sean Collins isn't following another player, per se. But the New Hampshire winger does head into the 2004-05 season with the burden of producing results without the help of running-mate Steve Saviano. Collins and Saviano, teammates for years at UNH, Reading (Mass.) High School and youth hockey, formed one of Hockey East's most feared offensive duos last season, combining for 91 points in 41 games (more than any other pair of teammates in the conference).
There's plenty of hope for Collins and Wildcat fans, however. First, he has produced without Saviano in the past – he was the MVP of the Middlesex League as a senior in high school, and started his freshman year at UNH strong before Saviano was added to his line. Plus, Collins is a skilled finisher who can score as long as someone gets him the puck – skating alongside Justin Aikins, who had 31 assists last year, that shouldn't be a
problem.
BEST PLAYER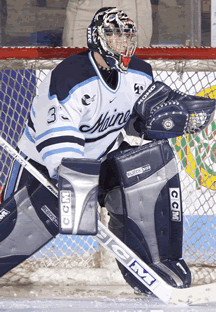 Jimmy Howard allowed one or zero goals in five of six playoff starts last season.
Steve Clark, a teammate of Ryan Miller's at Michigan State, once called the eventual Hobey Baker-winning goaltender "unscoreonable." As far as we know, nobody has coined any new words to describe Maine's Jimmy Howard, although he's left more than a handful of opposing forwards muttering things we choose not to print on this web site.
After two years of splitting time with Frank Doyle, Howard should play the vast majority of games for the Black Bears this season, as he did in their playoff run to the national championship game last spring. Some might wonder if the increased workload will burden Howard, but it could actually help him stay sharper – a frightening thought for those opposing forwards who saw him post a 1.19 goals-against average and .956 save percentage last year.
BEST NEWCOMER
When Washington Capitals general manager George McPhee drafted Boston University's Chris Bourque in June, he knew he was getting a player with an NHL pedigree. But Bourque's game doesn't really resemble that of his Hall of Fame father, Ray. Chris, an undersized forward with great skills and unmatched competitiveness, is much more like McPhee on the ice. That's great news for the Terriers, since McPhee was a Hobey Baker Award winner at Bowling Green. Bourque should add both talent and energy to a BU lineup that was lacking in both areas too often last season.
UNSUNG PLAYER
It stands to reason that the leading scorer on a team that's chronically unsung doesn't get the respect he deserves. Such is life for Merrimack junior Brent Gough, who posted 12-17—29 last year, the second year in a row he led the team in scoring. Even those efforts were overshadowed by a similarly unsung teammate, senior Marco Rosa.
Gough and Rosa worked incredibly well together, and Gough brings many of Rosa's abilities to the table. He can play in any situation, giving a big lift to Merrimack's special teams, which are – you guessed it – unheralded but dangerous. Gough scored nine of his 12 goals last year on special teams (six PPGs, three SHGs) and has a great chance to become the first player to lead Merrimack in scoring three times since the program joined Hockey East.
THREE BURNING QUESTIONS
1. Will the NCAA's emphasis on calling the rulebook as it's written take hold? We're naturally skeptical of this initiative, since the NHL has had as much success with these types of endeavors as they have drawing television ratings. But optimism among those close to the decision is high: "We don't need new rules to re-claim our game," said Hockey East commissioner Joe Bertagna. "But we need to more consistently call the book as written."
2. Which midseason "acquisition" will make the biggest impact? Forwards always get a lot of attention, and Jeremy Hall (a transfer joining UMass Lowell) and Billy Ryan (a recruit at Maine) could alter the Hockey East title chase. Also keep an eye also on defenseman Scott Drewicki at Merrimack, who becomes eligible at midseason after transferring from Denver.
3. Can Providence provide offense for goaltender David Cacciola? Last year's Friars finished fourth in the league in scoring, but never seemed to give Cacciola any support. He was 1-5-4 despite a 2.06 goals-against average in 2004-05, and should step in as the No. 1 goalie since Bobby Goepfert was dismissed from the team.
MARK IT DOWN
Five things you can take to the bank in Hockey East this season
1. The best race in the conference, once again, will be for the final playoff spot. That's just one reason that Hockey East has it right by not giving every team a spot in the postseason.
2. A fantastic October schedule will be overshadowed. Yes, the NHL is out of the way, but the Red Sox postseason run will steal the spotlight from some great games in New England – most notably, the Ice Breaker Tournament at UNH, North Dakota's trips to Maine and Boston College, and defending NCAA champion Denver's visit. Of course, none of those games has the potential to alter the psyche of the entire region in a historical sense, so the Sox probably deserve first billing.
3. The conference will get four spots in the NCAA Tournament, up from three a year ago. And toll-takers on the Mass Pike will see plenty of hockey sweaters drive by on the third weekend of March, as fans race between regionals in Amherst and Worcester.
4. Merrimack will have plenty of chances for holiday cheer. The Warriors pull off a rare – if not unprecedented – double, playing in two holiday tournaments this year. They'll skate in Minnesota's Dodge Holiday Classic before Christmas, and the UConn Holiday Classic afterwards. The tournament-happy Warriors will also play in the Maverick Stampede and the Dunkin Donuts Coffee Pot.
5. Architects will earn almost as many accolades as goal scorers. Merrimack continued improvements to Lawler Arena, moving the home bench to the opposite side of the ice, adjacent to the new Warrior locker room. The Shawn Walsh Hockey Center will improve the team facilities at Maine in the initial phase, and fans will see more visible improvements next season. No one will be able to miss the spectacle of Boston University's Agganis Arena, which opens Jan. 3 as the Terriers host Minnesota. The Terriers will close Walter Brown Arena the night before against the Gophers.
Predicted Finish

No.

School
Of Note

1.

Boston College
They lose Ben Eaves and Tony Voce, and the Eagles still
have the most potent group of forwards in the conference. And they might have the best group of defensemen as well.

2.

Maine
The loss of Dustin Penner doesn't seem as significant when you realize that Maine is constantly unearthing and developing players just like him.

3.

UMass Lowell
The junior forward trio of Elias Godoy, Andrew Martin and Ben Walter gets a lot of attention, but sophomore defenseman Cleve Kinley could end up being the River Hawks' best player.

4.

New Hampshire
Watch the Wildcats' defense early. If freshmen Craig Switzer and Brad Flaishans step in and make a positive impact, this team could be very, very good.

5.

Boston University
Last year, we expected good things, then watched BU play and wondered what we were thinking. With lower expectations and an influx of talent, could the Terriers be a positive surprise this year?

6.

Massachusetts
The Minutemen's steady ascension in the Hockey East ranks may hit a speed bump in 2004-05, but it shouldn't be the fault of Stephen Werner, who's poised for a breakout year.

7.

Northeastern
Northeastern's success hinges on goaltender Keni Gibson, and a former Husky All-American – Bruce Racine – is back as an assistant coach to help mentor the senior.

8.

Providence
After Bobby Goepfert's dismissal from the team, Friar fans hope Bill Simmons' Ewing Theory has a new application.

9.

Merrimack
The Warriors got better as the season progressed last year, but still finished last in the conference in defense and next-to-last in offense.

Send this to a friend
About Us | Advertiser Info | Site Map | Privacy Policy
© 2002-04 Inside College Hockey, Inc., All Rights Reserved