September 28, 2004
2004-05 CCHA Preview

By Mike Eidelbes
THE SKINNY
"Do, or do not," Yoda said to Luke Skywalker while training the young Jedi in The Empire Strikes Back. "There is no try."
It's a profound directive that, roughly translated, is the equivalent of the common saying that instructs one to perform a certain bodily function or else remove one's self from the porcelain device essential to said function's successful completion.

The odds are unlikely, but the lime green Ross Perot lookalike could have easily been talking about the CCHA when he made the statement. For each of the league's 12 teams, the term 'moral victory' is a simile for a loss, unless the NCAA Tournament selection committee starts award bonus points for them. Yoda would be disappointed if Michigan did not advance to the Frozen Four this season, or Northern Michigan failed to earn an NCAA berth or Bowling Green didn't challenge for home ice in the first round of the conference playoffs.

Moral victories? A Jedi craves not these things. If you crave the low-down on the upcoming CCHA season, however, you've come to the right place.
BREAKTHROUGH TEAM
Outside of maybe Lindsay Lohan, no outfit has generated more buzz than Bowling Green. The Falcons finished ninth in the league last season thanks to a second-half record of 7-6-3 against CCHA foes. Younger players like defenseman Jonathan Sigalet and forward James Unger showed flashes of developing into all-conference caliber players. And goaltender Jordan Sigalet proved he deserved to be mentioned among the nation's best – the All-CCHA first team selection made an NCAA-best 1,140 saves last season in addition to a 2.74 goals against average and a .919 save percentage.
Coach Scott Paluch brings another highly regarded recruiting class into the fold this season, led by forward Jonathan Matsumoto and USHL Defenseman of the Year Mike Hodgson. The confidence the Falcons carry over from last season should continue to grow thanks to a favorable early-season schedule which includes series with Union, Lake Superior State, Notre Dame (more on the Irish below), Nebraska-Omaha and Wayne State. If BGSU can find a way to turn the majority of their ties – they were 1-1-9 in overtime games last season – into wins, they'll challenge for a home playoff series.
PRIMED FOR A FALL
After years of tantalizing promise, coach Dave Poulin's Notre Dame squad finally broke through last season by earning the program's first-ever NCAA Tournament berth. As long as Poulin continues to lure top-notch recruits to South Bend, the Fighting Irish should continue to contend for postseason appearances in the future.

This season may be a bumpy one for the Irish, however, especially in the early going. Not only does Notre Dame have to make up for the losses of forwards Rob Globke (40 points) and Aaron Gill (36 points), but they also need to replace Tom Galvin, Neil Komadoski and Brett Lebda, workhorse defensemen who combined to play 440 career games. The goaltending tandem of Morgan
Cey and David Brown is a huge plus, but a rugged early season schedule – the Irish's first seven games are two vs. Minnesota Duluth, a pair at Miami, one against Boston College and a series with Northern Michigan – makes the learning curve dangerously steep. Notre Dame will challenge for a spot in the upper half of the conference standings, but they'll need time to find their mark.

PRESSURE TO PERFORM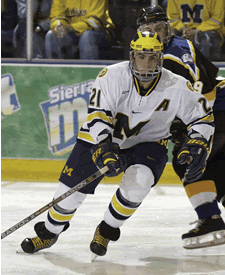 For senior Eric Nystrom and the rest of his Michigan teammates, the bar is set high this season...and rightfully so.
Rare are the occasions in which one can say the odds-on favorites for conference title honors are on the hot seat. But Michigan returns all but two key contributors – forward Dwight Helminen, who signed with the New York Rangers during the summer, and graduated defenseman Andy Burnes – from last year's team that won the CCHA regular season crown and narrowly missed making its fourth straight trip to the NCAA Frozen Four.

Considering players such as NHL first-round draft picks Jeff Tambellini and Eric Nystrom turned in sub-par efforts last season, that's a pretty impressive feat. Winning league championships are nice. Every team strives to attain that goal. Given the abundance of talent at coach Red Berenson's disposal, however, anything short of an appearance in the NCAA Frozen Four championship game should be considered a disappointment. If you ask the Wolverines, you'll probably find they feel the same way.

TOUGHEST ACT TO FOLLOW
Forwards Derek Edwardson, Greg Hogeboom and Mike Kompon combined to score 135 points for Miami last season. Think about that for a second. This is an era in college hockey in which 30 points is considered a pretty successful year. These three guys each scored more than 40 last year. In the goalie-dominated CCHA, that's a remarkable achievement.

The RedHawks probably won't need to fill in a 135-point blank to repeat last season's performance mainly because Brandon Crawford-West, who was 21-8-3 as a freshman in 2003-04, has turned what was a weakness prior to the start of last year into a strength. The defensive corps, led by INCH Preseason All-American Andy Greene, should be solid.

But we digress. As far as the forwards go, we know sophomores Matt Christie and Marty Guerin can score – both eclipsed the 30-point mark as freshmen. Now for the ifs – if senior Todd Grant, who set career highs with 15 goals and 26 points last year, can meet or exceed those numbers, if junior Chris Michael scores closer to the 26 points he netted as a freshman than the 15 points he got last season, and if sophomore Geoff Smith can play to the level that made him one of the nation's most highly regarded recruits in 2003, the RedHawks will be just fine.
BEST PLAYER

Michigan State's Jim Slater is a freak. Not a freak in the Courtney Love sense, but in the manner of Randy Moss.
Rare is the player who boasts a combination of dynamic offensive skills and brute force, but that's exactly what Slater brings to the table. On one rush, he'll sashay around a defender and leave him in his wake. The next time down the ice, he'll run the same guy over. He constantly frustrates opponents with his Swiss Army knife-like versatility that allows him to adapt to a variety of situations.

And while he's responsible in his own end, he's got the smarts and the vision to know when he can escape the defensive zone, gather in an outlet pass from a teammate and create a scoring opportunity going the other way.
BEST NEWCOMER
It's not a great year for impact freshmen in the CCHA. In fact, it's safe to say that there's probably no one who deserves to wear that label. But unlike a really tough question on an essay test, this section can't be left blank.
Whether he's the best newcomer is up for discussion, but Bowling Green's Jonathan Matsumoto, one of the leading scorers in Ontario's Provincial Junior Hockey League last season, is a prime candidate for most intriguing freshman. One assistant coach at a rival CCHA school called the Orleans, Ont., native one of the country's top five rookie forwards. He'll be charged with helping to spark the Falcons' offensive attack, which generated just 92 goals in 2003-04.
UNSUNG PLAYERS
Playing for Michigan must be a lot like taking part in the "We Are The World" recording session back in the mid '80s. For example, Huey Lewis was one of the world's top recording artists at the time. He was at the top of his game. But you see him on the video for "We Are The World" and you think to yourself, 'Hey, great…Huey Lewis," because he's standing next to Bob Dylan and Bruce Springsteen.

The Wolverines' Andrew Ebbett and Brandon Kaleniecki could empathize with Lewis. Both had tremendous sophomore seasons – Ebbbett was fifth in the CCHA in assists (28) while Kaleniecki was third in the league in goals (20) – but they're standing next to Tambellini, Nystrom, goaltender Al Montoya and the like. Certainly, Michigan fans appreciate the duo's efforts.

THREE BURNING QUESTIONS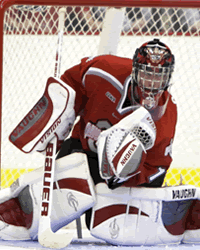 David Caruso enters the season as the incumbent in goal for defending CCHA playoff champion Ohio State.
1. Can Miami, Notre Dame and Ohio State return to the NCAA Tournament this season? These three teams, along with Northern Michigan, seem most likely to emerge from the mosh pit that spots three through nine in the CCHA appears to be this season. Whereas the Wildcats return nearly every key component from last year's team other than goalie Craig Kowalski, the RedHawks, Fighting Irish and Buckeyes bid farewell to large, talented senior classes, but welcome back tested veterans in goal. All three teams will expect freshmen to contribute right away, but Notre Dame's Poulin says getting returnees to expand their roles is more important to the team's success.

"The question becomes who in the group…steps up, and what impact does that person make?" Poulin explained.

If that's the case, we like Miami's chances for a return to the postseason behind Christie, Guerin, Greene and Crawford-West. And while Notre Dame has an advantage over Ohio State in goal, it'll likely take some time for the Fighting Irish to find the right mix of newcomers in the lineup, especially on the blue line. The Bucks have the edge overall, but their postseason chances are still iffy.

2. Is Eric Nystrom really Michigan's captain? That's what Berenson told those attending the league's Media Day this week. It seems crazy that a player most feel has been an underachiever in each the last two seasons would be put in such a position, but the ol' coach's track record speaks for itself. Berenson feels Nystrom can be a captain of Jed Ortmeyer's ilk, which is pretty high praise. The hunch is that this might be the spark Nystrom needs to revert back to the form he displayed as a freshman, when he scored 18 goals and 31 points.
3. Is the CCHA serious about cracking down on obstruction? Considering that league commissioner Tom Anastos spent about 45 minutes discussing an NCAA-wide emphasis on strict interpretation of obstruction rules, that's a resounding yes. Anastos said the goal is to get referees to consistently enforce the rules as they're currently written for the entire season, as opposed to the regular season but not the playoffs. All six Division I conferences are taking the same steps in the hopes that an across-the-board standard for such infractions can be created.
MARK IT DOWN
Five things you can take to the bank in the CCHA this season
1. Notre Dame will play anyone, anywhere, anytime. The Fighting Irish add some spice to the CCHA schedule with a trio of intriguing neutral site games. Notre Dame faces Michigan Tech in Green Bay Jan. 18, meets Wisconsin at Allstate Arena in Rosemont, Ill., Jan 22, and plays Michigan at Allen County War Memorial Coliseum Feb. 18. You'd think a team that was 14-2-2 at its home rink last season would want to play there as many times as possible, but Poulin says there's a purpose behind the scheduling.

"It prepares you for [NCAA] Regional-type atmospheres," Poulin explains. "We're going to have close to 11,000 people in Fort Wayne. Our Chicago crowd…we drew close to 7,000 against Yale two years ago. Allstate Arena thinks they're going to fill the place against Wisconsin."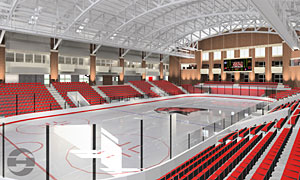 2. Speaking of home rinks, Miami's new arena will send a wave of 'RedHawk envy' through the league. Unlike the WCHA, the CCHA hasn't experienced a rash of new rink construction outside of the cavernous, multi-purpose facilities at Ohio State and Nebraska-Omaha. Work on a new arena at Miami, which started in August and should be completed in time for the 2006-07 season, should spur other schools to at least think about replacing their arenas.

"What it does is it shows recruits and it shows everyone in the league that Miami is committed and Miami wants to be the best," coach Enrico Blasi says. "It raises expectations, and that's good."

The yet-to-be-named venue will house two NHL-size ice sheets, including a main arena that will seat roughly 3,200 for hockey, a total that includes club seating and private suites. In a nod to Goggin Ice Arena, the RedHawks' current home, the new rink will have student standing areas behind both goals.

3. Nebraska-Omaha is on the way back up. That doesn't mean the Mavericks will challenge for an upper-division finish this season. Heck, UNO might not escape the CCHA basement. But there is a light at the end of a tunnel for hockey fans in the dusty old cowtown.

75 percent of coach Mike Kemp's roster consists of freshmen and sophomores. In that group are sophomore goalie Chris Holt, who impressed scouts at this summer's USA Hockey World Junior Championship tryout camp. Scott Parse scored 35 points during his rookie season and classmate Kaleb Betts added 22. They'll get help this season from a solid crop of freshmen that includes forwards Mick Lawrence, Bryan Marshall, Bill Thomas and Brandon Scero.

4. Someone asks Bowling Green's Michael Hodgson why he doesn't wear No. 6. The freshman defenseman hails from Surfside, Calif. "Surfside Six" was a detective show starring Troy Donahue that ran on ABC in the early '60s. That's what the Internet said, anyway. For the record, senior defenseman Taylor Christie wears No. 6 for the Falcons. Hodgson will don No. 2.

5. The CCHA sends four teams to the NCAA Tournament this season. Michigan State coach Rick Comley believes that, like last season, five CCHA teams will advance to the national tournament. It's certainly possible, but not probable. Michigan and Comley's Spartans are virtual locks, while Northern Michigan and Miami are pretty good bets. Ohio State and Notre Dame will be close, but fall just short.
Predicted Finish

No.

School
Of Note

1.

Michigan
If the Wolverines aren't playing in Columbus in April, consider the season a letdown.

2.

Michigan State
Now in his third year in East Lansing, Rick Comley has his players in place. They'd better produce, because the natives are getting restless.

3.

Miami
Why build a new barn? RedHawks enter the season with a 15-game (13-0-2) unbeaten streak at Goggin Ice Arena.

4.

Northern Michigan
Craig Kowalski is gone, but defensemen Jamie Milam, Nathan Oystrick and Geoff Waugh will make life easier for goaltender Tuomas Tarkki.

5.

Ohio State
The Buckeyes don't visit Ann Arbor this season, denying Yost Ice Arena fans to shower pint-sized pest Andrew Schembri with their "Dirty Hobbit" cheer.

6.

Notre Dame
Poulin says senior goaltender Morgan Cey is the healthiest he's been since arriving on campus. Throw in David Brown and the Irish boast a formidable one-two punch in goal.

7.

Bowling Green
We're guessing the improved Falcons will let Jordan Sigalet catch his breath and not need him to make 1,100 saves this season.

8.

Ferris State
A bunch of guys had career years in 2002-03 when they won the CCHA title. Last season, a bunch of guys slumped. This time around, they fall somewhere in the middle.

9.

Nebraska-Omaha
'Pen pals: Mavericks will play two games in raucous Civic Auditorium this season.

10.

Alaska- Fairbanks
New beginnings: First-year head coach Tavis MacMillan welcomes 11 freshmen to the Last Frontier this season.

11.

Western Michigan
With guys like Pat Dwyer, Vince Bellissimo and Brent Walton up front, they'll score. Problem is, their opponents will score more.

12.

Lake Superior State
Lakers' roster features two players named Derek Smith. What they need is two Jeff Jakaitis's (2.13 GAA, .913 sv%).

Send this to a friend
About Us | Advertiser Info | Site Map | Privacy Policy
© 2002-04 Inside College Hockey, Inc., All Rights Reserved