September 30, 2004
2004-05 ECACHL Preview
By Joe Gladziszewski

THE SKINNY
The purpose of writing a season preview is to tell you what you should expect once the regular season begins in just a few days. Followers of the ECAC Hockey League know that predicting the future in this league is practically impossible. Recent seasons have seen ECACHL teams move up and down the standings with great regularity. Nine of the 12 league members have advanced to the league's championship weekend over the last four years. This year, Cornell earned enough points to finish first in the league's preseason coaches' poll, but only earned four of the 12 available first-place votes.
It's safe to say that pattern will continue this year. Some of the factors that have made this league so hard to grasp over the past few years are casting a shadow as the teams prepare for this go-around.

As always, teams face the problems caused by star players leaving programs through graduation and early departures for the professional ranks.

Following a year in which four new coaches stepped into the league, there's more coaching turnover. Guy Gadowsky is in charge at Princeton and comes into the league as a truly new face after coaching Alaska-Fairbanks in the CCHA for the last five years. Don Vaughan is back behind the Colgate bench after stepping away last year to serve as the university's interim athletics director. Harvard's got a new coach too, but it's a familiar face as former Crimson captain and All-American Ted Donato makes his rookie foray into coaching after a 13-year NHL playing career.

While we might not be able to forecast the future, we can tell you all about the issues that teams face and introduce you to the key characters as we prepare to begin another exciting, unpredictable season.

BREAKTHROUGH TEAM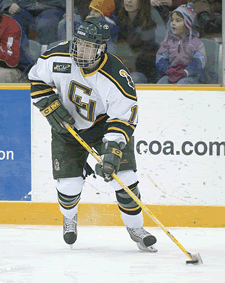 Clarkson returns its top three point-getters from last year, including leading scorer Mac Faulkner.
This breakthrough started last March, and it's almost unanimously believed that Clarkson will continue its ascent back to national prominence this season. The Golden Knights hired George Roll in the spring of 2003, and he and assistant coaches Greg Drechsel and J-F Houle put together a quality recruiting class in short order. This year's class is even better, ranked ninth in the nation by INCH, and will help Clarkson build on last year's momentum.

The Golden Knights finished ninth in the regular season standings before beating Union and Cornell on the road and then knocking off Colgate in the playoff semifinals. Harvard scored the game-winning goal in the final minute of the championship game to end Clarkson's run for that season, but look for Clarkson to pick up where it left off as this season begins.
PRIMED FOR A FALL
After years of futility, the Brown Bears rode Yann Danis to the upper reaches of the ECAC Hockey League standings. Danis is gone, and so are Brent Robinson and Scott Ford. Robinson led the team in scoring last year and Ford was named the conference's best defensive defenseman. Coach Roger Grillo's recruiting class included nine new faces, headlined by LA Kings draft pick Paul Baier. With a young lineup and uncertainty in goal, Brown will be hard-pressed to finish in the upper-half of the league standings, as the Bears have done for three consecutive seasons.

PRESSURE TO PERFORM
In an era when computer rankings are a large component of NCAA Tournament selection, non-conference winning percentage is extremely important in helping conferences secure at-large bids. The 12 ECACHL teams can help one another gain NCAA berths by performing well in the regular season against the big boys from the WCHA, CCHA, and Hockey East.

TOUGHEST ACT TO FOLLOW
When Colgate's Don Vaughan looks over his shoulder, literally, he'll see Stan Moore standing at the other end of the bench. Moore stepped in as interim head coach while Vaughan helped the athletic department in another capacity. Moore said he was "borrowing the car" but he took it on quite a ride, with Colgate winning the regular season championship after being picked eighth in last year's preseason polls.

Colgate returns the bulk of its personnel from last year and Vaughan returns to the bench with high expectations surrounding this Raider team. Vaughan and Moore are a team — there's no internal competition for the head coaching job — but Moore's turn in the driver's seat will be tough to match..
BEST PLAYER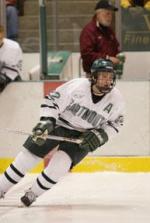 Dartmouth's Lee Stempniak is considered one of the early favorites for the 2005 Hobey Baker Award.
Before the 2003-04 season, a survey of ECAC coaches saw several outstanding players mentioned in a discussion determining just who was the best overall player. The last coach asked, Dartmouth's Bob Gaudet, wasn't shy about stumping for then-junior forward Lee Stempniak, who then went out and backed up his coach's opinion by earning first-team All-America honors last year. Stempiak's back for the Big Green and will captain the team as it seeks to fill a vacant trophy case (see Burning Question No. 1 below).
BEST NEWCOMER
In this space last year we spoke about Clarkson defenseman Matt Nickerson, who went on to annoy opponents for half of his freshman season and the other half in the penalty box. His tenure at Clarkson ended when he signed a professional contract with the Dallas Stars this summer. Once again we'll take a look at a Clarkson rookie as forward Shawn Weller is the key piece in an excellent recruiting class. Like Nickerson, Weller is big and strong and plays with an edge. He'll have to play with more discipline to make a more positive impression on Clarkson's fortunes.

UNSUNG PLAYER
In our A-to-Z profiles at the end of the summer, we looked at several unsung players bound to play an important role in their team's fortunes this year including Dartmouth's Mike Oullette, Colgate's Mike Campaner, and Brown's Les Haggett.

Harvard defenseman Ryan Lannon is another in that mold as he shows up and does his job every night on the Harvard blue line. Crimson coach Ted Donato has promised to open up the offense a bit this season, which will put more pressure on Harvard's defensemen. Lannon is one of the backliners that Donato can count on in the early going.

THREE BURNING QUESTIONS

1. How will Dartmouth react to being favored to win the league? The Big Green has never won the ECAC regular season or playoff championship. A pair of second-place tournament finishes in 1979 and 1980 have been Dartmouth's best showing, and those are the most recent years that the Big Green has qualified for the NCAA Tournament (they were also runners-up in '48 and '49). With 90 percent of Dartmouth's point production returning and Dan Yacey's steady play between the pipes, the Big Green has a legitimate shot at ending the championship drought this year
2. Who will pick up Brown's goaltending duties with Yann Danis lost to graduation? Like Michigan State's Ryan Miller and Cornell's David LeNeveu before him, Yann Danis was one of three "Hobey Hat Trick" finalists for the most prestigious individual award in our sport. And Danis heard the same rumblings from skeptics — were his gaudy stats a true reflection on his ability, or a byproduct of a defensive-minded system? None of that matters now that Danis is gone. Brown will look to senior Scott Rowan, the most experienced netminder on the roster with just three games played in his collegiate career. Junior Kevin Kliman and freshman Adam D'Alba will push Rowan for playing time.
3. Can Kevin Croxton lead Rensselaer in scoring for the third straight year? You may have read about Croxton in our A-to-Z profiles. He's probably the least-heralded of the league's top point-producers, but Croxton deserves to be mentioned in the same breath as Hugh Jessiman, Matt Moulson, Tom Cavanagh, and T.J. Trevelyan. RPI coach Dan Fridgen loves Croxton's attitude and will need a big year from the junior as the Engineers were particularly hard-hit by graduation this year.
MARK IT DOWN
Five things you can take to the bank in the ECACHL this season
1. There will be happier faces around Cambridge, Mass., this year now that they've got one of their own leading the way. Ted Donato is a Boston guy and a Harvard guy. Former coach Mark Mazzoleni's tenure at Harvard brought a measure of success, but he never really fit in to the Beanpot scene.
2. Colgate was picked to finish eighth in last year's preseason polls but several Raiders came through with career-type seasons. Forwards Jon Smyth, Adam Mitchell, and Kyle Wilson and goaltender Steve Silverthorn led the way. If that quartet can match last year's production, Colgate will be in the mix for the ECACHL championship once again.
3. The Lynah Faithful will love freshman Ray Sawada. No group of fans shows greater appreciation for the dirty work along the boards and in front of the net. Here's what Sawada told INCH after being selected by the Dallas Stars in the second round of the NHL Entry Draft this past summer when asked if he's ready for the transition from the wide-open British Columbia Hockey League to the ECACHL: "I like to bang and grind and clutch and grab."
4. With a travel partner scheduling system in place, it's always fun to debate which road trip is the toughest in the ECACHL. Heading into the season it looks like the Cornell/Colgate trip takes the cake in terms of overall strength. The other pairings feature one "have" and one "have not."
5. Vermont will be missed when the Catamount program leaves the ECACHL and joins Hockey East after this season. Burlington and Gutterson Arena make for one of the best road trips in the league. While the team has struggled on the ice, the program's history and enthusiastic fan base are wonderful assets.
Predicted Finish

No.

School
Of Note

1.

Dartmouth
Everything's in place for the Big Green to win a first ECAC Hockey League championship.

2.

Colgate
Last year's surprise team won't be able to sneak up on anyone this year. Led by Silverthorn in goal, they won't have to.

3.

Clarkson
Veterans in key places and youngsters contributing throughout the lineup have the Golden Knights on track for a return to league and national prominence.

4.

Harvard
The talent base is still there, and an influx of Donato's enthusiasm should have the Crimson primed for a good season.

5.

Cornell
They're not going to allow many goals. They never do. But with Ryan Vesce gone, they're not going to score many either.

6.

Yale
No team would benefit more from the anticipated officiating emphasis on open-ice play than the Bulldogs, especially high-flying junior forwards Christian Jensen, Joe Zappala, and Jeff Hristovski.

7.

Union
The top-eight scorers return for the Dutchmen, but they'll all need to pick up the pace as Union finished last year with the fewest goals scored in conference play.

8.

Rensselaer
Most people are excited to see their kids in a cap and gown. Dan Fridgen certainly wasn't when Scott Basiuk and Nathan Marsters walked across the stage.

9.

Brown
Roger Grillo led the U.S. Under-18 team earlier this fall, and members of the team contracted food poisoning. It might have been a good rehearsal. Grillo's got another young team to lead and it could produce an upset stomach.

10.

Vermont
The Catamounts have plenty of star power with Jaime Sifers and Brady Leisenring leading the way. Don't expect charity from the rest of the league on Vermont's farewell tour.

11.

St. Lawrence
It's the same story at SLU with T.J. Trevelyan, Drew Bagnall, and Mike McKenna. Problem is, they don't have much depth.

12.

Princeton
New coach Guy Gadowsky raves about his new campus surroundings. At least he'll have that to enjoy as he undertakes a huge rebuilding project.

Send this to a friend
About Us | Advertiser Info | Site Map | Privacy Policy
© 2002-04 Inside College Hockey, Inc., All Rights Reserved