October 5, 2004
2004-05 CHA Preview

By James Jahnke
THE SKINNY
College Hockey America was the epitome of the caste system last year. There were the haves (Niagara, Bemidji State and Alabama-Huntsville) and the have-nots (Air Force, Findlay and Wayne State). And, as though the levels were decided by their birthrights, they ain't gonna change.

At least not this year. With the notable exception of welcome newcomer Robert Morris replacing folded Findlay, the CHA pecking order isn't much different than it was six months ago.

Bemidji State and Niagara will duke it out for the top spot. Almost-there UAH will be lurking just a half-step off the pace. Lagging behind those three is the battle between WSU, Air Force and RMU to lose the fewest games.

Or so it looks on paper. But the beauty of hockey is its unpredictability, right? Maybe in 370 days or so, we'll watch a championship banner being hoisted to the top of the Island Sports Center in Pittsburgh. Maybe. But don't bet on it.

Do bet on conference schools continuing to eyeball greener pastures, though. Already, 50 percent of the league has openly expressed interest in joining other conferences (and you know that if, say, the CCHA invited Wayne State, the Warriors wouldn't politely turn it down), leaving the CHA in a sticky position. It doesn't take much pessimism to think that this season could be the CHA's swan song.

But let's not dwell on the negative (although before we move on completely, note that Bemidji State's second-leading scorer from last year, Riley Riddell, is suspended from the team and facing third-degree criminal sexual conduct charges). The good news is that the CHA season is nearly upon us...and there's no threat of a lockout.
BREAKTHROUGH TEAM
For having the best player in the league (Jared Ross), the best defenseman in the league (Jeremy Schreiber), an experienced goaltender (Scott Munroe) and a slew of returning forwards, Alabama-Huntsville isn't getting a lot of love from the preseason prognosticators. Like 82 percent of the Big Ten, such is life when you're in a league with the Big Two. But if any team has the credentials to steal the crown from Niagara and Bemidji State, it's your friendly neighbor to the south. Coach Doug Ross (Jared's father) shouldn't lack for scoring this season, as his son paces a strong front line. The main question mark is Munroe, who won the No. 1 job as a freshman only to let then-senior Adam MacLean pilfer half the playing time last season. Now a junior, Munroe must step up and be stout – particularly during UAH's meetings against the Beavers and Purple Eagles.
PRIMED FOR A FALL
Year One of Air Force's two-year rebuilding project went so well (the 14 wins over Division 1 teams tied a school record), that expectations for Year Two could be inflated. But the Falcons still are very young and could struggle to replace senior forwards Shane Saum and Spanky Leonard and starting goalie Mike Polidor. Sophomore Peter Foster looks like an able replacement for Polidor – if he handles the psychological requirements of being the main guy. But outside of the crease is a different story. Goals probably will be hard to come by, and the defense is susceptible to the better rushes in the league. The Falcons were in fourth place most of last season, but duplicating that feat would be a coup.

PRESSURE TO PERFORM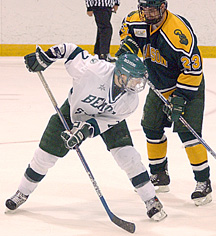 Brendan Cook and Bemidji State were the top seed in last year's CHA Tournament, but lost to Niagara in the championship in overtime.
Skating-wise, Bemidji State matches up favorably against anybody in the league (and plenty of teams in the Big Four conferences). But where co- favorite Niagara might have an advantage is between the pipes with Jeff Van Nyanatten. That's why plenty of northern Minnesota eyes will be fixed on Beavers goalie Layne Sedevie, who takes over for graduated Grady Hunt, this season. If Sedevie can maintain the high level of goaltending Bemidji has enjoyed in recent years, the peppy Beavers forwards can concentrate on what they do best: making fools of opposing goalies.

TOUGHEST ACT TO FOLLOW
Air Force had a positive 2003-04 season in no small part because of the attitude that captains Saum and Leonard instilled in the locker room. With them, Frank Serratore pretty much had two extra assistant coaches on his staff – and he didn't even have to pay them (we don't think). But Saum and Leonard have moved on, creating a Mark Mangino-sized leadership void in Colorado Springs. Senior defenseman Steve Mead steps into the captain's role this year, and his efforts will be integral to building the bridge between the Falcons' tempered present and brighter future.
BEST PLAYER

With all due respect to Niagara's Barret Ehgoetz, Jared Ross gets the nod here. Ross is a threatening force every time he's on the ice because his combination of speed, quick hands and hockey intuition is good enough to play for any team in the nation. He's been the Chargers' No. 1 threat since the day he took his first shift, and that won't change. Ehgoetz brings similar abilities to the rink (although his UAH counterpart might have a slight edge in a skills competition), but where Ross really has the advantage is in his value to the team. Niagara could carry on without Ehgoetz. UAH couldn't without Ross.
BEST NEWCOMER
There has been a considerable buzz surrounding Bemidji State freshman forward Jake Bluhm this preseason. The Red Wing, Minn., native played juniors in Fairbanks (NAHL), where he led the team in scoring last year. And he certainly struck the fancy of one opposing junior coach, who said, "He should have been able to name his school. It's a joke that he's not playing for Michigan or BC." Here's guessing you won't hear anyone complaining near the Paul Bunyan statue for the next four years.
UNSUNG PLAYER
Last year, Niagara forward Justin Cross played on the first line at times. And the second line. And the third line. And the fourth line. He even was a healthy scratch early in the season. Regardless, he still put up 29 points in 34 games, ranking fourth on the team in scoring, and netted a team-high four game-winners. Not bad for a player who's been skating in the shadows of Ehgoetz and Joe Tallari ever since he arrived from Camarillo, Calif.

"Justin's in such great shape," Niagara coach Dave Burkholder said. "He's trained really hard, and now he's found an extra step. He's one of the most skilled guys on our team when he has the puck on his stick, so when you combine that with his extra step, he's very dangerous." Consider yourself warned.

THREE BURNING QUESTIONS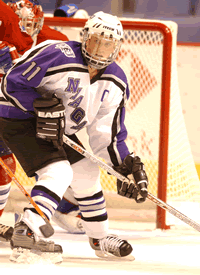 Niagara, led by senior captain Barret Ehgoetz, returns 20 players from last year's NCAA Tournament qualifier.
1. Will Robert Morris escape the CHA cellar? Hey, why not? The Colonials have nothing to lose, and talent-wise, they rank in the middle of the conference. Inexperience is working against them, but expect coach Derek Schooley to have his team playing hard every shift. It wouldn't take much luck to finish fifth this season.

2. Will there be a CHA next season? Let's hope so. The last thing college hockey needs is a conference to fold. Robert Morris bailed out the CHA by replacing Findlay this season and keeping the league's enrollment at the NCAA's magic number of six. But the Colonials and Air Force have expressed interest in joining Atlantic Hockey, and Niagara put in an unsuccessful bid to hook up with the ECACHL. It's clear that teams are looking to jump ship whenever possible, and with no known school joining the Division I ranks next season, the CHA might have trouble replacing a deserter.
3. Will Wayne State come together as a team? Last year's Warriors never seemed to unite as a single-minded force. Part of it was youth, with a huge freshman crop replacing a core of trusted seniors that had guided the team to the NCAA tournament the year before. The other part of it were injuries, which seemed to hit Wayne State as hard as any team east of the Plains. More roster shakeups jolted the program this offseason, with juniors Nathan Rosychuk and Billy Collins signing with pro teams, sophomore Derek MacKay leaving school and senior Aaron Hundt deciding not to return for his fifth year. But, perhaps, those who are left will become even tighter in the face of adversity.
MARK IT DOWN
Five things you can take to the bank in the CHA this season
1. Findlay transfers will play a large role in determining the league outcome. Kris Wiebe brings equal amounts of grit, talent and leadership to a strong Niagara program. Will Hooper will be a major player in Wayne State's crease. And Kurt Wright becomes one of Robert Morris' few veterans.
2. Jared Ross will be one of the 10 semifinalists for the Hobey Baker Award, but won't make the Hobey Hat Trick cut. Complain about "Big Four" bias if you'd like, but Ross' presumably impressive statistics won't be enough to overcome the lack of respect for the CHA among voters.

3. They can say it won't be, but the Riley Riddell situation will be a distraction for Bemidji State until it's resolved. Taking Riddell's production out of the lineup is one thing. But trying to look past what could be a painful legal process for a friend and a teammate is even tougher.
4. More "Big Four" schools will fall victim to CHA squads. This pretty much goes without saying. As the quality of play in the CHA improves each year, more of these upsets are bound to happen. Watch out, MSU-Mankato (vs. Bemidji Nov. 5-6), Lake Superior State (vs. Bemidji Dec. 3-4), Vermont (vs. Niagara Oct. 22-23) and Western Michigan (vs. Niagara Nov. 5-6) in particular.
5. Pittsburgh will prove to be a welcome addition to the college hockey world. Pittsburgers (if that's not what they're called, they should be) will welcome the Colonials' work ethic, talent and lack of threats to move to Winnipeg.
Predicted Finish

No.

School

Of Note

1.

Niagara

Ambitious nonconference schedule (UMass Lowell, Maine, Vermont, Clarkson, Western Michigan, Massachusetts) will hone Purple Eagles for league play.

2.

Bemidji State

Loss of star defensman Bryce Methven will hurt more than many believe.

3.

Alabama-Huntsville

Chargers defenseman Jeremy Schreiber: "We can be just as good as Bemidji, maybe better. We've been to the (league) dance for years, but we're bridesmaids every time. We have to get out of the league. That's our Achilles' heel."

4.

Wayne State

Addition of former Findlay goalie Will Hooper will spare the Compuware Sports Arena nets further abuse.

5.

Air Force

Defenseman Brooks Turnquist is thisclose to being an all-league performer.

6.

Robert Morris

Newbies have to prove they don't belong at the bottom.

Send this to a friend
About Us | Advertiser Info | Site Map | Privacy Policy
© 2002-04 Inside College Hockey, Inc., All Rights Reserved