INCH UPDATE DESK
April 30, 2007
Danton Cole Named Alabama-Huntsville Coach
Ex-Michigan State standout tabbed to succeed Ross.

Bowling Green assistant coach Danton Cole was introduced as head coach at Alabama-Huntsville Monday, taking over for Doug Ross, who retired in March after a quarter-century behind the Charger bench.
"I was in pro hockey for 17 years as a player and coach and a lot of the reason I wanted to come back [to college hockey] was the culture and the people that are involved," Cole, 40, said at the press conference announcing his hiring. "I did want to get back to being a head coach and this is a great spot and some good things are going to happen."
The Pontiac, Mich., native spent three seasons as head coach of the American Hockey League's Grand Rapids Griffins, compiling a 116-72-17 record for the Detroit Red Wings' top minor league affiliate. He was also a head coach in the United Hockey League for three seasons, including one season with the Muskegon Fury when he guided the franchise to the 2002 league championship.
Cole was a four-year letterwinner at Michigan State from 1985-89 and won an NCAA championship with the Spartans in 1986. He enjoyed an 11-year professional playing career that included stints in the NHL with Winnipeg, Tampa Bay, New Jersey, the New York Islanders, and Chicago. He was a member of New Jersey's first Stanley Cup championship team in 1995.
April 28, 2007
Boston U., Cornell Set MSG Match for Nov. 24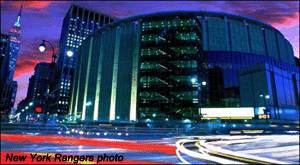 College hockey returns to the Big Apple when Madison Square Garden hosts a Nov. 24 matchup between Boston University from Hockey East and Cornell from the ECAC Hockey League. It will be the first Garden appearance for both schools, and the first collegiate game at the Garden since 2003.
"We think this is a great opportunity to not only reach out to our schools' alumni, which number over 60,000 in the tri-state area, but to bring some hard-hitting, exciting college hockey to New York City,'' said BU athletic director Mike Lynch.
"I expect [it] will be one of the most anticipated college hockey games of the season,'' said Cornell athletic director Andy Noel.
BU (20-10-9 last season) placed third in Hockey East. The Terriers needed three games to dispose of Vermont in the opening round of playoffs, and lost to Boston
College 6-2 in the semifinals. BU bowed to Michigan State in the NCAA
Midwest Region semifinals. Cornell (14-13-4) finished tied for fourth in the ECAC and was swept by Quinnipiac in the opening round of playoffs. Combined, the two schools have produced 80 NHL players.
– Ken McMillan
April 28, 2007
Maine's Purcell Signs With L.A. Kings
Maine forward Teddy Purcell signed a multi-year contract with the Los Angeles Kings Friday, becoming the latest in a string of underclassmen signed by the NHL franchise during the last month.
Purcell, Inside College Hockey's Freshman of the Year, scored 16 goals and added 27 assists for 43 points in 40 games with the Black Bears. He was also named Hockey East Rookie of the Year.
The Kings have signed four college underclassmen to contracts since late March. Purcell joins goaltender Jon Quick (Massachusetts) and defensemen Jack Johnson (Michigan) and Joe Piskula (Wisconsin) on that list.
April 22, 2007
Alabama-Huntsville Names Five Finalists for Head Coaching Job
Alabama-Huntsville has announced a field of five finalists in the running to become the school's next hockey coach. The list includes Tom Carroll, head coach at Division III New England College, and four current college assistants — Tim Christian (Lake Superior State), Danton Cole (Bowling Green), Doc DelCastillo (Nebraska-Omaha), and Lance West (Alabama-Huntsville).
Of the assistants, only Cole has prior head coaching experience. The Michigan State graduate, who was a member of the Spartans' 1986 NCAA championship team, spent three seasons as head coach of the American Hockey League's Grand Rapids Griffins and three years with United Hockey League teams in Muskegon and suburban Detroit.
According to a press release issued by the school, on-campus interviews will conclude this week and the search committee will present one or more top candidates to UAH president Dr. Frank Franz and athletic director Jim Harris. The school expects to name its new coach early next month.
The Chargers are searching for a replacement for coach Doug Ross, who retired after 25 years behind the bench following his team's loss double-overtime loss to top-ranked Notre Dame in the first round of the NCAA Midwest Regional last month.
April 19, 2007
Johnson Signs With Blues, Leaves Gophers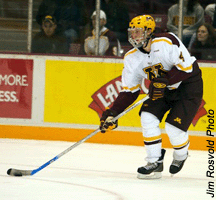 Minnesota defenseman Erik Johnson, the top overall pick in the 2006 National Hockey League entry draft, signed with the St. Louis Blues and will forgo his remaining three seasons of college eligibility.
"I had a great time playing for the University of Minnesota and would like to thank all my teammates and coaches," Johnson said in a statement. "It was the right time for me to make the decision to turn pro with the St. Louis Blues and I cannot wait for the season to start."
According to Thursday's St. Louis Post-Dispatch, Johnson agreed to a three-year, entry-level deal with the Blues that would pay him $765,000 annually with a $85,000 signing bonus. The newspaper reports that Johnson could earn as much as $3.7 million per year with incentives, but is more likely to make in the neighborhood of $2 million by reaching reasonable benchmarks.
The 19-year-old native of Bloomington, Minn., scored four goals and added 19 assists in 39 games with the Golden Gophers in 2006-07. He was named to the WCHA's all-rookie team and INCH's freshman All-American team.
Johnson has been invited to play for the U.S. team at the IIHF World Championship in Moscow later this month. Earlier this year, Johnson was named best defenseman at the IIHF World Junior Championship, leading the U.S. with four goals and six assists in seven games.
April 16, 2007
College-Laden Roster to help United States at Worlds
Two current college players and 15 others with collegiate experience are among the preliminary roster for the United States at the upcoming IIHF World Championships in Russia, which will be held from April 27 through May 13.
Boston College goalie Cory Schneider and Miami forward Nathan Davis are the current collegians on the preliminary U.S. roster, which was announced Monday.
Ten of the 11 forwards named to the prelimiary roster have college ties. Joining Davis are Tyler Arnason (St. Cloud State), David Backes (Minnesota State), Brandon Bochenski (North Dakota), and former Clarkson forwards Erik Cole and Chris Clark. Phil Kessel (Minnesota), Toby Petersen (Colorado College), Paul Statsny (Denver), and Lee Stempniak (Dartmouth) will also wear the red, white, and blue.
All five defensemen on the roster are ex-collegians: Andrew Alberts (Boston College), Keith Ballard (Minnesota), Matt Greene (North Dakota), Jack Johnson (Michigan), and Brian Pothier (Rensselaer).
Schneider's goaltending partner is John Grahame (Lake Superior State).
Update: Added to the team after the preliminary roster was announced were defensemen Andrew Hutchinson (Michigan State), Erik Johnson (Minnesota), and Ryan Suter (Wisconsin), forward Adam Hall (Michigan State), and goalie Jason Bacashihua.
Forward Jonathan Toews (North Dakota) will skate for the Canadian team. He'll be joined by ex-collegians Mike Cammalleri (Michigan), Mike Commodore (North Dakota), Jamal Mayers (Western Michigan), and Dwayne Roloson (UMass Lowell).
April 10, 2007
Notre Dame's Jackson Wins Spencer Penrose Award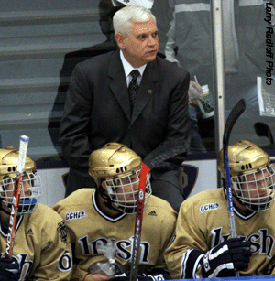 Notre Dame head hockey coach Jeff Jackson has been chosen as the winner of the 2007 Spencer Penrose Award as the Division I hockey coach of the year. It's the first time that Jackson has won the Spencer Penrose Award, and he's also first Notre Dame hockey coach to be receive the award.
In his second season at Notre Dame, Jackson led the Irish to their best-ever showing with a 32-7-3 overall record and a 21-4-3 mark in the CCHA and the program's first-ever regular season title and tournament championship. They were the top-ranked team in the nation from Feb. 5 through March 19 and were the top seed in the NCAA Midwest Regional. The 2007 CCHA Coach of the Year, Jackson guided the Irish to their second NCAA tournament appearance ever and the first-ever win, a 3-2 double-overtime victory against Alabama-Huntsville March 23 in the first round of the Midwest Regional. Notre Dame's season ended on March 24 in a 2-1 loss to eventual NCAA champion Michigan State March 24.
Jackson will be honored at the American Hockey Coaches Association's coach of the year awards banquet held in Naples, Fla., later this month.
April 2, 2007
SCSU's Gordon to Sign With Washington
St. Cloud State forward Andrew Gordon, a first-team All-WCHA selection as a junior this season, has decided to forgo his senior season to sign with the NHL's Washington Capitals.
Gordon led the Huskies in goals with 22 and was second behind linemate Andreas Nodl with 45 points in 40 games this season. He was a seventh-round selection of the Capitals in the 2004 NHL Entry Draft. His former junior teammate and former Wisconsin forward Andrew Joudrey signed with the Capitals last week.
INCH Update Desk Archives: March | January
2006: December | November | October | September | August | July | June | May | April | March | February | January
2005: December | November | October | September | August | July | June | May | April