INCH UPDATE DESK
UPDATED: June 19, 2007
Axtell Dismissed From Michigan Tech, May Land at Northern

Forward Phil Axtell will not return for a second season at Michigan Tech after being dismissed from the team at the end of his freshman season. INCH has learned that the native of New Windsor, Md., was suspended prior to the Huskies' appearance in the WCHA playoffs and later was dismissed from the team for violations of team rules.
"It's unfortunate, but we wish him the best of luck," Huskies coach Jamie Russell told INCH. Russell declined to elaborate on Axtell's actions, citing student privacy concerns.
Northern Michigan coach Walt Kyle confirmed he has spoken to Axtell about a transfer, and said that while papers have not yet been signed, if Axtell agrees to
meet some expectations, Kyle anticipates that the forward will be in school in
Marquette in the fall.
Listed at 6-5, 240, Axtell was one of the WCHA's bigger players last season, and notched a pair of goals and seven assists in his 27 collegiate games.
June 13, 2007
Cornell's Tony Romano Opts for OHL

The London Knights of the Ontario Hockey League announced that they have reached a contract agreement with former Cornell forward Tony Romano, who finished his freshman campaign in Ithaca with 19 points to rank tied for fifth on the team in scoring.
Romano, a native of Smithtown, N.Y., had nine goals and 10 assists in 29 games for Cornell, but 13 of his 19 points on the year came prior to Jan. 1.
In a statement on the London Knights' official Web site, Romano cited the limited number of games played in college as a reason for the switch.
"I know what I'm leaving but you only play 30 games at Cornell and it takes more than that to get to the next level," Romano said at londonknights.com. "I was used to playing 60, 70 games a season so it was a big change for me. I love hockey and I want to play as many games as I can."
Romano was a sixth-round pick of the New Jersey Devils in the 2006 NHL Entry Draft.
June 9, 2007
Alaska Hires Doc DelCastillo as Head Coach

Doc DelCastillo will be the seventh head coach in the history of the Alaska Nanooks. He was announced as the program's new head coach on Friday after having served the last five years as an assistant coach and lead recruiter at Nebraska-Omaha.
DelCastillo is familiar with the demands of the program in Fairbanks. UNO was the Mavericks' travel partner in the CCHA. DelCastillo also played and coached at St. Cloud State University. Alaska, UNO, and St. Cloud State all compete in Division I ice hockey while the rest of the university's athletic programs play at the Division II level.
"I have spoken with hundreds of people during the search process," said UAF Director of Athletics Forrest Karr. "Everyone has different opinions, but everyone that knows hockey agrees on one thing - Doc DelCastillo is an excellent role model and an outstanding hockey coach. Doc will not get outworked and he will make everyone in the department of athletics better."
A proven recruiter, DelCastillo successfully elicited a core group of skaters in his time at UNO, including Mavericks' All-American forward Scott Parse CCHA Player of the year 2006, Hobey Baker Finalist 2006 and 2007 and Bill Thomas CCHA Rookie of the Year 2005, who helped re-shape the hockey program and earn the Mavericks a trip to the NCAA tournament in 2006.
"Several D-I athletic directors advised hiring a proven recruiter, as successful recruiters usually end up winning head coaches," Karr said. "Doc's recruiting history speaks for itself. His efforts have helped elevate two D-I programs, both within D-II athletic departments."
The 37-year old started coaching at his alma mater in 1998 and spent four seasons with the Huskies. While he was there, SCSU had the second-highest winning percentage in college hockey, finishing just behind Michigan State with a record of 83-34-6.
June 7, 2007
USA Hockey Announces Junior Evaluation Camp Roster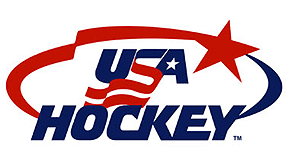 USA Hockey released its list of 45 players invited to the U.S. National Junior Evaluation Camp. The camp takes place Aug. 3-11 in Lake Placid, N.Y.
As usual, the majority of the invitees have ties to college hockey. Six of them — Colorado College forward Bill Sweatt, incoming New Hampshire forward James vanRiemsdyk, Minnesota forwards Mike Carman and Kyle Okposo, and Wisconsin forward Blake Geoffrion defenseman Jamie McBain, — were members of the 2007 U.S. team that won the bronze medal at the World Junior Championship in Sweden in January. The 2008 World Junior Championship takes place from Dec. 26-Jan. 5 in Pardubice and Liberec, Czech Republic.
The complete U.S. National Junior Evaluation Camp roster:
| | | | |
| --- | --- | --- | --- |
| Name | Pos. | Hometown | 2007-08 Team |
| Mark Arcobello | F | Milford, Conn. | Yale |
| Jonathon Blum | D | Rancho Santa Margarita, Calif. | Vancouver (WHL) |
| T.J. Brennan | D | Willingbord, N.J. | St. John's (QMJHL) |
| Mike Carman | F | Apple Valley, Minn. | Minnesota |
| Ian Cole | D | Ann Arbor, Mich. | Notre Dame |
| Brian Day | F | Boston, Mass. | Colgate |
| Cade Fairchild | D | Duluth, Minn. | Minnesota |
| David Fischer | D | Apple Valley, Minn. | Minnesota |
| Ryan Flynn | F | Lino Lakes, Minn. | Minnesota |
| T.J. Galiardi | F | Calgary, Alberta | TBA |
| Blake Geoffrion | F | Brentwood, Tenn. | Wisconsin |
| Patrick Kane | F | Buffalo, N.Y. | London (OHL) |
| Jamie McBain | D | Faribault, Minn. | Wisconsin |
| Thomas McCollum | G | Sanborn, N.Y. | Guelph (OHL) |
| Ryan McDonagh | D | Arden Hills, Minn. | Wisconsin |
| Kevin Montgomery | D | Rochester, N.Y. | London (OHL) |
| Peter Mueller | F | Bloomington, Minn. | Everett (WHL) |
| Kyle Okposo | F | St. Paul, Minn. | Minnesota |
| Max Pacioretty | F | New Canaan, Conn. | Michigan |
| Trent Palm | D | Edina, Minn. | Minnesota Duluth |
| Joe Palmer | G | Yorkville, N.Y. | Ohio State |
| Kent Patterson | G | Plymouth, Minn. | Cedar Rapids (USHL) |
| Luke Popko | F | Skillman, N.J. | Boston University |
| Kevin Quick | D | Tonawanda, N.Y. | Michigan |
| Rhett Rakhshani | F | Huntington Beach, Calif. | Denver |
| Mike Ratchuk | D | Buffalo, N.Y. | Michigan State |
| Doug Rogers | F | Watertown, Mass. | Harvard |
| Tony Romano | F | Smithtown, N.Y. | Cornell |
| Tyler Ruegsegger | F | Lakewood, Colo. | Denver |
| Ted Ruth | D | Naperville, Ill. | Notre Dame |
| Matt Rust | F | Bloomfield Hills, Mich. | Michigan |
| Ben Ryan | F | Brighton, Mich. | Notre Dame |
| Bob Sanguinetti | D | Lumberton, N.J. | Owen Sound (OHL) |
| Jordan Schroeder | F | Lakeville, Minn. | U.S. NTDP |
| Kevin Shattenkirk | D | New Rochelle, N.Y. | Boston University |
| Ben Smith | F | Avon, Conn. | Boston College |
| Jeremy Smith | G | Brownstown, Mich. | Plymouth (OHL) |
| Brian Strait | D | Waltham, Mass. | Boston University |
| Chris Summers | D | Milan, Mich. | Michigan |
| Bill Sweatt | F | Elburn, Ill. | Colorado College |
| Eric Tangradi | F | Philadelphia, Pa. | Belleville (OHL) |
| Josh Unice | G | Toledo, Ohio | Bowling Green |
| J. vanRiemsdyk | F | Middletown, N.J. | New Hampshire |
| Patrick White | F | Grand Rapids, Minn. | Minnesota |
| Colin Wilson | F | Greenwich, Conn. | Boston University |
June 7, 2007
Piotrowski Named CCHA Director of Officials
Veteran CCHA referee Steve Piotrowski has been named the league's director of officials, commissioner Tom Anastos announced.
The move ends Piotrowski's tenure as one of the nation's top referees. An on-ice official for 26 years, Piotrowski officiated in 14 NCAA tournaments and six national championship games, and also worked the IIHF World Championship and World Junior Championship.
His new responsibilities include overseeing the CCHA's cadre of nearly 70 referees, assistant referees, and game supervisors. Piotrowski replaces Brian Hart, who resigned last month after nine years in the position.
June 6, 2007
Okposo: I'm Coming Back to Minnesota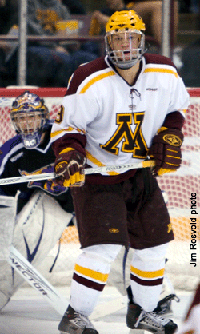 Minnesota forward Kyle Okposo announced Wednesday that he is returning to the Gophers for the 2007-08 season rather than signing with the New York Islanders, the team that chose him with the seventh overall pick in last year's NHL Entry Draft.
"After meeting with the Islanders to discuss my future, I felt it was in my best interest to return for my sophomore year," Okposo said in a statement. "This is where I want to be to develop into a better player."
Despite struggling down the stretch — Okposo managed just two goals and seven points in Minnesota's last 12 games — the St. Paul, Minn. native scored 19 goals and added 21 assists for 40 points, second only to fellow freshman Jay Barriball among Gopher skaters. Okposo was named to both the WCHA's all-rookie team and the all-league second team. He was also a member of the U.S. team that competed in the 2007 World Junior Championship in Leksand and Mora, Sweden.
June 6, 2007
Alabama-Huntsville, Holy Cross Hire Aides
Two schools announced additions to their coaching staffs Wednesday. New Alabama-Huntsville coach Danton Cole has hired former Neumann head coach Dennis Williams, while Holy Cross coach Paul Pearl tabbed ex-Babson aide Jason Smith as assistant coach and recruiting coordinator.
Williams, a four-year letterwinner at Bowling Green, compiled a 35-32-8 record in three seasons behind the bench at Neumann, an NCAA Division III school located just outside Philadelphia in Aston, Pa. Last season, he guided the Knights to a school record 17-5-5 mark and a second-place finish in the ECAC West.
Smith comes to Holy Cross after four seasons at Babson. In 2007, he helped the Beavers to their first ECAC East playoff championship and the school's first berth in the NCAA Division III tournament since 1993. Prior to his stint at Babson, Smith spent four years as an assistant at Salem State, another Massachusetts-based ECAC East member.
INCH Update Desk Archives: May | April | March | January
2006: December | November | October | September | August | July | June | May | April | March | February | January
2005: December | November | October | September | August | July | June | May | April